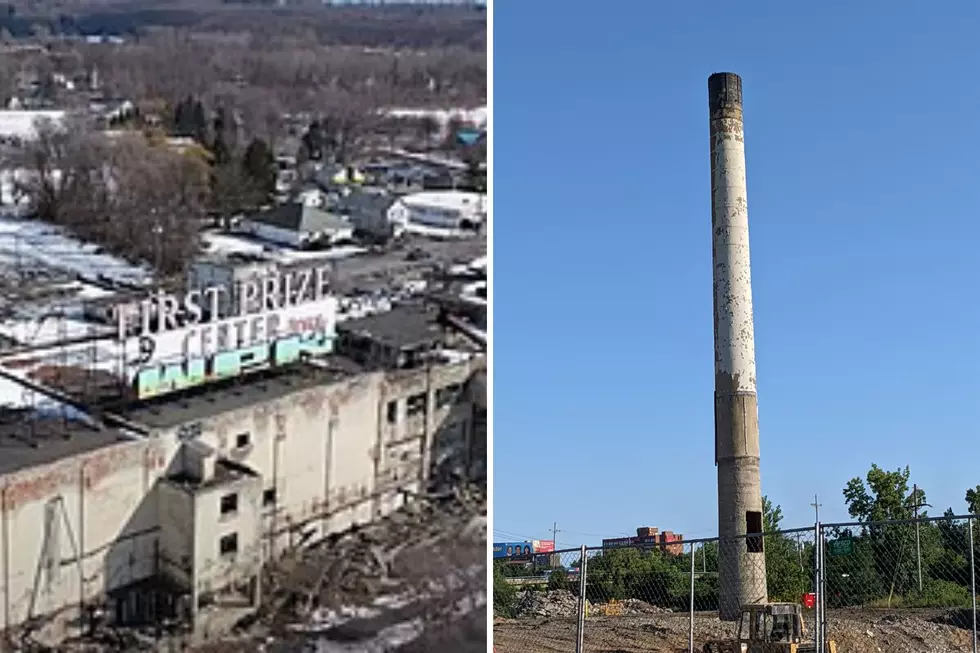 Look! What's Planned For The Old Tobin's First Prize Site in Colonie [PICS]
Chrissy Townsquare Media-Google Maps-Canva
The Tobin's First Prize building stood abandoned for years and recently it has been torn down. It took longer than expected because of the COVID-19 pandemic, but now we are getting a clearer picture of what that site will become.
What is The Plan For the Former Tobin's First Prize Site?
The former slaughterhouse and meatpacking plan is almost completely torn down. The iconic smokestack remained intact but will come down soon.
The plan is an extensive one and includes everything from a mixed-use complex to hundreds of apartments. The thirty-two-acre site is in a central location off Exit 5/Everett Road in Colonie/Albany. The entire development of the property will take about eight years to complete according to the Albany Business Review.
What Will Be Included in the Plans?
Because of the high demand in that area, the plan is to build three hundred twenty-four apartments in the first phase of the First Prize Center. This will consist of six five-story buildings with covered parking on the bottom floor. There would also be a two-story mixed-use building with a golf simulator, cafe, wellness center, bowling alley, and coworking space. This phase will take about two and a half years to complete.
Another 324 apartments would be built in a similar fashion in the second phase of the project. There will be two acres of green space for outdoor activities. In the third phase, a 185-room hotel would be built near Exchange Street and Everett Road. In the final phase, two additional apartment complexes will be built with a total of 120 units.
Will Any of the Tobin's First Prize Building be Utilized in the New Plan?
Although the smokestack will no longer be standing or incorporated in the new plans they will include the original First Prize sign in the apartment layout. The sign is a regional landmark.
Watch as Crews Demolish the Tobin's First Prize Center in Albany