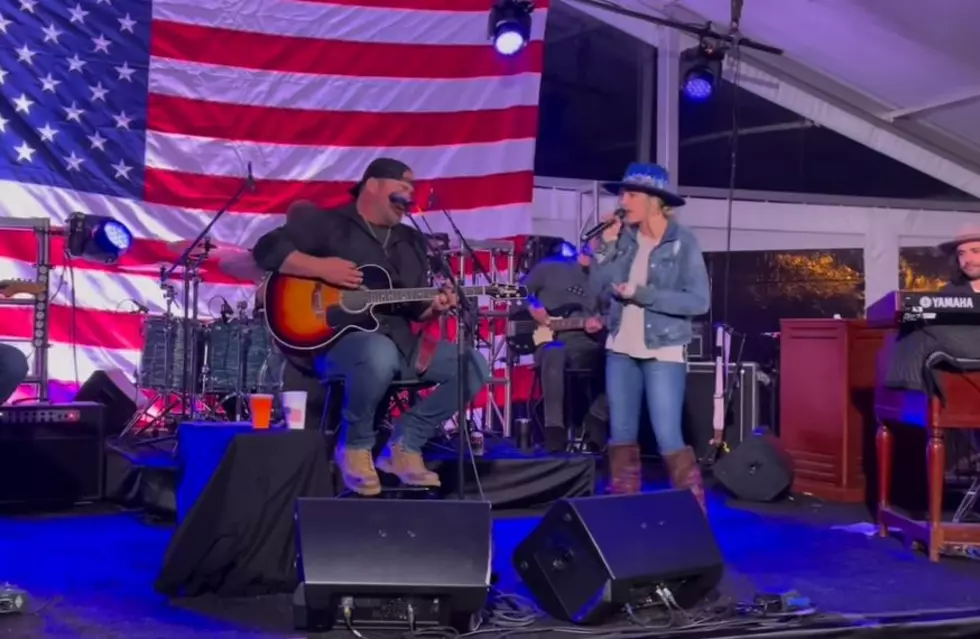 Upstate Singer Joins Lee Brice for Memorable Duet! Watch the Magic Happen!
Brian Cody
There aren't many out there like Lee Brice, that's for sure!
Brice is one of a handful of superstars who does as much good off-stage, as he does while he's on it.
Lee Brice paid a visit to the Capital Region on Friday, and unlike most concerts, this one came and went with very little hype and hardly any fanfare, yet made quite a mark on Capital Region residents in attendance.
 It also left one local young country singer with a lifetime of memories as she joined Brice on stage to sing one of his biggest hits!
On Friday night, Lee Brice played for a very small crowd during a Folds of Honor fundraiser show in a secret location.
The private event was a big success as the few dozen or so people in attendance - along with Brice - helped raise enough money to provide at least 30 scholarships to local kids of fallen military parents.
It's not out of the ordinary for Brice to donate his time to such a worthwhile cause, he does events like these all the time - all over the country.
But what happened on Friday night was special - a treat for those Capital Region country music fans in attendance.  See the video below...
Word got around to Brice that Drennan was in the crowd and he offered her a chance to sing the song that he and Carly Pearce took to #1 a few years back, "I Hope You're Happy Now."
Our amazing, Ashley Drennan, got the honor of performing 'I Hope You're Happy Now' with Lee Brice last night at a private event to support Folds of Honor. It was an incredible night for a fantastic cause, and this song was the cherry on top. Thank you to Lee and the band for being the most gracious hosts! 
Pictures: Country Stars Who Have Gotten Married or Engaged in 2022
Wedding bells are ringing! Find out which of your favorite country stars have said "I Do" and are tying the knot in 2022.
GNA Hotshots! Kip Moore Fans Pack Empire Live on 10/28/22
It had been a few years since Kip Moore was in Upstate NY - and judging by the electric crowd, fans were ready for the return of Kip Moore! Soulful and passionate, the country rocker didn't disappoint. Playing in front of a packed house at Empire Live on Thursday night, Moore delivered hit and hit with the passion and fire fans love! Were you at Kip More at Empire Live? Here's a gallery of photos from this intimate night with a true 'real one' in country music, Kip Moore!
LOOK: Stunning vintage photos capture the beauty of America's national parks
Today these parks are located throughout the country in 25 states and the U.S. Virgin Islands. The land encompassing them was either purchased or donated, though much of it had been inhabited by native people for thousands of years before the founding of the United States. These areas are protected and revered as educational resources about the natural world, and as spaces for exploration.
Keep scrolling for 50 vintage photos that show the beauty of America's national parks.