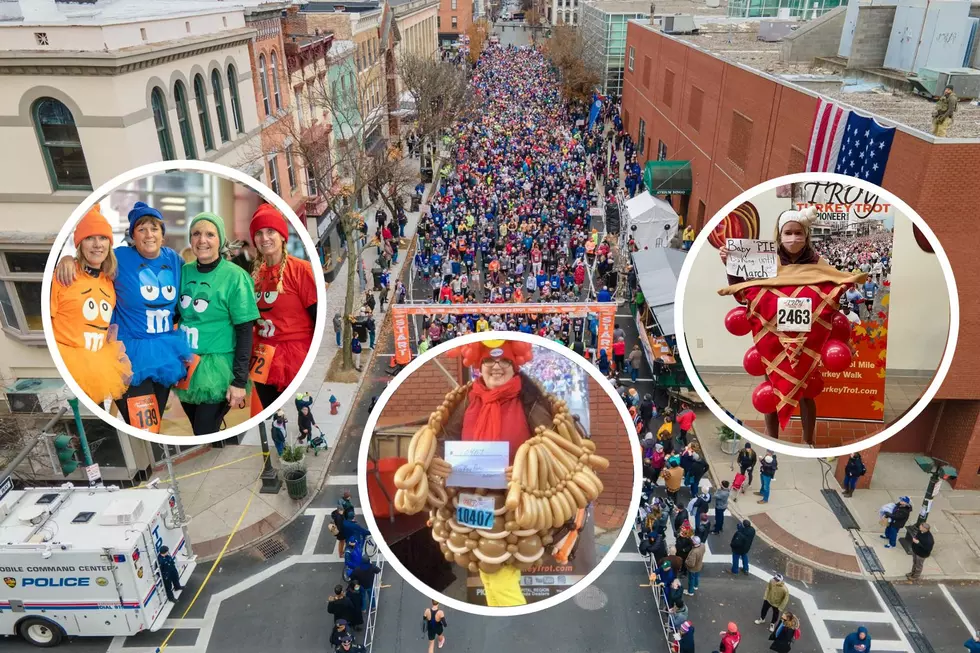 Don't Just Run This Year's Troy Turkey Trot Dress up & Win Cash
Featured Image Troy Turkey Trot Facebook page Canva
It has been a tradition for seventy-five years. The Troy Turkey Trot on Thanksgiving Day. Not only can you run the 5K, but you can also get dressed up in your best costume to win some cash!
75th Annual Troy Turkey Trot Isn't Just a Thanksgiving Day Run
Halloween may seem like a distant memory but keep your costume handy because it could win you cash. Each year thousands turn out in Downtown Troy to run in the Troy Turkey Trot. Also, hundreds dress up to have fun and run. It's not too late for you to register for this year's Troy Turkey Trot and also sign up for the costume contest.
What Kinds of Costumes Can You Wear?
Organizers say that they are looking for the most creative and scream-worthy entries this year for its Costume Contest. There is some serious cash involved too. You have a chance to win your share of three hundred and fifty dollars. There are cash prizes in two categories. They are the Most Unique and Best Thanksgiving Day Themed Costumes.
How Do You Register for the Troy Turkey Trot & the Costume Contest?
You can find and fill out an entry form for the costume contest on the website. Complete your form and submit a photo for the costume contest. Entries must be in by Sunday, November 20th at 5 pm. Participating contestants will then have their photos uploaded to the Troy Turkey Trot event's Facebook page. The costume that receives the most likes in each of the categories will win cash. 1st place will get $100, 2nd place $50, and 3rd place will receive $25. Winners are announced on the morning of the race. You can register for the 5K, 10K, Grade School Mile, and the Turkey Walk by going to Troyturkeytrot.com.
Upstate NY Pet Owners Beware! Thanksgiving Foods Harmful to Furry Friends
Thanksgiving is all about family gatherings and that includes our furry friends. Here's a reminder of the foods that are harmful to our pets and some that could make them deathly ill. When we get together this holiday season, make sure you treat your pets with the right foods.