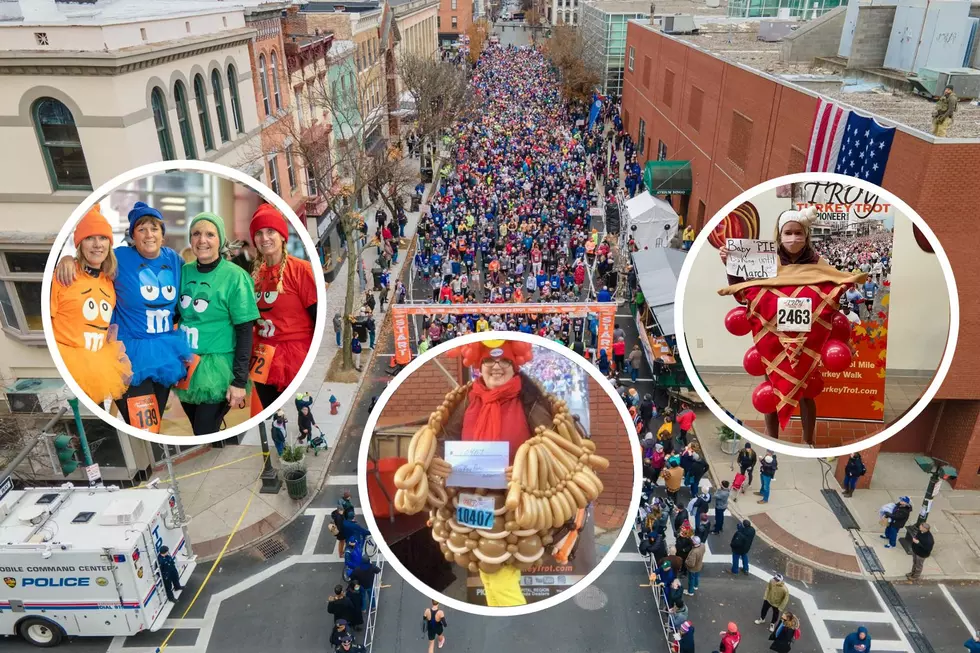 Dress Up and Win Ca$h at The Troy Turkey Trot! Here's How to Enter!
Featured Image Troy Turkey Trot Facebook page Canva
One of the favorite Capital Region Thanksgiving Day traditions is The Troy Turkey Trot. Not only can you run the 5K, but you can also get dressed up in your best costume to win some cash!
Dress Up at The 76th Annual Troy Turkey Trot!
Halloween may seem like a distant memory but dig out your costume because it could win you cash. Thousands turn out in downtown Troy to run in the Troy Turkey Trot each year. Also, hundreds dress up to have fun and run. It's not too late for you to register for this year's Troy Turkey Trot and also sign up for the costume contest.
What Kinds of Costumes Can You Wear?
Organizers say that they are looking for the most creative and scream-worthy entries this year for its Costume Contest. There is some serious cash involved too. You have a chance to win your share of three hundred and fifty dollars. There are cash prizes in two categories. They are the Most Unique and Best Thanksgiving Day-themed costumes.
How Do You Register for the Troy Turkey Trot & the Costume Contest?
You can find and fill out an entry form for the costume contest on the website. Complete your form and submit a photo for the costume contest. You can email the entry form and the costume photo to info@troyturkeytrot.com.
Entries must be received by Thursday, November 23rd at 10 am. You can also visit the costume contest table on Turkey Trot day on the first floor of the Troy Atrium from 7:30 am until 9:30 am.
The costume that receives the most likes in each category will win cash. 1st place will get $100, 2nd place $50, and 3rd place will receive $25. The deadline to vote is noon on Sunday, November 26th.
You can register for the 5K, 10K, Grade School Mile, and the Turkey Walk by going to Troyturkeytrot.com.
LOOK! Charming $3.2 Million Cottage on Lake George with 220 feet of Lakefront
This charming cottage has two hundred twenty feet of lakefront on beautiful Lake George. It sits on over three acres and it's in the town of Bolton in the tall pines of the Adirondacks. This modest home features three bedrooms, two bathrooms, and a large dry boat house. The enclosed screened-in porch sits out over the lake with gorgeous views of the Sagamore and the Narrows. There is a "U"-shaped dock in Huddle Bay. This beachfront property allows you to swim and play whenever you want.
Gallery Credit: Redfin