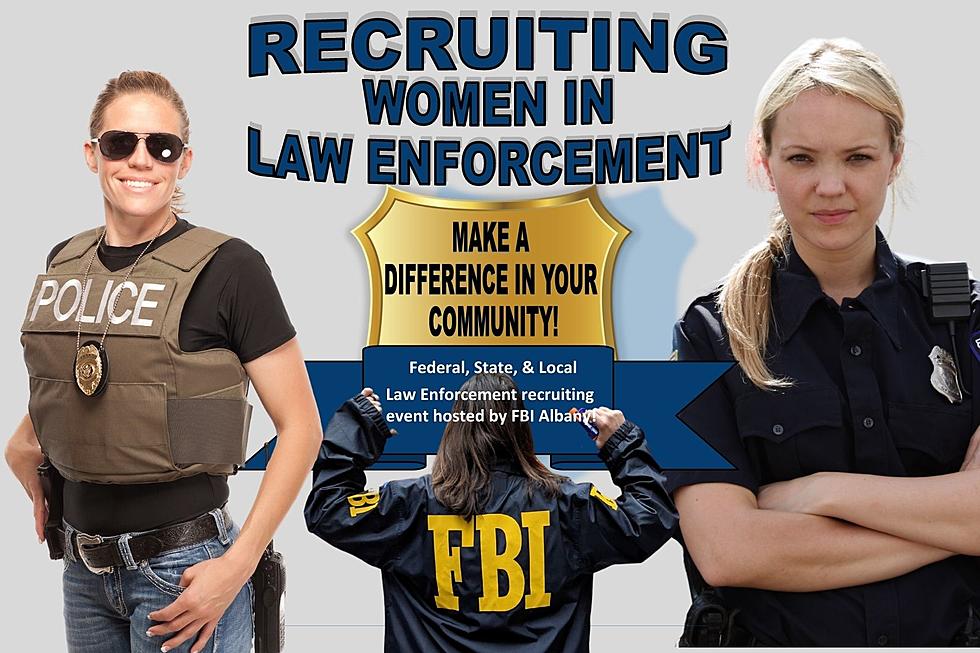 Calling All Upstate NY Women! Law Enforcement Recruitment Event Tonight!
FBI flyer-Canva images
If you are a woman that has ever thought of being in law enforcement, here's your chance to find out what agency could be a perfect fit for you. You don't need to have any experience to attend this free, women in law enforcement recruiting event happening tonight in Albany.
The FBI Albany Field Office is holding a recruiting event for women only to help those who are interested in getting a job in law enforcement at all levels: federal, state, and local. The recruiting event happens tonight, March 28th from 6 pm until 9 pm at the Albany Capital Center in downtown Albany.
40 Agencies Will Be On Hand Along With a Panel Discussion
Many agencies will be on hand at the Women in Law Enforcement Recruiting Event including the FBI, New York State Police, and many city and county law enforcement agencies. There will also be an all-women panel discussing and sharing what it is like to be a woman in law enforcement.
Do You Need Any Experience or a Degree to Come to the Event?
The short answer is no. You don't even need to bring a resume. Just come with questions and get as much information as you can. There will be every agency available to answer anything you may need to know on all levels of law enforcement. Also, if you are currently in a different career but thought about law enforcement, you should attend this event.
According to the Special Agent in Charge of the FBI Albany Field Office, Janeen DiGuiseppi,
Women naturally want to help and support, and bring a different perspective that a male may not bring. It's more comforting and easier to speak to a female.
11 of New York's Most Wanted Criminals with Upstate Connections
Below are individuals with ties to the Capital Region and Upstate New York. They have been designated as some of New York's Most Wanted Fugitives and should be considered ARMED and DANGEROUS.