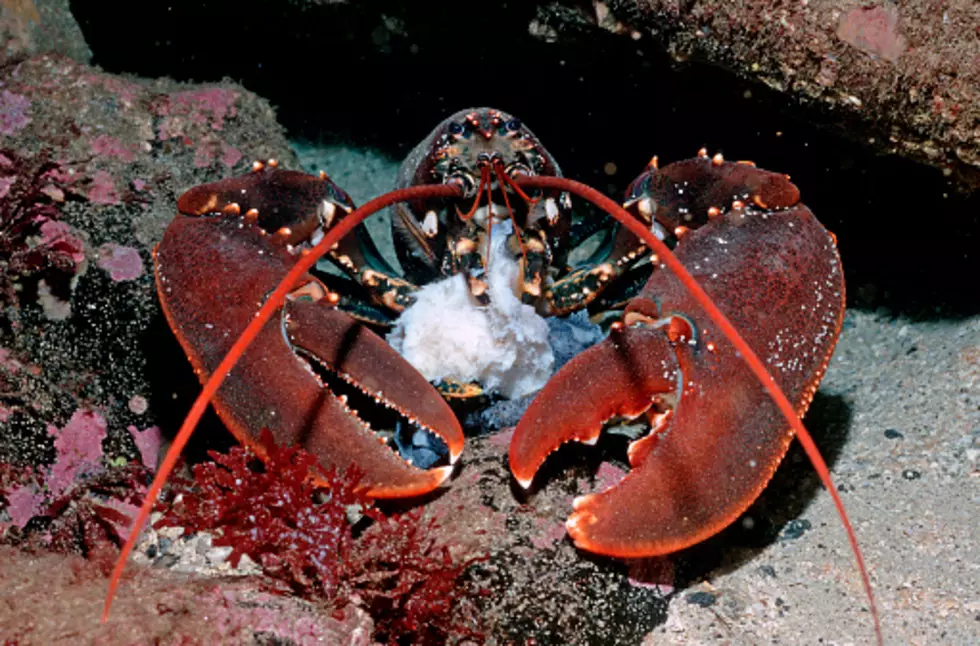 Lobster Rocked Off Big New York Seafood Menus
Getty Images
When many visit their favorite seafood restaurants, lobster or some recipe featuring the popular crustacean is usually one of their top choices on the menu. However, some New Yorkers may not find the tasty favorite as one of their choices anymore. A movement is putting the claw on the North Atlantic lobster industry and food providers are booting the seafood delicacy off of their menus.
According an article by Patrick Whittle of apnews.com, several large New York retailers are taking lobster off the menu as a result of a rating provided by a marine life conservation group that says lobster poses a risk to rare whales that inhabit the waters of the North Atlantic.
The AP reported that Seafood Watch, which rates the sustainability of seafoods, "added the American and Canadian lobster fisheries to its "red list" of species to avoid. The report said that the fishing industry is a danger to North Atlantic right whales because "current management measures do not go far enough to mitigate entanglement risks and promote recovery of the species."
The report claims that thousands of businesses will use Seafood Watch's recommendations for seafood buying decisions. Blue Apron, the New York meal kit retailer will no longer offer lobster, as a result of lobster's appearance on the "red list". The report added that HelloFresh, the Germany-based meal kit company will do the same and no longer offer, what many believe is, the filet mignon of the sea.
The North Atlantic Ocean is home to a wide array of whales. There are only 340 North Atlantic Right whales. They are one of the species that has suffered injuries from the traps. They get hurt or even die when they become entangled in the rope that connects the lobster. I, like many other lobster lovers, hope they can figure this out quickly and get lobster back on the menu.
Watching Football Tonight? Head to These Five Best Capital Region Bars
The 2022 football season is finally here, and if you're looking for a place to watch the game, these five Capital Region bars have been ranked among the best.
The 10 New York Jets You Need To Know For 2022
Jets general manager, Joe Douglas is in his third season. Head coach Robert Saleh is about to embark on his second season in 2022. Their future employment in New York may depend on the performance of these 10 members of Gang Green in 2022.