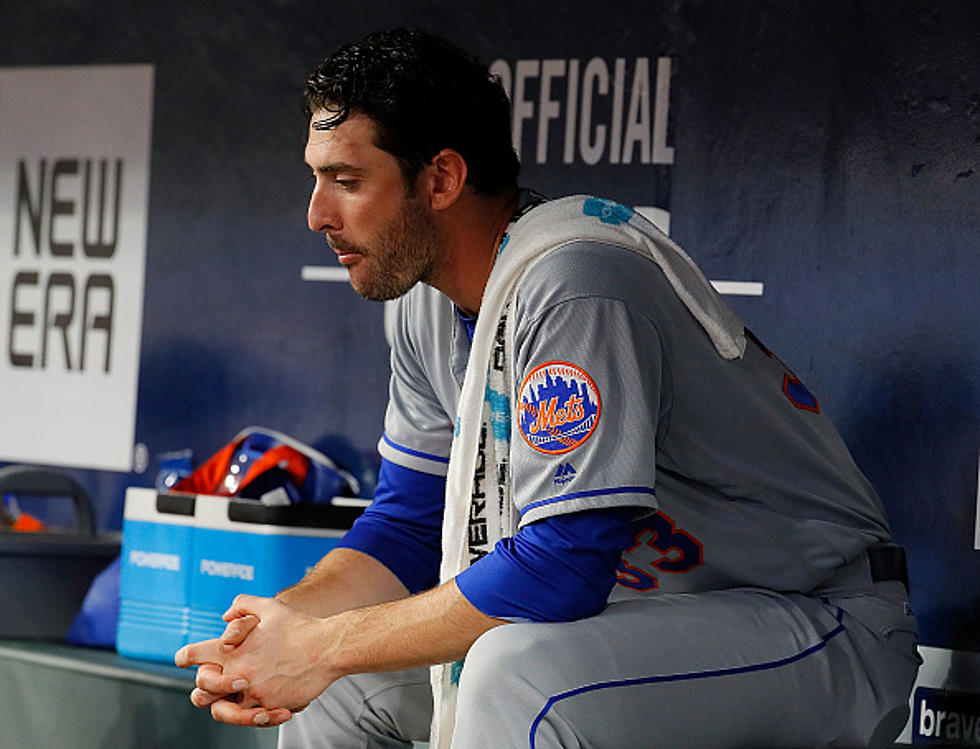 Did Cocaine End The Dark Knight's Reign In New York?
Getty Images
The story continues to become clearer through murky details and testimony provided from a trial of a sadder story. What really happened to that young dominant right-handed pitcher that owned the City of New York? No, not Dwight Gooden, the one that they called The Dark Night, Matt Harvey. It now appears that the same drug may have taken down both prominent young Mets aces, Gooden and Harvey.
On Tuesday in the trial of Eric Kay, who is accused of providing the lethal drugs that killed Harvey's teammate on the Los Angelas Angels Tyler Skaggs, the free-agent pitcher was compelled to testify about his own drug use. Harvey admitted under oath that he has used cocaine. According to ESPN reports, defense attorney Michael Molfetta asked Matt Harvey if he lied about his use of the drug in New York. Harvey responded, "No one really asked."
According to ESPN, Harvey agreed to speak at the trial because he was given immunity after he was subpoenaed. Kay's attorney said that Skaggs told Eric Kay of the drugs that killed him, "Those are Percocets I got from Harvey." In his testimony, the former Mets pitcher said he had provided his late teammate with "six or seven Percocets in the clubhouse during the season". Harvey testified that Kay was Skaggs' usual provider.
Matt Harvey's old skipper from the Mets, Terry Collins, was asked by Mike Puma of the New York Post if he was surprised, "The answer is, probably not," Collins told The Post. "There was a testing program going on throughout Major League Baseball. We weren't allowed to do any of our own stuff. There were accusations that were being thrown around the clubhouse, for sure, but I had no proof of it at all. I can just tell you what guys were saying." Why would players be saying that about Harvey? There were late night appearances on talk shows followed by dates with the most popular super-models. Then there were missed games. Many of the same signs that spelled trouble for Dwight Gooden.
Collins told Puma, "There was a time I addressed an off-the-field issue with one of the other guys on the team and his statement was, 'Well, I'm not doing what Matt Harvey is doing.' I said, 'This isn't about Matt Harvey, this is about you.' I tried to get off that subject as fast as I could. Was there knowledge in the clubhouse? Without question." Collins said it went further and got darker, "and one time he talked about, 'I should just kill myself.' That's kind of a common excuse. You try to deal with it the best you can. We certainly tried to get him help, get him some assistance."
Two great young New York Mets pitchers 25 years apart from one another with a common thread. Cocaine may have ruined their very promising careers. Did Matt Harvey get injured because he wasn't taking care of himself? Did he make the injury worse because he couldn't feel it correctly on drugs? Was it all too much for him to handle? We will never really know the answers to these sad questions. One thing is for sure this story only gets sadder by the day.
Every Country Artist Performing In Upstate NY In 2022
We are set for a big year of Country shows in 2022, and here is a complete list of artists set to perform in 2022 in the Capital Region and all over Upstate New York.