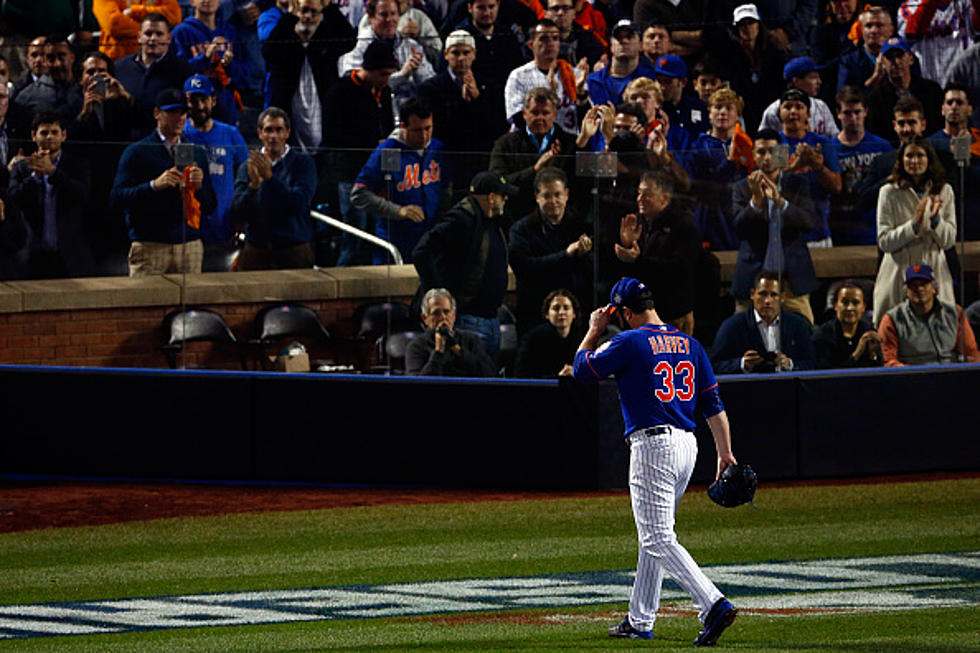 Ex-New York Mets Dark Knight's Life Just Got Darker
Getty Images
Few players have displayed such promise and domination as Matt Harvey did catapulting into the hearts of Mets fans and the entire Big Apple. In 2013, Matt Harvey was a full-fledged New York City star. He had the coolest nickname, the Dark Knight, a popular Batman reference. Matt Harvey was the starting pitcher for the National League at the 2013 All-Star game played at Citi Field. The good looking right-handed hurler dated super-models and appeared on all of the late night television shows. Then, as quickly as it all came for Harvey, it slipped away and hasn't stopped slipping.
According to T.J. Quinn of ESPN, the former Mets star Matt Harvey will be named as a possible drug source for the late Angels pitcher Tyler Skaggs, who overdosed in July of 2019. Harvey was a member of the Los Angelas Angels at the time and according to the defense attorney for former Angels employee Eric Kay, who is on trial for his purported role in Skaggs' death of a drug overdose, Harvey was the one who supplied the fatal drugs to Skaggs.
Now remember, this is coming from Eric Kay's attorney, who is defending his client against felony distribution of opioids. According to Quinn, the attorney said in his opening argument that, when Kay asked Skaggs on the night he died (July 1, 2019) where he acquired pink pills, Skaggs replied, "Those are Percocets I got from Harvey." Harvey will be called as a witness in the trial this week, the attorney added.
According to an article by Ken Davidoff of the nypost.com, "ESPN reported in 2019 that no Percocet was found in Skaggs' system when he was found dead in his hotel room in Southlake, Texas. A coroner's report said Skaggs had choked to death on his vomit with a toxic mix of alcohol and the drugs fentanyl and oxycodone in his system." Matt Harvey's agent, Scott Boras would not comment. Boras would not represent Harvey in such a manner and is smart enough to stay out of this. All of this could be a complete fabrication by Kay.
I always liked Matt Harvey. I was at the 2013 All-Star game and loved to watch him dominate hitters. Like so many young stars before Harvey, New York City ate him up and spit him out. Some recover. Some don't. I certainly hope this isn't true about Matt.
Key Buffalo Bills Player Gets New Digs with Heart Shaped Pond Near Stadium for Under $1 Mil
This home is perfect for a Buffalo Bills player because not only it is beautiful, but it is only 10 mins from Highmark Stadium in Orchard Park where the Bills play. It has 4,000 square feet of living space and sits on nearly 6 acres. It has a quiet yard along with a saltwater gunite pool with a hot tub. The is a front porch that overlooks a custom heart-shaped pond. There are fireplaces in nearly every room. Check out the gorgeous master suite with a spa bathroom, heated floor, and jacuzzi tub. There is a custom basement with a recreation room. The two-story three-car garage has a large finished room with a fireplace, bathroom, and kitchenette. Dawson Knox, the Tight End for the Buffalo Bills purchased this home for $995,000 just after Christmas.