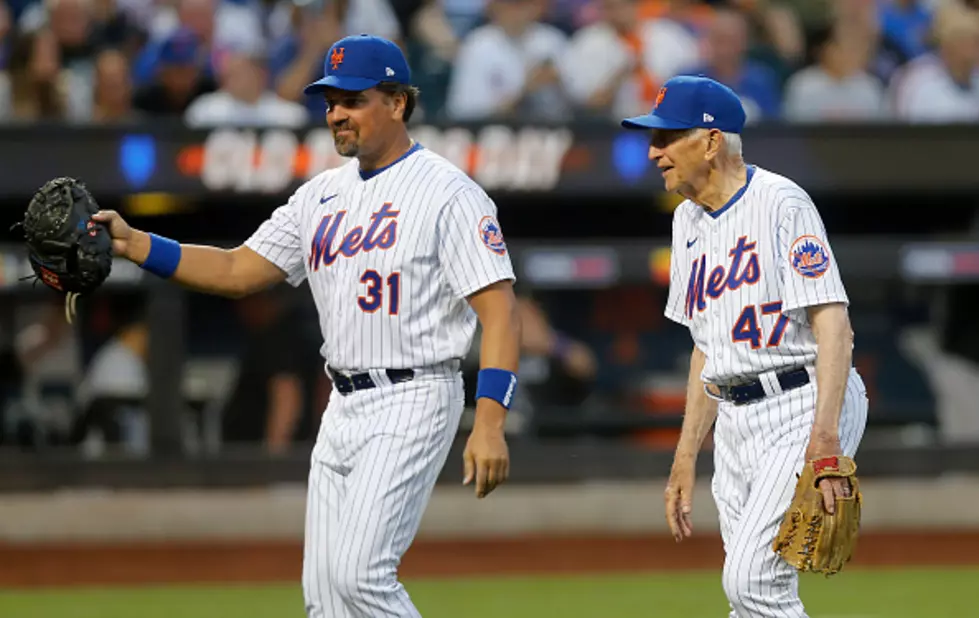 It's OK For New York Mets To Embrace Their Past
Getty Images
On Saturday, 65 former New York Mets took the field at Citi Field in Queens. For some of them, like Steve Dillon, who pitched 3 games for the Amazin's in 1963-64, it was more than five decades since they put on their uniform for an official event. For others, like friend of The Drive with Charlie & Dan, Daniel Murphy, who retired in two seasons ago, they look like they could play later in the day against the Rockies and contribute. The event was as much fun for the players as it was for the fans to see their heroes of yesteryear.
"We didn't go out there to evaluate our talent or evaluate who was out there," Former Mets pitcher Pedro Martinez told Matthew Roberson of nydailynews. "I can tell you, there was a huge amount of respect from the youngest to the oldest. To have the opportunity to share my time with some of my heroes from the '80s, and be able to share it with some of my ex-teammates from the Mets, it's a heck of an honor. I'm extremely proud to have been part of the Mets."
The Wilpon ownership never celebrated the Mets past. They killed Old Timer's Day in 1994. New Mets owner Steve Cohen, in his sophomore year was lauded for bringing the special day back to the fans and the players. "It's their day, it's not my day, OK," Cohen said on Saturday. "I'm just happy I could bring them together. It's better late than never. We have such great history with the Mets, it's important to celebrate it." Yes, it is.
Mets legends Dwight Gooden, Darryl Strawberry and Mike Piazza were joined by their former skippers Bobby Valentine (complete with a fake mustache reflecting on a 1999 incident), Willie Randolph and Terry Collins, along with scores of other Mets greats. It was fun. It was emotional. It was perfect. The Mets did it right and a huge congratulations goes to our friend, VP of Mets Alumni, Jay Horowitz. He is an awesome individual and worked really hard on all of this.
The Mets made a surprise, newsworthy announcement on Saturday. Appropriately, the Mets will retire Hall of Fame centerfielder Willie Mays' number 24. Mays was traded to the Mets in 1972 at the end of his career. The legend wanted to finish his career in New York. He retired after he helped the Mets get to the World Series in 1973. Following the New York's series loss in 7 games to the Oakland A's, Willie Mays retired from baseball.
Which Capital Region Schools are Investing in Your Students the Most? [RANKINGS]
When it comes to your kids, you want to send them to a school that will invest in their future. These ten Capital Region schools are doing so more than most.
Do You Know Any of the 2022 New York Born Top 10 Major League Players (RANKED)?
The top 10 RANKED MLB players in 2022 that were born in New York.