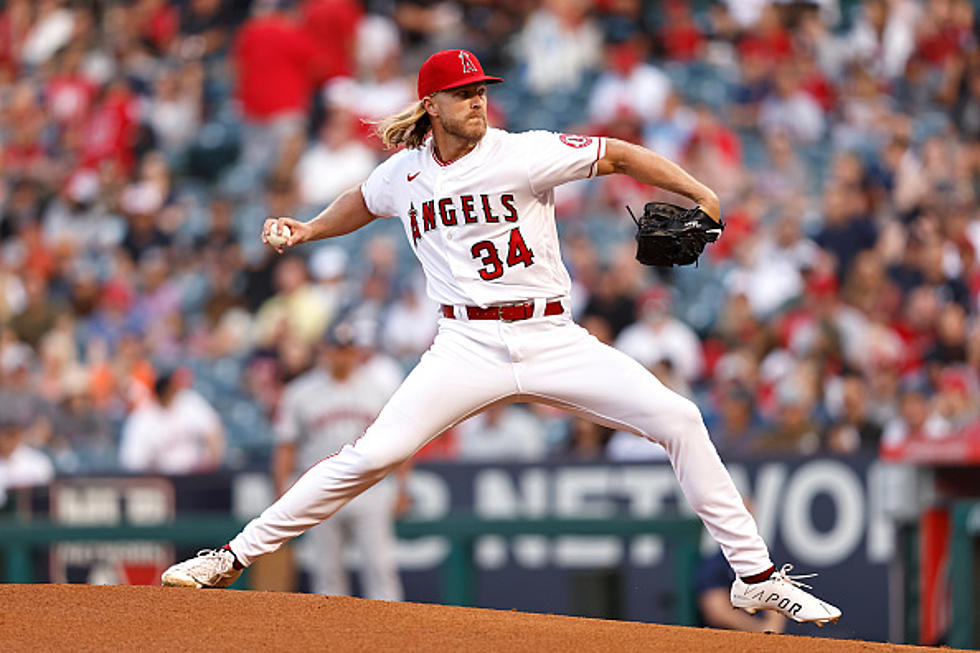 Ex-New York Mets Superhero "Thor" Wearing #34 Special for Angels
Getty Images
The colors and the name across the chest were new. The long blonde hair, on the 6'-6" frame, was all too familiar. Former New York Mets right-handed pitcher, Noah Syndergaard threw his first regular season pitches for his new team on Saturday. He wore number 34, like he did with the Mets. However, an Angels player had not worn that number in 13 years, exactly.
Thor, as Mets fans christened him, had thrown a total of two-innings over the last two seasons for the blue and orange. Syndergaard underwent Tommy John Surgery days prior to Opening Day in 2020. His two one-inning performances came late last season. Following the 2021 campaign, the Mets let their once-promising star walk out the door. It seemed like Noah ran.
When Syndergaard signed with the Angels he requested his old Mets number, 34. According to the Associated Press, that number was last worn by an Angels player in 2009 by Nick Adenhart. The young player was a promising Angels starting pitcher. Adenhart was killed by a drunk driver a few hours after throwing six shutout innings for the Angels exactly 13 years ago Saturday.
According to the Associated Press, Syndergaard got the blessing of Adenhart's family to wear the number, which hadn't been worn by an Angels player since. Saturday night, donning the special number, the new Angels right-handed faced off with another pitcher coming off of Tommy John recovery, Justin Verlander of the Houston Astros. Both pitchers have spent most of the past two seasons working their way back from surgery.
Syndergaard pitched two-hit ball into the sixth inning in a strong Angels debut. The former Mets pitcher picked up the win in a 2-0 victory over Verlander and the Houston Astros. Syndergaard gave up two singles and two walks over 5 1/3 innings with only one strikeout. Mike Trout and Jared Walsh homered to power the Angels to their first victory of the season.
Not much can make the pain of Nick Adenhart's senseless death go away for his friends, family and teammates but maybe having a player like Syndergaard wear 34 again will put a smile on their faces once every five days. Let's hope.
10 Capital Region Golf Courses You Can Play For Under $40
Taking a look around the Capital Region at some of New York's finest public golf courses, I was able to find more than a few that won't break the bank. Check out these affordable options, so you can save and play the links more often!
New York Colleges That Made The Top 50 Most Expensive In America
CBSNEWS.com did a Top 50 Most Expensive Colleges and Universities in America. Let's see which New York colleges made the list.
See Bob Weir At New York's Radio City Music Hall For His "Ace" Album 50-Year Celebration
Bob Weir & The Wolf Brothers came to New York's Radio City Music Hall to celebrate 50 years since the release of his solo "Ace" album, which included such Grateful Dead staples as Playin' In The Band, Looks Like Rain and Mexicali Blues. The two night run April 2nd and 3rd featured special guests and sold out performances.