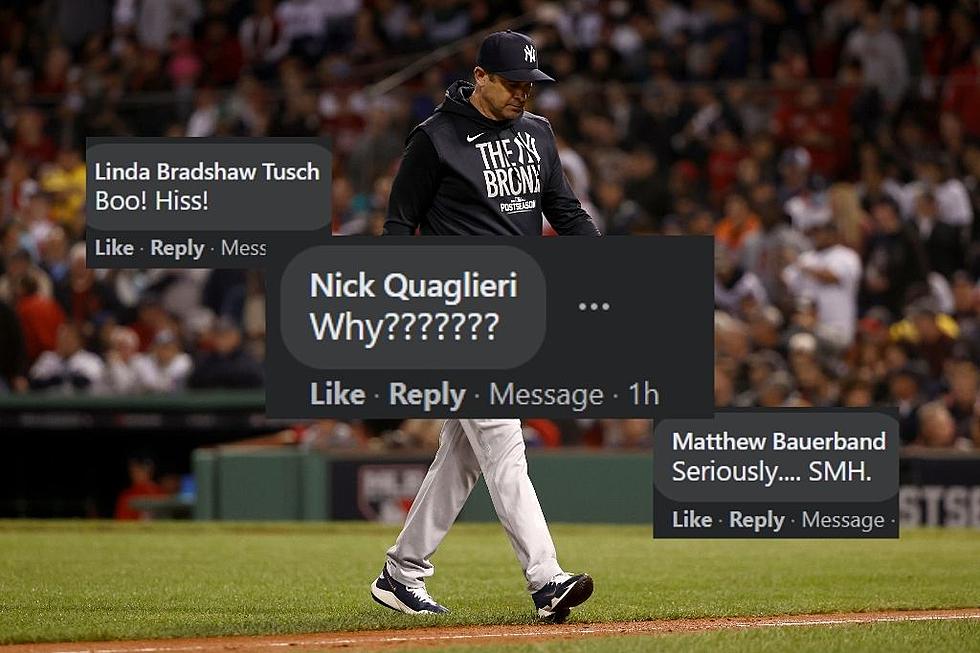 Capital Region Yankees Fans Sound Off Against Aaron Boone's Return
Getty Images
Aaron Boone is back as manager of the New York Yankees for the next three seasons (at least), and our listeners are NOT happy about it.
Let me back-track a bit. The New York Yankees announced this morning that they and Boone had agreed to a three-year contract, with a team option for 2025, which will keep Boone as the manager of the team. Boone has averaged 96 regular season wins during his time as the Yankees' skipper (33 wins in 2020 prorates to 89 wins in a 162 game season), and has led the team to the postseason in all four years. The team has finished at least second in the AL East each year he's been at the helm, winning the division in 2019.
The playoffs have not faired quite as well, with two ALDS exits, one ALCS exit, and the most recent result, which was an exit in the AL Wild Card Game. New York Yankees fans are used to greatness, and based on their reactions on our Facebook page, they don't equate Boone to greatness.
Take a look at some of my favorite comments when the news broke this morning.
Capital Region Albany Fans Sound Off Against Aaron Boone's Return
I guess it's fair to say that Greater Albany Yankees fans aren't thrilled about Aaron Boone returning to the Yankees as their manager for the next three seasons. Here are some of my favorite comments on the news.
Ten Tough Decisions the New York Yankees Have to Make This Offseason
From free agents, to underperforming players, to bloated contracts and unsigned field generals, the Yankees have their work cut out for them this offseason.
The Best Yankees Available to You on Cameo
If you're looking to surprise the New York Yankees fan in your life with a personalized gift unlike any other, then break out the credit cards, because you're in luck.