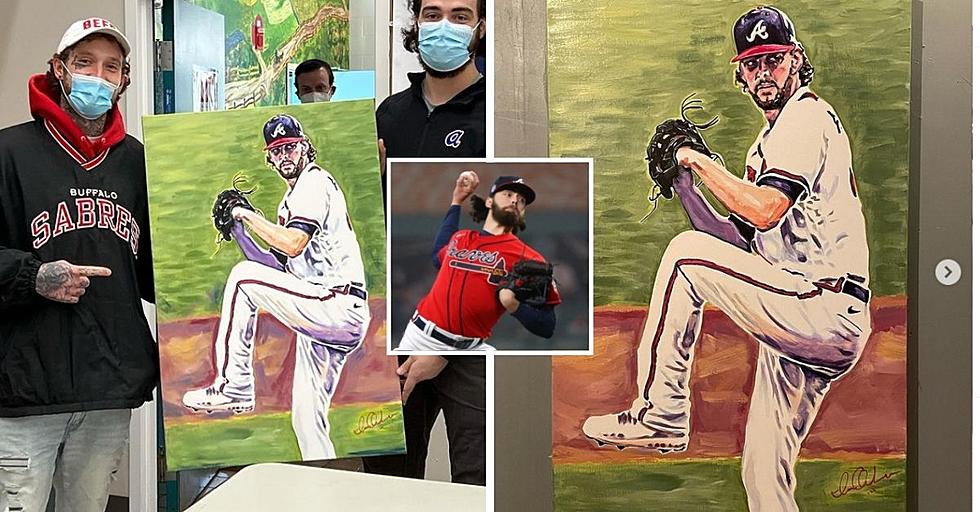 Check Out This Incredible Painting, Done by Capital Region Artist for Local Sports Star
Instagram (let_it_bleed93) / Getty Images
The Capital Region is filled to the brim with talent, and it's always quite the spectacle when talents from two different walks of life cross paths.
In this case, talent was on display over the weekend, as a World Series champion, and a championship-level artist, came together to showcase an incredible piece of artistry.
Meet Ian Anderson. He's a pitcher for the Atlanta Braves, and a World Series champion at just 23 years of age. Anderson has been touring his native Capital Region during the winter months, appearing as the honorary captain for the Albany FireWolves' home opener, and more recently, stopping in Clifton Park for an autograph session geared toward collecting donations for those in need in the area.
Then, meet Ian Anderson. Not to be confused with the Braves' pitcher, this Anderson is an artist based out of Troy, NY. Anderson creates incredible renderings of athletes, musicians and other celebrities, and displays them on his Instagram profile.
At Saturday's meet-and-greet, Anderson presented Anderson with the painting of well...Anderson.
Confused? Me too. Here's what it looked like...
An Anderson original, being given to Anderson. What a concept.
As it turns out, Anderson has profiled a number of prominent athletes for Capital Region sports fans, including Buffalo's Josh Allen, New York's Derek Jeter and Boston's Manny Ramirez.
The other Anderson, meanwhile, is waiting with baited breath, as the MLB and its Players Association continue to negotiate a new collective bargaining agreement.
While both he, and we, await a settlement, take a look at some of (the artist) Ian Anderson's most notable athlete renderings.
Capital Region Sports Fan Favorites Captured by Troy Artist Ian Anderson
One Famous Athlete Born in Each of the Capital Region's 11 Counties
From the "big four" professional sports leagues, to the Olympics and beyond, a number of famous athletes were born and raised right here in the Capital Region. Here is one famous athlete from each of the 11 counties in the Capital District.
The Ten Best Capital Region Sports Moments of 2021
In a year full of plenty of highs, and at least an equal amount of lows, here are the top ten sports moments in the Capital Region from 2021.