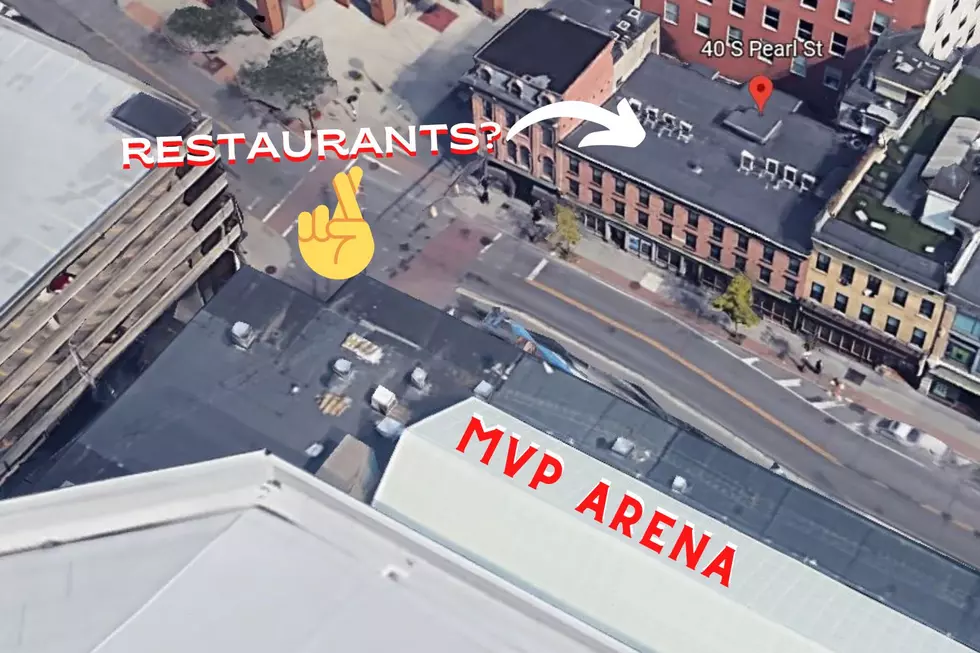 Could We Finally Get Restaurants Across from MVP Arena in Albany?
google earth-canva
Whenever there's an event at MVP Arena in downtown Albany, people always ask where is a good place to grab some dinner. Usually, the answer is short because there are very few places. The buildings directly across from the MVP Arena have sold and, fingers crossed, someone will open a restaurant or two.
40-48 South Pearl Street
It seems that these two mixed-use buildings are vacant. That's not the case. There are a few tenants inside these buildings. Three commercial tenants are inside including Maurice's Pearl Street Delicatessen and there are fifteen leased apartments on the upper floors according to the Albany Business Review. Maurice's Delicatessen signed a five year lease and that was an important part of the purchase.
The buildings sold for two point three million dollars and it's unclear what tenants will occupy the vacant spaces. Mark T. Clark and another unnamed partner purchased the buildings. There were renovations done to the buildings five years ago.
What Will The Rest of the Vacant Spaces Become?
The new owners hope to attract retailers. Clark said,
Our interest was the commercial space. I would say in the current environment we were a little nervous but with Maurice's as a solid tenant, they seem to be doing well. It made sense financially for the purchase price as long as that commercial place is rented. It was a good investment.
The new owners of the buildings already own about two hundred apartments in the Capital Region. They have apartments in Schenectady, Troy, and Cohoes. So it's unclear if some of those spaces will become more apartments.
What I Think We'd All Like to See Occupy That Space
There is nothing more frustrating than going to a show in downtown Albany and having nowhere to relax and have something to eat before. Hopefully, the new owners will entice a couple of restaurants into those buildings. It won't only be great for concertgoers but also for the downtown economy.
TLC show 'American Chopper' Orange County Choppers Headquarters in Newburgh Abandoned & For Sale
WARNING: Under no circumstances should you enter this property. By doing so you risk bodily harm and/or prosecution for trespassing on private property.
In 2003, a father-son business reality show hit the Discovery Channel. It was called American Chopper and it followed the custom motorcycle building business of the Teutul family out of Newburgh, NY. Paul Sr. owned the shop with sons Paul Jr and Mikey working in the business. There was a slew of cast and characters. The center of the show wasn't just the amazing custom motorcycles built for celebrities and others, it was the volatile relationship between Sr. and Jr. The show ran for 12 seasons before the two could no longer get along. It ended up in lawsuits and the two not talking for ten plus years. In the past few years, the business moved to Florida. This left the 61,000-square-foot headquarters for sale and abandoned. Take a look at what remains of Ocean County Choppers.