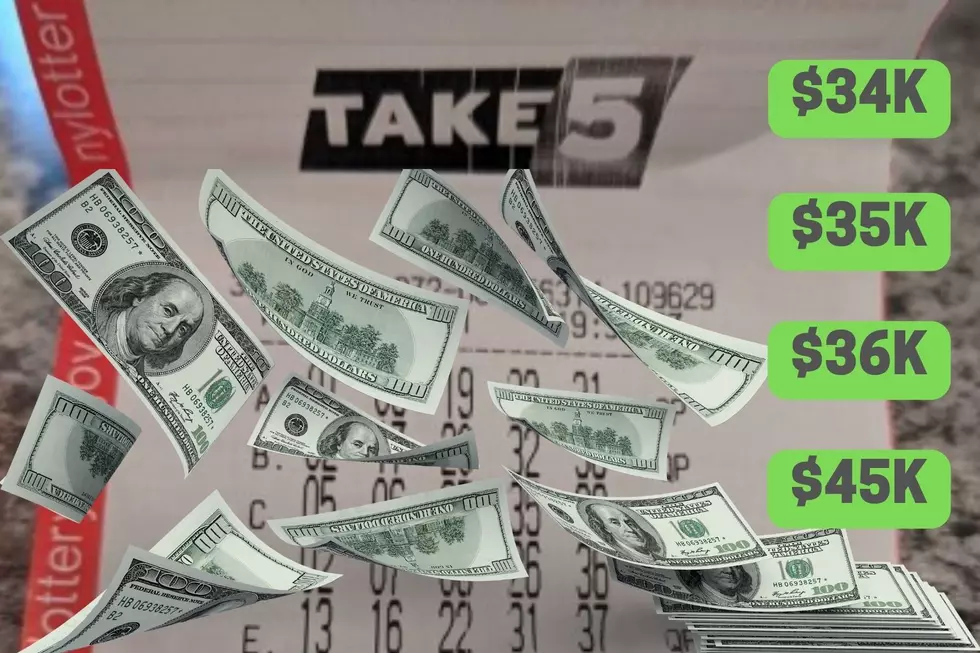 Capital Region Ca$hing In! Another $35K Take 5 NY Lottery Winner!
Canva
The New York Lottery's Take 5 drawing has been a lucky game for a bunch of Capital Region players in the last few weeks. There were two winners at area Saratoga County Stewart's Shops totaling over eighty thousand dollars in the last week. Add another winner to the list. This time in Albany.
How Much Was The Latest Take 5 Winning Ticket Worth?
The winning ticket for the Take 5 evening drawing on Tuesday, January 17th was worth $35,841.50. The lucky winner matched all five numbers. They were 10-16-23-29-33 and there was only one grand prize winner!
Where Was This Winning Take 5 Ticket Sold?
This location isn't as popular as the Stewart's Shops that have had recent winners. This winning spot is actually a truck stop off the beaten path in Albany. It's the Plaza 23 Truck Stop just off of 787 at 240 Church Street.
There Have Been a Few Winners in the Capital Region
On Monday night January 16th, there was a $34,245 winner at the Stewart's Shop at 305 Park Ave in Mechanicville.
On Friday, January 13th a winning Take 5 grand prize ticket was sold at a Stewart's Shop in Ballston Spa worth $45,713.
Another Take 5 grand prize winner bought their ticket at the Lark Street Market located at 218 Lark Street in Albany on December 13th. That winning Take 5 ticket was worth $36,000!
How Do You Play The New York Lottery Take 5?
The Take 5 drawing takes place twice per day. It happens at 2:30 the afternoon and 10:30 pm. The numbers are drawn from a field of 1 through 39. You just pick five numbers and hope to match all five. The jackpot is determined by how many others have the winning numbers. If there is more than one winner, the jackpot is split.
Breathtaking Views of Lake George! $5.5 Mil 3-Story Mansion w/ Floor to Ceiling Windows
This three-story mansion is a 7100 sq ft custom home on Lake George. There are granite floors throughout along with 7 bedrooms all with views of Lake George. Gorgeous floor-to-ceiling windows from all rooms allow for breathtaking views of Lake George. There are over 100 feet of direct lakefront complete with a sandy beach. There is a custom stone patio, propane firepit, boathouse, and deck. Check it out!