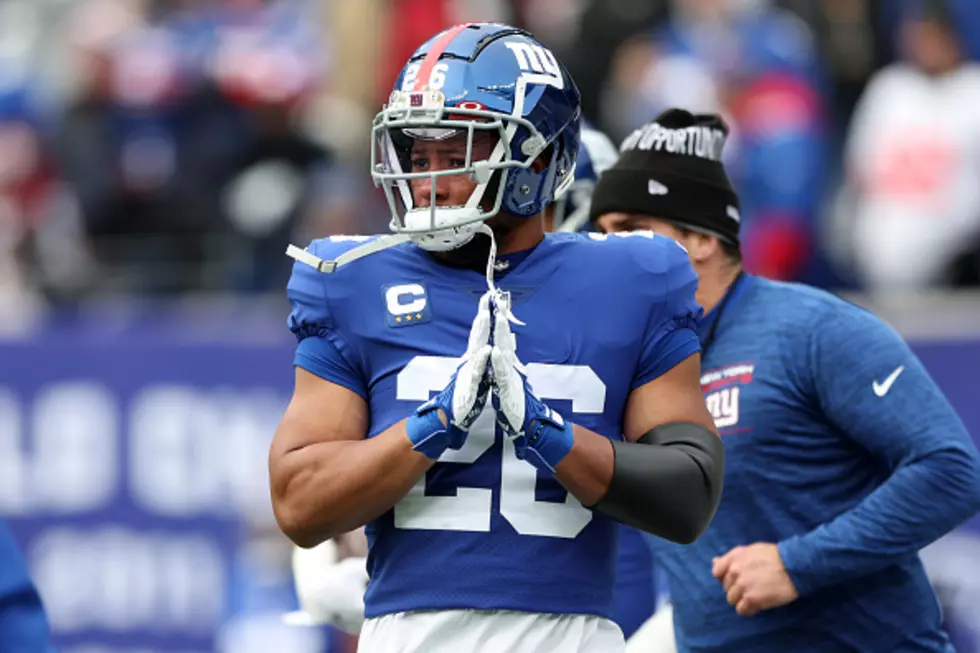 Why Is This New York Giant A Fantasy Football Target In 2022?
Getty Images
Training camps for all 32 NFL teams have opened. Veteran players were required to report to camp on Tuesday. Over the next few weeks, all eyes in New York Giants camp will be on running back Saquon Barkley and what kind of performance he is capable of in 2022. Beyond the eyes of Big Blue fans on Barkley, will be the focus of fantasy football team owners. Can the former second overall, first round pick deliver some big games/points in the upcoming season?
Ask the running back and he thinks he can. "I'm really excited," Barkley told Keith Groller of The Morning Call. "It's a big year for me and I put a lot of hard work into this offseason. Obviously, there's a lot of hard work left to put in, but I am excited about the new coaching staff. It's going to be a fun year." Should Giants' fans be optimistic?
The former Penn State star is healthy and more than excited to get back on the field in 2022. "I just want to play football; something I've loved to do so since I was a little kid and I continue to love to do, and something I'm not going to fall out of love with," the Giants' running back told mcall.com. "I'm excited and it's going to be a really big year, and I'm just going to go out there and give it my all and try to make everyone proud."
If Barkley is healthy and the Giants offensive line plays better than in 2021, which they should, Saquon should have a big year and deliver for your fantasy football team. "It's good when you can trust your body again and that only came through a lot of rehabbing, a lot of strength training, a lot of hard work in the training room, in the weight room, and on the field," Barkley told Groller. It seems like #26 expects big things from himself and it may be a smart play for him to find his way onto your fantasy football team in 2022.
Cooperstown Parade of Legends Returns
Check out parade attendees from a recent Parade of Legends. Who will you get to see this year? The National Baseball Hall of Fame Parade of Legends in Cooperstown, New York on Saturday July 23rd at 6pm from Doubleday Field to the Hall of Fame. It is a don't miss for baseball fans.
Bronx Bound? Ten Trades That Could Bring the NY Yankees a Title
The NY Yankees have a great team, and a few tweaks could bring them a World Series title. Ahead of the Trade Deadline, these ten players would be great fits.