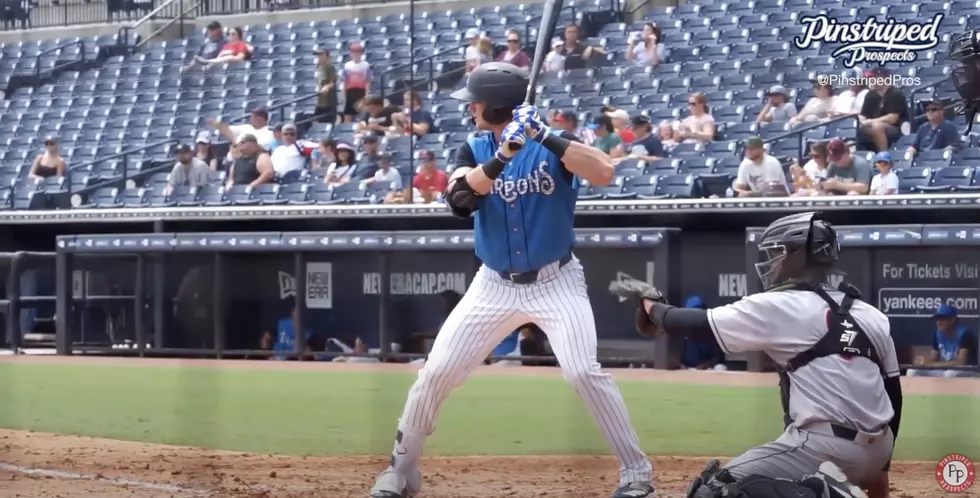 Hudson Valley Yankees Prospect Dumped For Ripping Off Team & Fans
YouTube.com
Some people take advantage opportunities. Some throw them away. Short-sighted players in minor league baseball are certainly in the minority. 99.5% of the baseball prospects on minor league rosters have hopes and dreams of getting to the big leagues. Few are willing to compromise their rare opportunity to cash in on playing baseball.
As far as that other.5%, well they are the players in their late teens and early twenties that think that they are smarter than everyone else. Those are the ones that want "theirs" now. Former Hudson Valley Renegade and New Yankees prospect apparently is one of those guys.
According to Dan Martin and Ryan Glasspeigal of nypost.com, the Yankees have confirmed that they have cut their 2019 third-round pick Jake Sanford for allegedly stealing from his minor league teammates and scamming people for money online. Yankees beat writer for nj.com Brendon Kuty communicated with one of Sanford's former teammates, Robert Stock on Twitter.
Obviously, Stock and the rest of Sanford's teammates were less than happy with the thefts. According to Kuty on nj.com, Sanford was released last week after a team investigation. Apparently, the information appeared to show Sanford had stolen items from teammates and attempted to sell the stolen property. According to nj.com, the 24 year-old also accepted money for the equipment that he failed to deliver.
Players stealing from other players is a problem as old as teams having locker-rooms. A minor league player once told me, after being released from a Major League organization for stealing (for the second time!), that he is just wired that way. It was the thrill of the whole thing. Jake Sanford should have known better. He spent 4 years at Western Kentucky in a good program. It's a shame when talented people look at short term gains instead of long term success.
Ten More NY Yankees' Players You Didn't Know Were Arrested
Following up on a previous story, here are ten other members of the NY Yankees' organization who had trouble with the law before, during or after their careers.
Which Capital Region Counties Are Ranked The Healthiest In NY?
Can you live longer depending on where you live? This research says you can and ranks the healthiest counties in New York State. So, we broke it down to the Capital Region.