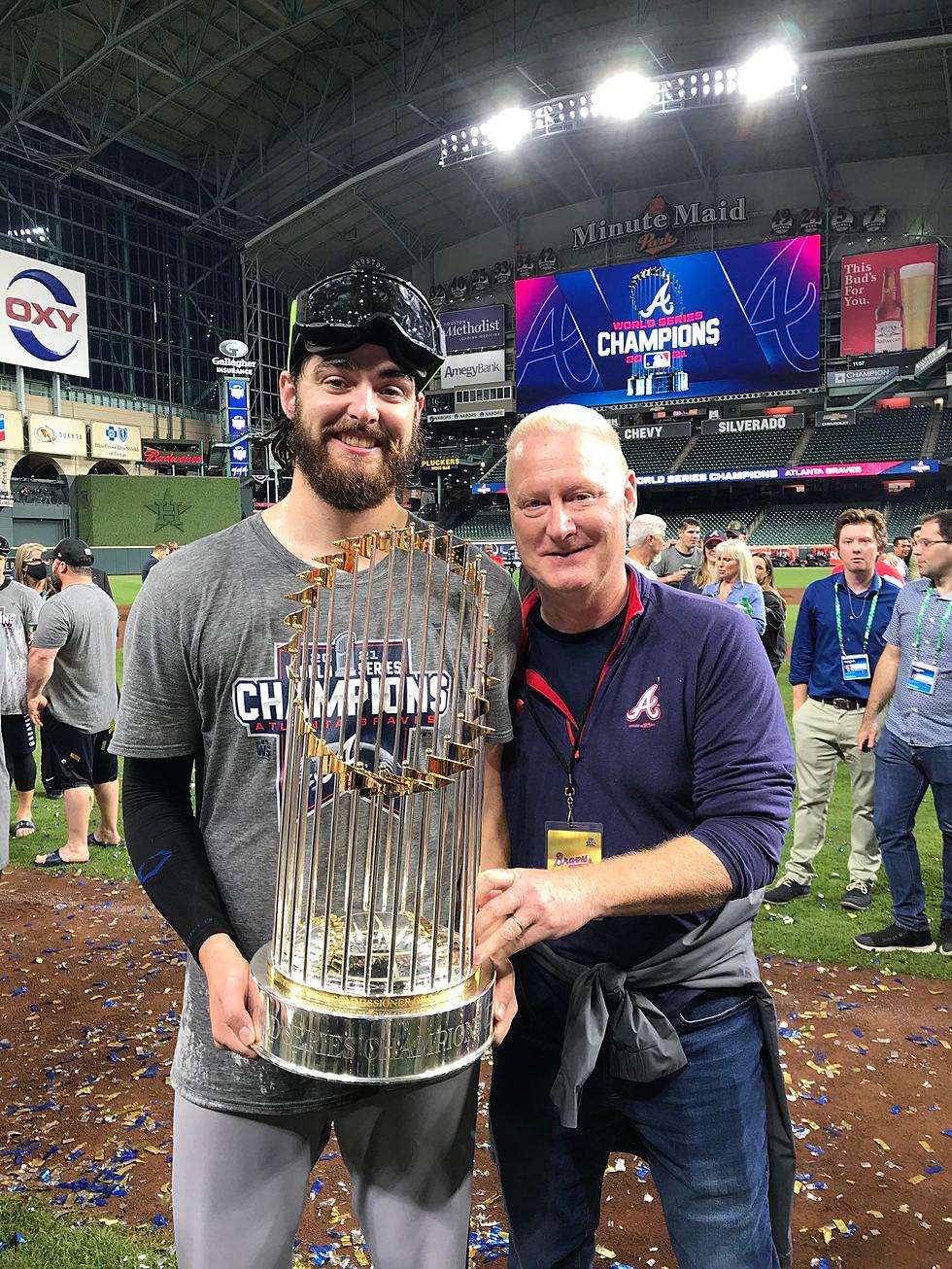 Bob Anderson Shares Incredible World Series Moments with Brian and Chrissy on GNA
Rexford's Ian Anderson Celebrates World Series Title with Family
Scroll down to hear the entire interview with Bob Anderson on GNA Friday Morning
Bob Anderson, the father of Atlanta Braves star pitcher and World Series Champion Ian Anderson, has been around baseball most of his life.  He was a high-level college player at Siena in addition to being a  very successful head coach at Schalmont, winning 325 games in his 20 years with the Sabres.
But when he retired this past June, he was hoping to relax, spend more time with his wife and kids, and maybe even play a little golf near their home in Rexford.  But when Anderson joined Chrissy and me on the GNA morning show Friday, golf - or relaxing -  was the last thing on his mind.
"We've been a little busy...I didn't hit the course once," he jokingly confessed.
He may have been busy, but there was certainly no shortage of family time, and that too was because of baseball.
See photos below that capture Anderson's incredible journey to a World Series title
It's been a once-in-a-lifetime ride for the Anderson family who followed their son Ian around the country watching him pitch as many games as they could.  But for Bob, his wife Karen, and Ian's twin brother Ben (also an MLB-caliber pitcher in the Texas Rangers organization), the ultimate family road trips came this October and November.
First they traveled to Georgia, then Texas to watch their son and the rest of his Braves teammates battle - and beat - the Houston Astros in the World Series.
We were fortunate enough to spend a few minutes on Friday morning with a baseball dad who we jokingly refer to as the Capital Region's equivalent of Archie Manning; the father of legendary NFL quarterbacks Eli and Peyton.
long after the confetti dropped and camera crews went home, Anderson shared intimate conversations that took place between father and son on the night the Braves won the title. He also couldn't wait to share with us memorable moments they had with country stars like Jason Aldean, Cole Swindell and Thomas Rhett.
It's the story of a baseball dad and a baseball family, making the most out of retired life, but doing anything but relaxing.
Here's the entire interview with Bob Anderson on 107.7 WGNA with Brian and Chrissy in the morning.
Photos of Ian Anderson and Family that Capture their Magical World Series Ride
14 Photos of Ian Anderson and Family that Capture Their Magical World Series Journey
30 famous people you might not know were college athletes
Stacker
dug deep to find 30 celebrities who were previously college athletes. There are musicians, politicians, actors, writers, and reality TV stars. For some, an athletic career was a real, promising possibility that ultimately faded away due to injury or an alternate calling. Others scrapped their way onto a team and simply played for fun and the love of the sport. Read on to find out if your favorite actor, singer, or politician once sported a university jersey.