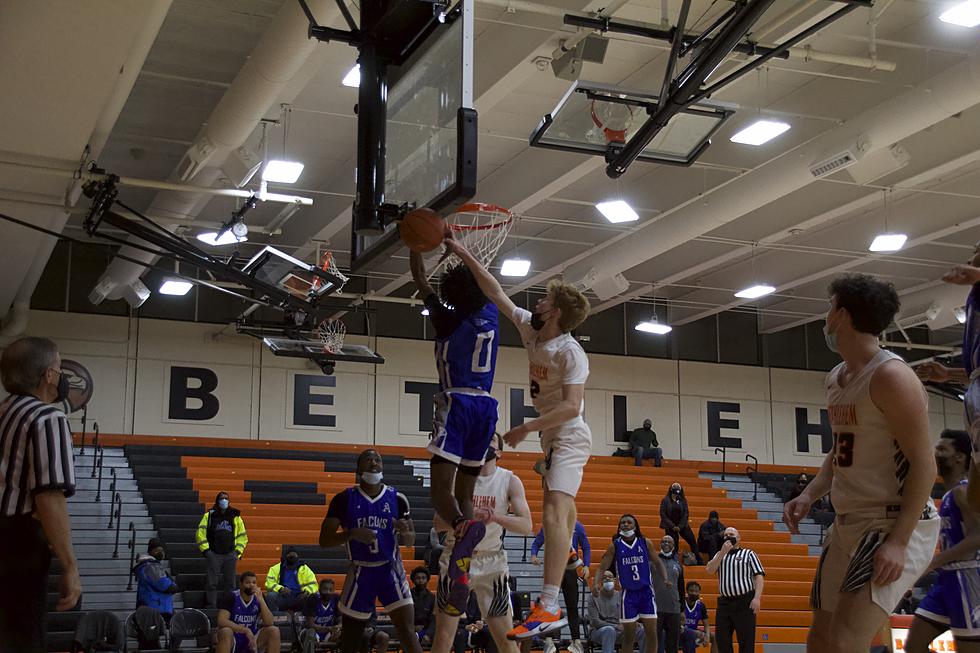 Bethlehem, Greenville & LaSalle Pull Upsets on Sectional Tuesday
Photo by Sasha Jo
Coaches tell their players all of the time, you never know. If you do your jobs, play smart and execute properly, good things happen, like a #13 seed can upset a #3 seed on their home floor. That's why you play the games. Upsets happen in the NBA. They happen more often in college and certainly more than that in high school sports. Tuesday night had a few examples in the Section 2 championships.
Let's start with boys basketball in Class AA. #10 seed LaSalle upset the #7 seeded Shaker. #10 LaSalle will face #2 seed Niskayuna on Saturday at 5pm at HVCC. #9 seeded Bethlehem went to #8 Saratoga and pulled out the 73-69 victory. #9 Bethlehem will take on top seeded #1 Green Tech on Saturday at 6:30pm at HVCC. #4 Shenendehowa took care of #13 Schenectady 68-44, while #5 Albany got by Guilderland 59-51. #4 Shenendehowa will take on #5 Albany on Saturday at HVCC. That tip time is scheduled for 1:30pm. #3 seed CBA took care of #14 Columbia 55-39, while #6 seeded Ballston Spa knocked off #11 Colonie 74-62. #3 CBA will take on #6 Ballston Spa on Saturday at HVCC. That tip time is scheduled for 3pm.
On to the Class B boys basketball games, where we found the biggest upset on Tuesday night. #14 seeded Greenville traveled to #3 seed Mechanicville and held on to win 66-62. #2 Cohoes shut down #18 seeded Vooheesville 68-51, while #7 Schuylerville beat #10 Hudson 79-59. #2 Cohoes will face #7 Schuylerville on Friday at 6:30pm at HVCC. #8 Glens Falls got by #9 Watervliet 60-57. #8 Glens Falls will move on to face the winner of Wednesday's game between top seeded #1 Tamarac and #17 seeded Schalmont, Friday night at 8pm at HVCC, barring a snow storm change. #4 Catholic Central pounded #13 Cobleskill 77-38, while #5 Fonda-Fultonville took care of #12 Broadalbin-Perth 46-37. #4 Catholic Central will take on #5 Fonda-Fultonville Saturday at 12noon at HVCC. #6 Icabod Crane whacked #11 Catskill 69-45. The Cinderella story #14 Greenville will take on #6 Icabod Crane on Friday at 5pm at HVCC.
In Class C action on Tuesday #8 Hadley-Luzern nipped #9 Galway 54-53. #8 Hadley-Luzurne will face top ranked #1 Maple Hill on Saturday at Shenendehowa. That game will tip at 5pm. #6 Whitehall defeated #11 Cambridge 63-53. #6 Whitehall will face #3 Berne-Knox on Saturday at Shenendehowa. That is a 1:30pm tip time. #7 Waterford got by #10 Schoharie 60-50. #7 Waterford will take on #2 Fort Plain on Saturday at 3:30pm. That game is also at Shenendehowa.
Class CC action saw #9 Saratoga Catholic go to #8 Granville for the upset victory 50-35. #9 Saratoga Catholic will face the top seeded #1 Stillwater on Saturday at 5pm at Saratoga High School. #7 Hoosick Falls knocked off #10 Mayfield 64-36. #7 Hoosick Falls will face #2 Chatham at 3:30pm on Saturday. That game is at Saratoga, as well. #6 Greenwich defeated #11 Rensselaer 76-51. #6 Greenwich will take on the #3 seed Lake George on Saturday at Saratoga. That game will tip at 1:30pm.
Finally in Class D in girls basketball. #1 Hartford whacked #8 Germantown 65-25, while #4 Northville nipped #5 seed Salem 50-49. #1 Hartford will meet #4 Northville on Monday at 7:30 at Ballston Spa. #2 seed North Warren stopped #7 Notre Dame-Bishop Gibbons 30-26, while #3 Saratoga Catholic got by #6 Argyle 60-41. #2 North Warren will face #3 Saratoga Catholic at Ballston Spa on Monday at 6pm.
The Capital Region's 10 Best Italian Restaurants [RANKED]
When it comes to food, the Capital Region is best known for its long list of great Italian restaurants. From chicken parm to veal to amazing seafood dishes and everything in between, here are the best of the best in the greater Albany area according to GNA listeners.