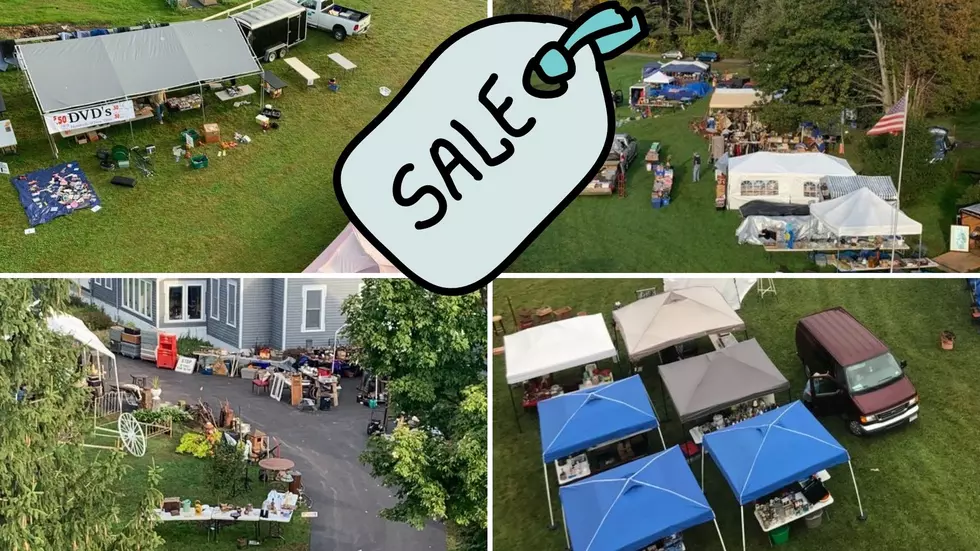 Weekend Garage Sale in Saratoga is a Bargain Lover's Dream Come True!
Photo: Ed Sakos Facebook
These aerial photos look like they were taken from a State Fair, but this isn't the Saratoga County Fairgrounds.  It's the site of a humungous garage sale, held annually on a residential property in Saratoga Springs - and it's one of the biggest I've ever seen.
When Ed Sakos from Saratoga posted information about the upcoming, massive garage sale to the 518 Online Garage Sale Facebook page, people immediately started tagging one another and sharing the post.
It's no secret that most people love to find a good deal or a misvalued treasure at garage sales, and that's why Sakos' Facebook post blew up when he posted it.
In addition to the aerial photos that showed the sprawling layout, Sakos also listed a laundry list of cool items people may find this weekend at his "Our Annual HU-MON-GUS Spring Weekend Sale" on April 29th, 30th, and May 1st. 
Each day, the sale starts at 9 am and goes until he turns the lights off.
According to the Facebook post, Ed wants this stuff GONE and no reasonable offer will be refused, so don't be bashful.
Sakos told us that he has a lot of fun doing this event with friends and that the upcoming sale with be the 32nd time he's done this.
Here's in part, some of the items for sale this weekend at his sale, located at 10 Schallen Rd Just off Lake Ave. East in Saratoga Springs:
Canoe
Patio furniture
Tools
Glassware
Iron furniture
Old toys
Some military
Books
Old plows
Birdbaths
Concrete planters and critters.
Life Magazines
Christmas stuff
Linens
Clothes and Jackets
Rockers
Coolers
Fishing reels, boxes, poles, lures
Coke stuff