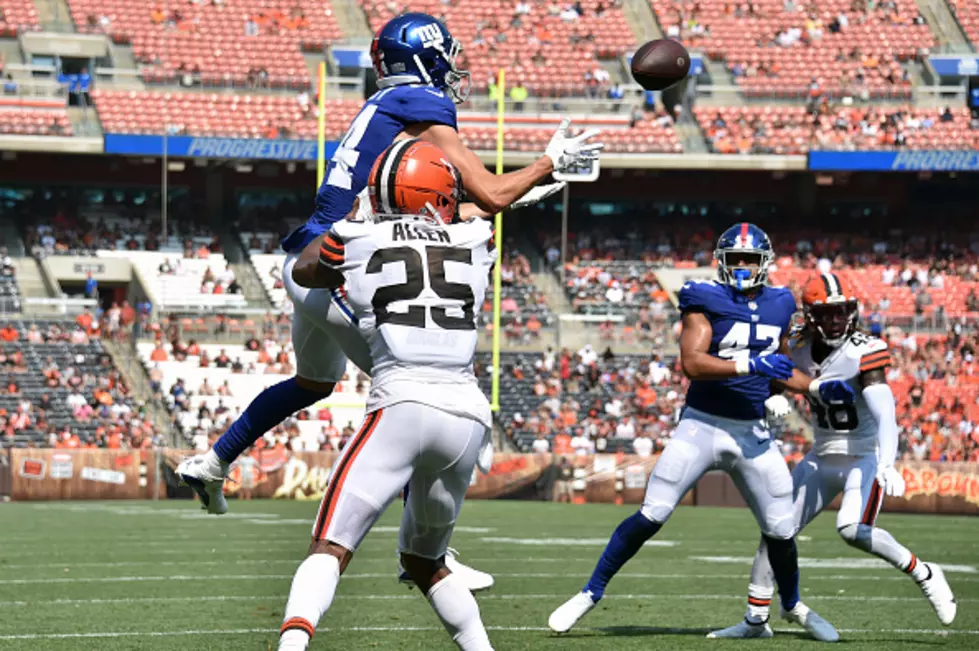 This Giant Is Grinding To Catch A Roster Spot In New York
Getty Images
There are the NFL players that use training camp to "tune-up" their game. They learn the play book. They endure team contact drills for the first time months, all while enjoying their big contracts. Then there are the "other guys." These are players trying to earn or keep a spot on an NFL roster. They are trying to win a job.
David Sills V has been one of the "other guys" since he signed with the Buffalo Bills as a free-agent out of West Virginia University in 2019. According to giants.com, Sills was released prior to the regular season and signed to the Giants practice squad. Since 2019, the 26 year-old wide receiver has been activated on several occasions late in the season by Big Blue but never for long.
"It's been an up-and-down road," Sills told Steve Serby of nypost.com, "but I've been able to stick with it. The NFL's never easy, and I always say it's a marathon, it's not a sprint. Some things just might not go your way. You just gotta keep plugging away." The only way a player like David Sills V makes a 53-man roster out of camp is if he stands out in some way different than the other receivers. Finding a link with the starting quarterback is a good beginning.
"We've been able to build a connection and a chemistry," Sills told nypost.com of his relationship with quarterback Daniel Jones. "I think it's showing out there on the field." How does the Giants QB feel about Sills V? Jones told Serby, "He's an extremely hard-working guy who you can count on to be in the right spot. He's a smart football player, he knows how to get open. He's talented from a route-running standpoint and someone who I've worked with a lot. He made a lot of plays today. He's made a lot of plays this camp." That isn't a tremendously ringing endorsement but it was diplomatic praise. Someone that knows him a bit better did provide some high-marks for the journeyman receiver.
"Never been around a receiver like him," third-string quarterback Davis Webb told Steve Serby on nypost.com. "I think his work ethic and his mental approach to the game is pretty spectacular. Never seen it. He's a grinder. He's always working on his body, or film. He's really like a quarterback playing receiver. He's got a unique skill set. He knows himself, which I think is important. He knows what his strengths are, and he tries to maximize that." Sounds like a player that brings more than a football skill-set that can help this year's Giants.
NYS Police Released the Data on Speed Week 2022 - They Were Quite Busy!
New York State Police were out in full force from Monday to Sunday, August 21, targeting speeding, and other unsafe driving behaviors, including distracted driving and violations of the Move Over Law. Here's a look at NYS Speed Week, through the numbers!
New York Animal Encounters
What do you do if you encounter these animals in the woods of New York?