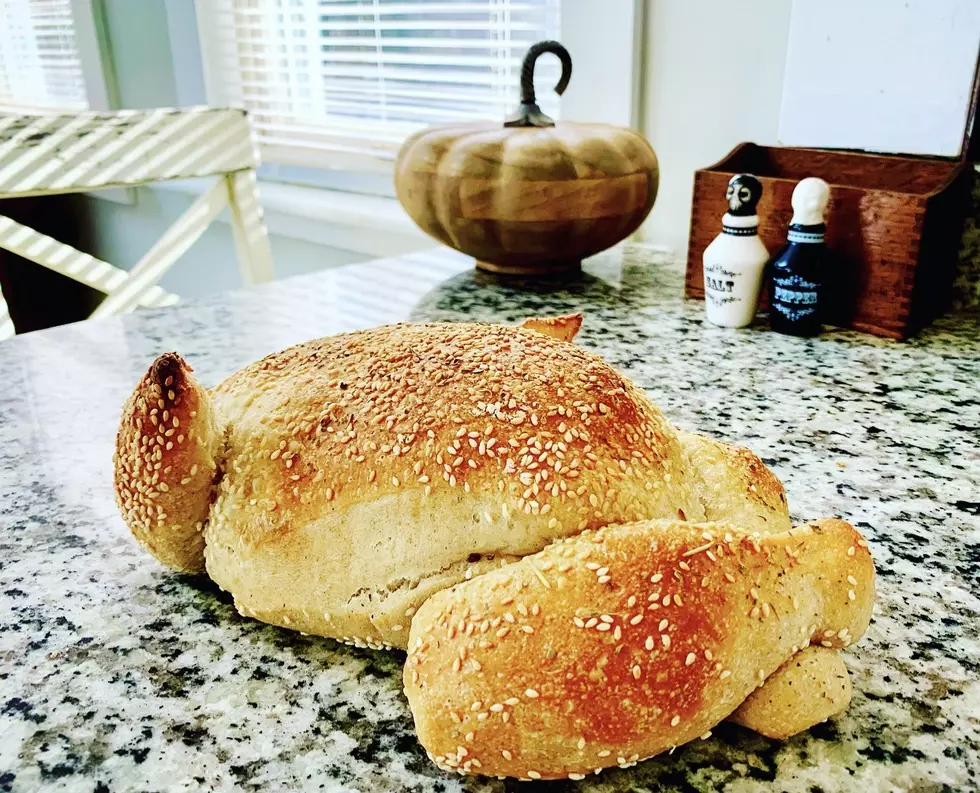 This Isn't a Turkey, It's Bread Made In Colonie
Lainie Rae
When it comes to Thanksgiving we have the traditional turkey dinner while some homes enjoy serving a roast or a ham and in some Italian homes you will find manicotti or lasagna but how many homes will have a loaf of 'Turkey Bread'?
The Bread Butler in Colonie is one of the finest bakeries in the Capital Region with one of the most unique items you will ever see, Turkey Bread! It's a loaf of bread in the shape of a turkey!
The bakers at Bread Butler, 1500 Central Avenue in Colonie, have created something that not only tastes good but just might fool your holiday guests. Shop owner Andreas Mergner says they take their Carla dough and shape it like a turkey! The bakers sprinkle a bit of Italian herbs to add to the effect and bam! You have Turkey Bread!
Turkey Bread goes quickly so, if you'd like a loaf, I suggest that you don't wait too long. You can order a variety of breads from Mocha Loca to Rye and yes Turkey Bread right HERE.
The novelty of the Turkey Bread may be what gets you in the door at the Bread Butler but you will soon taste the reason this will become your year-round destination for breads. The menu changes week to week so be sure to check the upcoming schedule HERE.
Good Morning! Originally called "Christmas Morning", this treat was so popular the name was changed to "Good Morning" and available year-round. Filled with candied orange peels, cherries, dates, raisins, cardamom, and then topped with sunflower seeds and a touch of sugar.
Happy Holidays and seasons eating's!
OPEN - These New York Stores Will Be Open on Thanksgiving 2022
These New York stores will be open on Thanksgiving but many have limited hours.
CLOSED - These New York Stores Will Be Closed on Thanksgiving 2022
Get what you need ahead of time as these New York stores are scheduled to be closed on Thanksgiving!
Five Best Side-Dishes in Buffalo For Thanksgiving
Thanksgiving dinner is right around the corner. Here are the best side dishes, according to Buffalo.