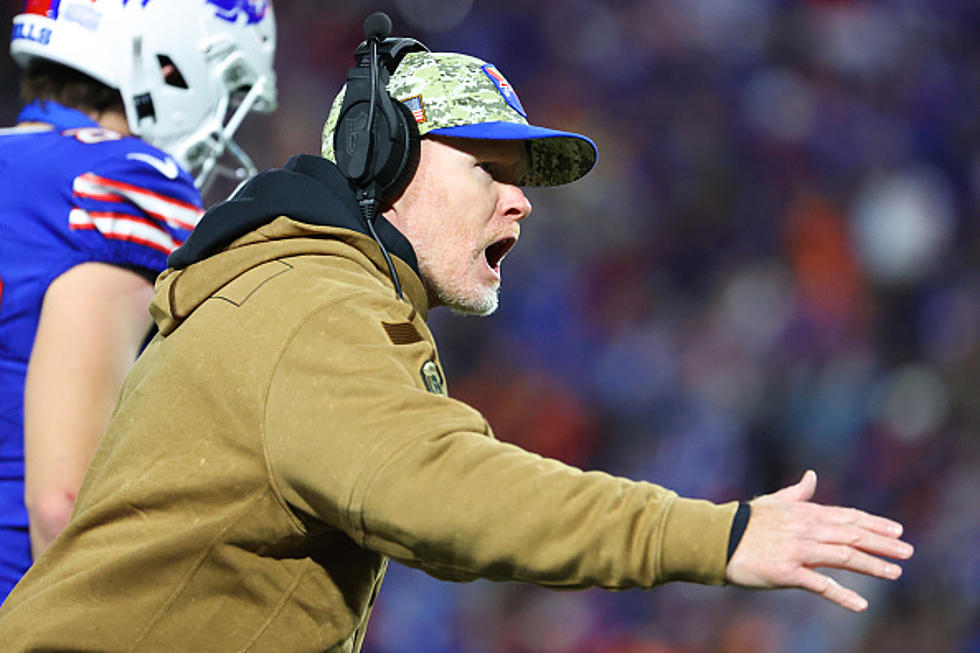 Former Buffalo Bills Player Says They Fired the Wrong Guy
Getty Images
The past 14 hours have been tough on Buffalo Bills fans in Western New York, as well as around North America.
The Bills dropped to 5-5 with another painful loss on Monday night, this time to the Denver Broncos.
The Broncos did not play well and tried time and time again to give the Bills the game, but the Bills kept making mistake after mistake. Four turnovers and it could have been more. Dropped passes, interceptions and fumbles.
The offense was out of sorts again and then the inexcusable 12 men on the field penalty, which allowed Broncos kicker Phil Lutz to kick the game-winning field goal. You can also point to head coach Sean McDermott calling an all-out blitz on 3rd and long, even though Denver was out of field goal range and out of timeouts with less than 30 seconds left. The result was a pass interference on Taron Johnson.
Because of that loss, McDermott and general manager Brandon Beane decided to make a drastic decision on Tuesday morning.
The Bills have fired offensive coordinator Ken Dorsey, 10 weeks into his second season as the Bills OC.
It's a move many Bills fans were calling for, but after that loss on Monday, McDermott's job security has been called into question by the fanbase. That includes a former Bills player.
Guard Quinton Spain is a free agent but played for the Bills between 2019 and 2020. He was on the Bills teams that broke out into an offensive juggernaut, but was released during the 2020 season after an undisclosed reason.
He last played with the Cincinnati Bengals in 2021.
Spain tweeted that "they fired the wrong guy." Likely a reference to Sean McDermott.
Spain tweeted that "only if they knew the real reason." He later said he wanted out, and looks like it was due to McDermott.
There's no doubt this is the low point of the McDermott and Beane era. Dorsey and the players on offense deserve blame, but McDermott is now becoming part of the problem. He didn't take the fall for 13 seconds vs. the Kansas City Chiefs, plus the inexcusable losses like the wind game vs. the Patriots in 2021, the Vikings loss in 2022, the no-show against the Bengals in the 2022 playoffs, now this season with this loss.
Dorsey deserved blame but so has McDermott. The ship has to be righted at some point.
6 Buffalo Bills Greats That Didn't Look Right In A Different Uniform
Unfortunately, sometimes your favorite player leaves your team and when you see them it just looks weird. Here are five former Buffalo Bill greats that just look weird wearing a different team's jersey.
Gallery Credit: Dave Fields
15 Things You Should Never Do at a Bills Home Game
Things that are a no-no to do at a Buffalo Bills home game.
22 Famous Buffalo Sports Phrases Every Die-Hard Bills and Sabres Fan Knows
Being a sports fan in Buffalo is sometimes like knowing a different language. Here are 22 of our favorite Buffalo sports phrases you already know if you're a huge fan! And if you're new here, here's how to catch up.
Gallery Credit: Clay Moden