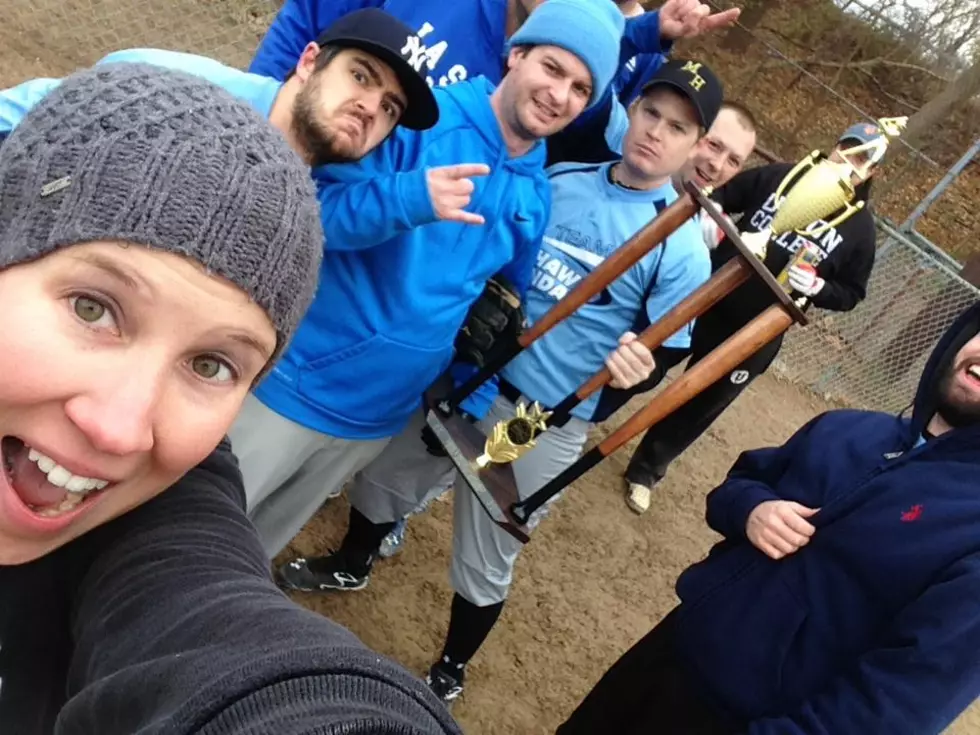 In 25 + Years of Softball, I Never Expected This Day to Come [Photos]
Softball Team credit: Marissa
When we started this team just over a year ago, the goal was to have fun. Some of us were coming from a team that wasn't playing as a team, with that came a lot of losses and a lot of unnecessary drama. The finger kept getting pointed and the fun was taken out of it. After 25+ years of playing the game, I honestly thought, maybe I was done.It turns out, I wasn't the only one feeling that way, in fact one of my best friends felt the same but instead of throwing in the towel we started talking about beginning our own team.
The recruiting began, searching our family and friends to find who may want to play the game like we wanted to play, finding a sponsor, getting the uniforms together and practicing to start playing like a team. We had to learn that last one, it doesn't happen overnight. Spring goes, so does Fall, we flew through another spring and then hit Fall again.
We started off strong winning our first double header. It was tough for me to make a handful of games and as a few team members said to me, "it was felt." I pride myself on my competitive nature, skill level after playing for so long and just bringing a spirit to the game itself, so it was nice to know that it is appreciated.
Our season went on with a record of 5-3, leading us to the finals where we were leading going into today. Already one up on a best of three, if we won the first game it was all over.
Waking up this morning knowing it would be a high of 42* degrees and the normal person would have to be "high" to play. It was cold, I'm not gonna lie and I wasn't feeling my best but I knew what had to be done. We all did.
There's a pitching technique that some use to try to throw off the batter, in most cases the ones they know can hit. I saw it with the first 4 pitches that came to me. I'll admit, I get frustrated because I just...want to...hit! What most don't know on the opposing team (until now, in print any way) I tend to handle myself very well under the pressure. I cracked the ball to deep center where no one was expecting it and if it weren't for the mud on the field, I would've made it all the way around but alas, I had to stop at third.
This was the start of some pretty great things for our final game. That's right, we took it all with a 10-8 victory against the Misfits! A relatively new team, that's gone through some player changes over the last couple of months won the championship game for our division.
I honestly wasn't expecting what was next either - because that wasn't all. As the winning team, we had to pick an MVP for the guys and girls on our team. The girls deliberated, as did the guys. The girls chose our pitcher, Bill as our male MVP for his outstanding job all season, while the guys picked...ME. Apparently I've been pretty consistent. I'll take it!
Overall, I have to say, I wasn't expecting to play the Fall Ball season. We didn't officially have a sponsor, it wasn't cheap and we were a couple people short at first. But, I guess it was a good idea to keep trucking along any way.
Not many times in our lives can we feel so accomplished, but today for me has been one of those days.