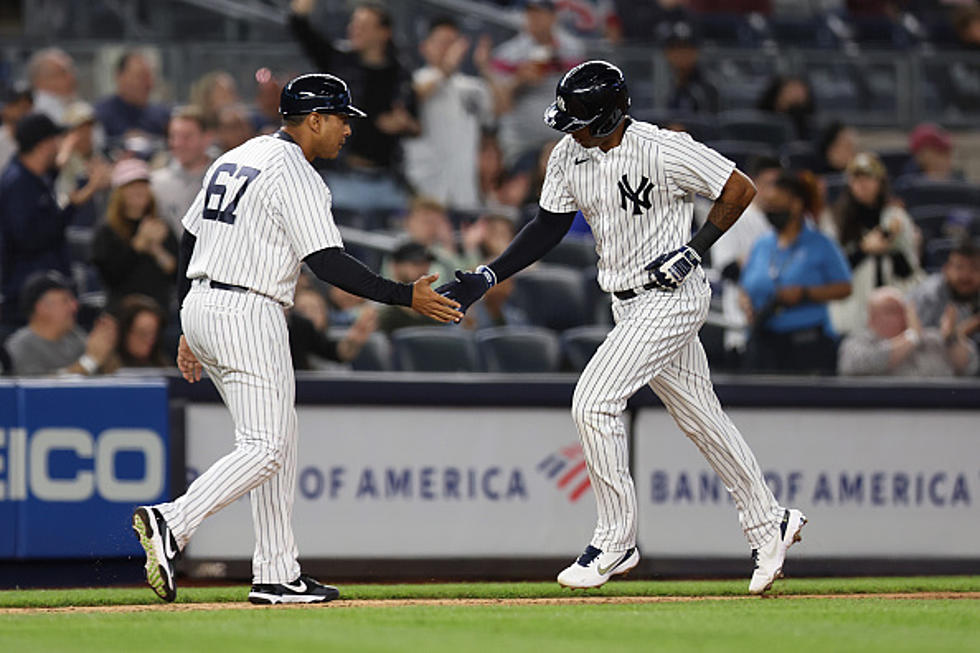 Winter Games Helped Get This Yankee Back In Center In New York
Getty Images
Major League Baseball players that have multi-year, million dollar contracts don't often play winter baseball. The ones that do have a purpose. Usually, that purpose involves recovering from an injury. The smart players know that live-game action against top competition is the only way to know you are ready.
New York Yankees outfielder Aaron Hicks has had limited action since his stellar year in 2018, where he played in 137 games and hit 27 home runs and drove in 79. The next year he signed a 7-year deal with the Pinstripes for $70 million. Last year, due to a torn sheath in his left wrist and subsequent surgery, Hicks played in only 32 games. Aaron Hicks wanted to be ready for his 2022 campaign.
According to Greg Joyce of nypost.com, following the 2021 season, the Yankees center-fielder decide to go to the Dominican Republic to play with Leones de Escogido in the Dominican Winter League. The Yankee outfielder played in 12 games and had 53 plate appearances. It was just what Hicks was looking for.
"Getting back into playing, competing, seeing pitches. Ultimately, the most important thing for me was seeing pitches and being able to adjust to velocity again," the Pinstripes center-field told nypost.com. It is tough to have such limited action for so and try to be "Major League" ready for the next season. The Dominican Winter League is a great option.
Hicks is an important part of this team, at least general manager Brian Cashman would like him to be, with 3 years remaining on his contract after this season. The 32-year-old is a strong defensive player with a ton of offensive power. The extra work appears to be paying off for Aaron Hicks. Including Wednesday's game against Toronto, Hicks has had a hit in each of his five starts, including a two-run home run in Tuesday's 4-0 win over the division rival Blue Jays. That's a nice start to the season after a winter of hard work.
10 Capital Region Golf Courses You Can Play For Under $40
Taking a look around the Capital Region at some of New York's finest public golf courses, I was able to find more than a few that won't break the bank. Check out these affordable options, so you can save and play the links more often!
New York Colleges That Made The Top 50 Most Expensive In America
CBSNEWS.com did a Top 50 Most Expensive Colleges and Universities in America. Let's see which New York colleges made the list.
See Bob Weir At New York's Radio City Music Hall For His "Ace" Album 50-Year Celebration
Bob Weir & The Wolf Brothers came to New York's Radio City Music Hall to celebrate 50 years since the release of his solo "Ace" album, which included such Grateful Dead staples as Playin' In The Band, Looks Like Rain and Mexicali Blues. The two night run April 2nd and 3rd featured special guests and sold out performances.