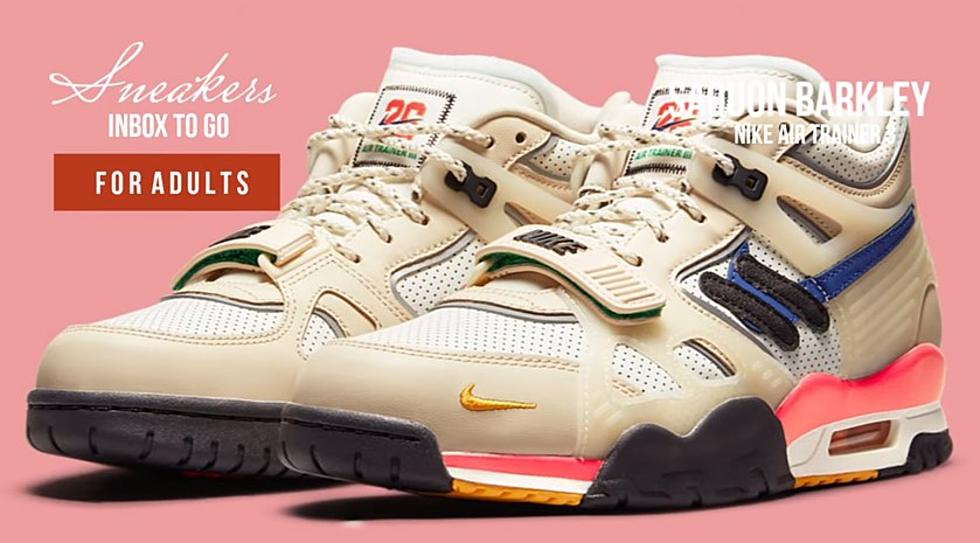 What Grade Do You Give This New York Athlete's New Nike Sneakers?
Image courtesy YouTube / INBOX TO GO.
New York Giants' running back, Saquon Barkley, is back on his feet, and will be sporting his own kicks from here on out.
Barkley and Nike announced his own Air Trainer 3 colorway sneakers, continuing to build the off-field legacy of the Giants' young star. Here is the description of the inspiration behind the sneaker, courtesy of Yahoo Life:
"According to the Swoosh, the Barkley's iteration of the shoe celebrates the New York Giants star running back's admiration for Bo Jackson who popularized the silhouette in the '90s. In addition, the makeup references the sneaker culture and street fashion in New York City during Barkley's upbringing in the '90s." - Yahoo Life
So, let's take a look at the kicks, and see if you'll be adding these to your wish list.
Okay, let's break these down, beginning with my likes. First of all, the diverse color palette is really eye-popping. While I must admit, I would've preferred more of a Giants-centric color wheel being used, or even a Penn State theme, the diversity of the colors on the different areas of the shoe is really unique. The mesh-looking inner exterior is also a really smooth look, and the tri-colored sole makes for a really visually-pleasing bottom, especially toward the toe.
My one main drawback is the plastic outer layer of the shoe. I know that feature comes with the style of shoe that Barkley has been given, but I would like them a bit more of the mesh-looking inner exterior was just the outside of the shoe.
Here's another look at the kicks:
Overall, the product is very unique, and has a great deal of history and influence in every small detail. This is an AWESOME honor for a New York Giants player, especially one with as much star potential as Saquon.
TACKLE THESE: Check Out the Best Uniforms In Each NFL Team's History
CHECK IT OUT: 100 sports records and the stories behind them