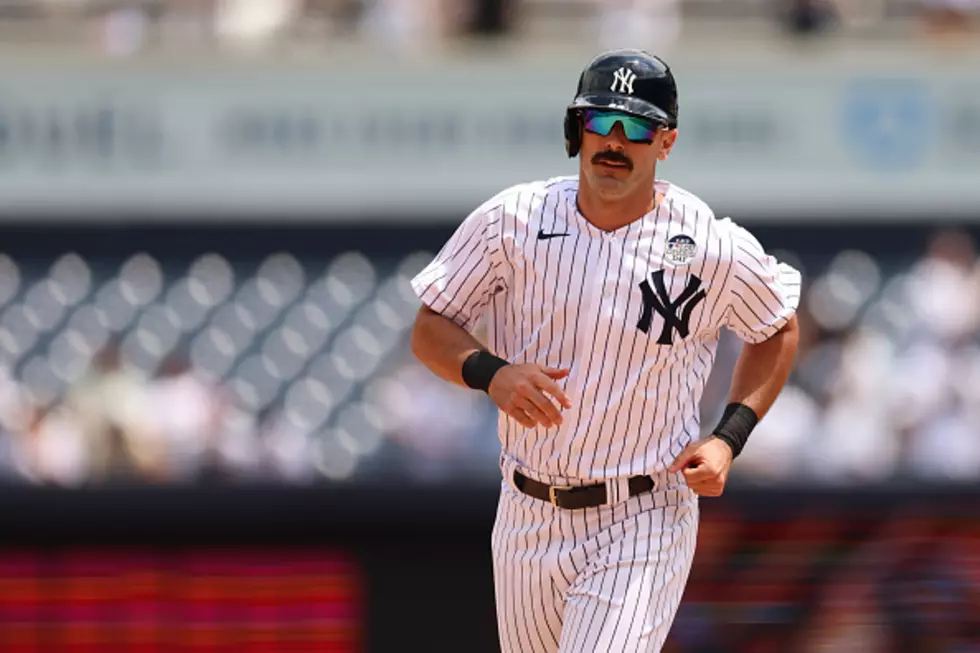 This Carpenter Has Many Tools That Help New York Yankees
Getty Images
It's hard to go through a minor league system, spend 11 years with one Major League organization and then just move on. The St. Louis Cardinals were done with Matt Carpenter and bought out his option in November. The 36 year-old utility master, who has played significant time at 1st, 2nd, 3rd, left field and right field, knew someone could use his tools. In addition to his defensive skills, the 3-time All Star has a Silver Slugger Award in that belt.
Yankees general manager Brian Cashman snatched Carpenter off of the Texas Rangers AAA roster. Since the player had a Major League roster contract offer, the Rangers had to either promote him to their big league roster or release him. They did the latter and Cashman signed his utility man.
Sunday, Matt Carpenter enjoyed a day in a New York Yankees uniform that few would ever forget. Playing an emergency 3b for Aaron Boone after Gleyber Torres was a late scratch from the line-up, the former St. Louis Cardinal went 3-for-4, crushing 2 home runs, and driving in 7 RBI's, plus a walk with the bases loaded! Carpenter now has 6 homers since joining the Pinstripes in late May.
According to Dave Lennon of newsday.com, who referred to the Elias Sports Bureau, "Carpenter is only the second player in the modern era (since 1900) to have six home runs in his first seven hits with a team, joining Trevor Story, who did it for the Rockies in 2016. Sunday's seven RBIs also matched his career high from 2018."
"I don't really have words for it. I obviously feel good at the plate, got my swing where I want it and just trying to go out and execute. I've been able to put a couple of good swings on balls lately," Carpenter told newsday.com
Matt Carpenter began to struggle at the plate in 2019 for the Cardinals and that continued until his eventual release after last season. This is a pretty good feeling for a player on the back-nine of his career. "I don't know. I certainly feel good. I've played the game long enough to know what it feels like and looks like when I'm right. And this is certainly that . . . It kind of got away from me the last few years. I just didn't really have it. So it's pretty rewarding to be able to do it in New York City for the best team in baseball," he told Dave Lennon and other reporters.
One thing is for sure, Matt Carpenter is an easy player to root for. His knowledge of the game and preparation for every situation provides instant value. However, on this Yankees roster you have to produce and Carpenter is certainly proving to be a pretty powerful utility tool for Aaron Boone.
10 of the Best Rated Restaurants in the Heart of Lake George
From breakfast, lunch, and dinner to simple, casual, and a little classy, here are 10 places that have solid reviews, are reasonably priced, and have really good food. Oh, and they're also really close to everything in the heart of Lake George Village!
Brews With A View: The Capital Region's 5 Best Rooftop Bars
Summer time is here, which means an outdoor adult beverage is probably at the top of your to-do list most evenings. While outdoor bars and dining are nice, nothing beats an ELEVATED outdoor view. Here are the top 5 must-visit rooftop bars to add to your Capital Region summer 2022 bucket list.