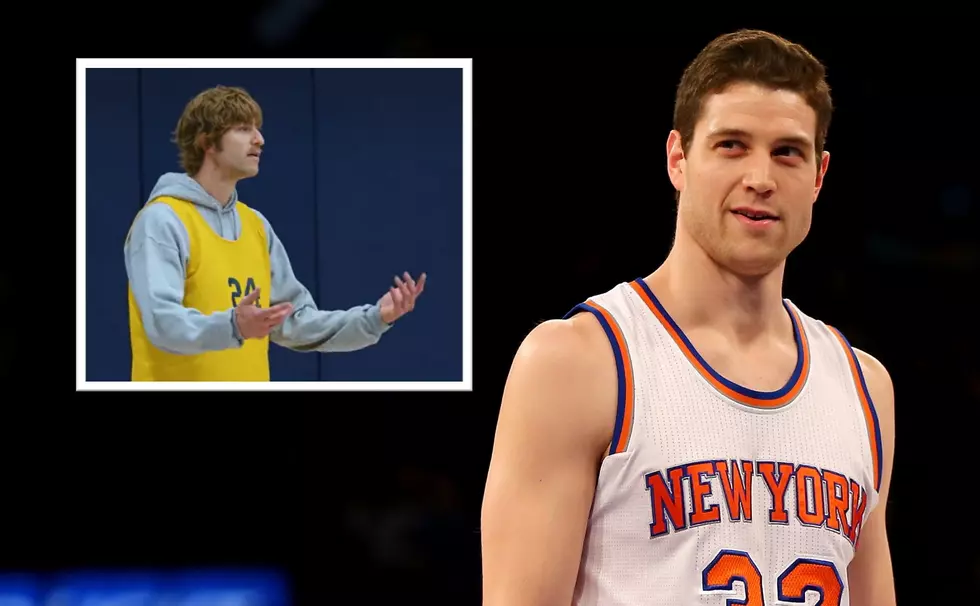 This Capital Region Hoops Legend Fooled Everyone in Undercover Prank [WATCH]
Getty Images / Twitter (@BYUMBB)
When it comes to "professional athletes from the Capital Region", few names come to mind quicker than Jimmer Fredette.
A native of Glens Falls, New York, Fredette was a phenom well before he made his collegiate debut for BYU. Fredette graduated from Glens Falls High School as the school's all-time leading scorer, and held the Section 2 scoring record through the 2014-15 season.
Fredette's local success led to success at the collegiate level, and later, a career in professional hoops. He took a break from his pro career to return to his old digs in college, though when he first arrived, no one knew it was him.
---
Capital Region Hoops Legend Fredette Goes Undercover with Old College Team
A story from WNYT Channel 13 in Albany detailed Jimmer Fredette's undercover adventure, in which he returned to Brigham Young University to "try-out" for the team. Fredette masqueraded as a 19-year-old from Cincinnati, and took the court alongside a number of college hoop hopefuls.
Fredette's re-appearance at BYU was a notable one, because of the outstanding career he had as a member of the Cougars. Fredette set individual game and single-season records at BYU, which led to him being selected 10th overall in the 2011 NBA Draft.
He played 241 career games in the NBA, but has found more success internationally. He won a CBA (Chinese Basketball Association) MVP award, and won a championship with a team in Greece.
Fredette returned stateside to play in The Basketball Tournament, which allowed him to take part in this prank. The try-out took place at the end of September, and BYU documented the whole thing:
He may have fooled a few of the try-out participants at the beginning, but that didn't last for long. Going by the fake name of Tim Schloss, Fredette told those involved that he went by the nickname Slick Nick. His moves would live up to the nickname, shocking players and coaches alike before the big reveal.
I always find these behind-the-scene videos to be funny. Whether it was Kris Bryant undercover with a college baseball team, Greg Maddux as a batting practice pitcher, or Eli Manning with the Penn State football team, the utter shock on the faces of those involved will always make me laugh.
This time around, it was Fredette, a legend of the Capital Region basketball game, who put a smile on the faces of local sports fans everywhere.
Ten Capital Region Sports Stories Every New Sports Fan Should Know
After months of reading and talking, I now consider myself a Capital Region sports fan. I learned these ten stories along the way, and want you to learn them now.
One Famous Athlete Born in Each of the Capital Region's 11 Counties
From the "big four" professional sports leagues, to the Olympics and beyond, a number of famous athletes were born and raised right here in the Capital Region. Here is one famous athlete from each of the 11 counties in the Capital District.