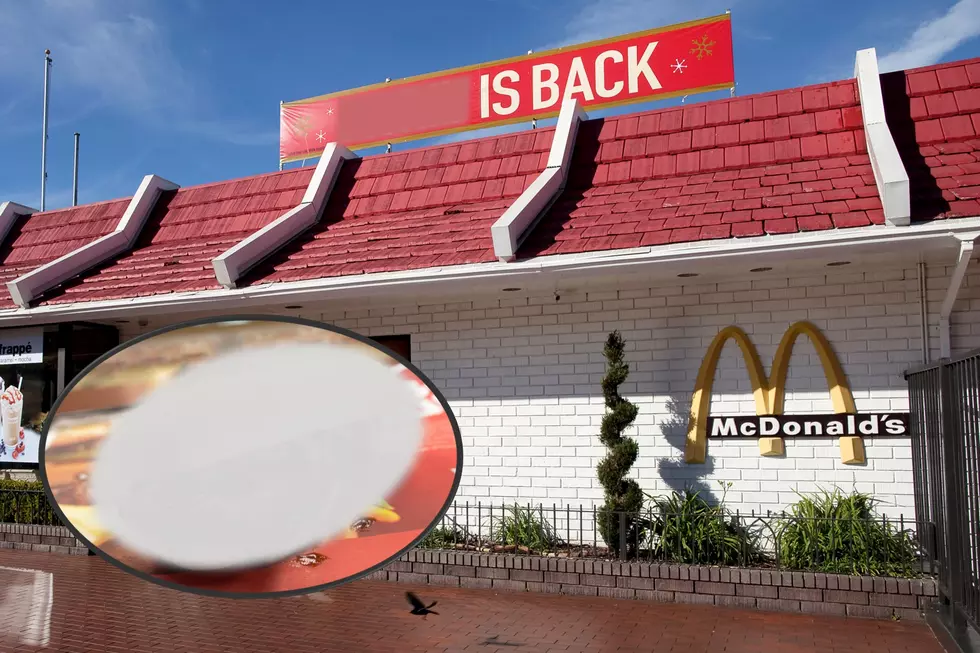 Say Farewell! Order This All-Time Fast Food Item in Upstate NY While You Can
Getty Images
An all-time fast food item is returning to Upstate New York and beyond. If you believe the headlines, however, this time may be its last. We're here to tell you what's happening, where you can find it, and most importantly, when it may be gone forever.
---
McDonald's Announces the Return of the McRib, and Its "Farewell Tour"
A story from ABC News 10 in Albany, New York, raised the eyebrows of fast-food connoisseurs in the Capital Region, when they reported that McDonald's was reviving the McRib sandwich in their locations around the United States.
The McRib was introduced onto the menu as a full-time item in 1989, and remained on the menu until 2005. Since then, it's become a seasonal addition, always tends to take the fast-food world by storm when it gets announced.
If you've never had one, it's described as a restructured boneless pork patty shaped like a miniature rack of ribs, barbecue sauce, onions, and pickles. Check out the photo below for a better look at the construction.
It's a very polarizing sandwich: some people swear by them, and celebrate every time it's reintroduced to the McDonald's menu. Others wouldn't eat it if their lives depended on it, and are quick to criticize it every time it's dusted off and sold by the fast-food giant.
Either way, it creates a lot of buzz every year, but according to the story by News 10, this year's debut will be its last, as McDonald's plans to put it out to pasture, for good.
So, if you're looking to say farewell, where can you find a McRib near you?
News 10 states that the sandwich will be available nationwide including local McDonald's in Albany, Amsterdam, and Saratoga Springs beginning October 31st. It appears as though you'll be able chase your Halloween beverages with a McRib sandwich, which is exciting!
Just keep the Tums nearby, please.
If you want to get more specific about where, and when, you can score this saucy sandwich, the McRib Locator is here for you. In a similar vein to the McBroken ice cream machine website, the McRib Locator allows customers to report the restaurants at which they've been able to buy a sandwich. The reports are listed as checkmarks, signifying confirmed reports, and question marks, signifying reports that haven't been confirmed with evidence.
Here's a look at the map, courtesy of the McRib Locator website:
If you believe the information presented, you can find McRib sandwiches at:
1006 Central Ave, Albany, NY (Last Spotted: 2022-10-25) *Unconfirmed*
2939 US Highway 9, Valatie, NY (Last Spotted: 2022-10-22) *Unconfirmed*
555 Albany Avenue, Kingston, NY (Last Spotted: 2022-10-22) *Unconfirmed*
967 Route 376, Wappingers Falls, NY (Confirmed: 2022-10-22)
20 Welcher Avenue, Peekskill, NY (Confirmed: 2022-10-24)
If you're a fan of the McRib, make sure you head to these locations beginning Monday, because you never know exactly when it's going to disappear for good.
See Crazy Online Prices in Upstate NY for McDonald's "Adult Happy Meal"
The release of McDonald's limited "adult happy meals" have nostalgic adults with credit cards scrambling to buy them, with re-sale values going through the roof.
It's All Gravy! Eat the Best Poutine in the Capital Region at These 13 Spots
Put fries, cheese and gravy together in a bowl. That's a dish I would eat every day if I could, and these spots in the Capital Region do their poutine best.