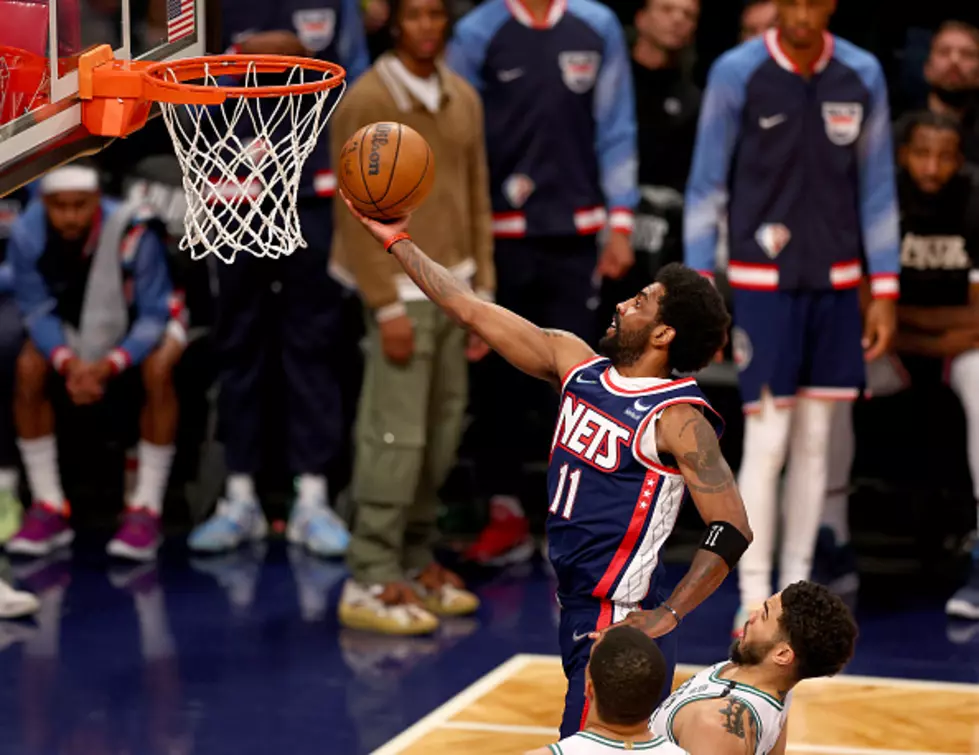 'No Options Kyrie' Takes The Money And Runs In Brooklyn
Getty Images
After the Brooklyn Nets disastrous season ended prematurely after the first round of the NBA playoffs at the hands of his ex-team, the Boston Celtics, Kyrie Irving spoke about how he Kevin Durant were going to steer the ship with General Manager Sean Marks and owner Joe Tsai. Marks quickly said, not so fast. Since that point, it has a been a dance between the controversial star and the Nets management whether or not Irving would opt-in to be a Brooklyn Net in 2022-23, be traded, or opt out for free agency. Irving requested a full five-year, $245 million max contract from Brooklyn. He has missed 130 games in 3 seasons since 2019.
According to Kristian Winfield of nydailynews.com, the star Brooklyn guard opted into his $36.5 million player option for the the upcoming season. Irving's camp apparently could not find a sign-and-trade partner that wanted the 7-time All Star. Given his tumultuous season that saw him play only 29 games for Brooklyn, the 30 year-old smartly opted not to try his hand at free agency. Winfield said that Irving had a deadline of Wednesday at 5 p.m. to decide to opt in or become a free-agent.
Winfield noted that "Irving's representation requested and received permission to speak to the NBA's other front offices about a sign-and-trade on Monday, the Daily News first reported Monday morning, but according to ESPN, the Los Angeles Lakers were the only team interested in such a deal. The Nets had no interest in taking back Russell Westbrook, the former league Most Valuable Player who is due $47M next season while coming off the worst year of his career, in such a deal, according to a source."
Likely, LeBron wanted to ditch Westbrook more than he wanted Kyrie and the headaches that come with him. However, Irving's talent entices many basketball experts, including King James. So, with no options, for now, Kyrie Irving will be back in Brooklyn. But for how long? Will he decide that there is another reason he can't play and honor his contract? Will King James get his old teammate from days in Cleveland? We look forward to finding out!
Mega-Mansion Formerly Owned By Mike Tyson and 50 Cent
This 50,000 square foot compound became known as the "Most Notorious House in Connecticut".
Castle Ruins Near New York State
WARNING: Under no circumstances should you enter this property. By doing so you risk bodily harm and/or prosecution for trespassing on private property.