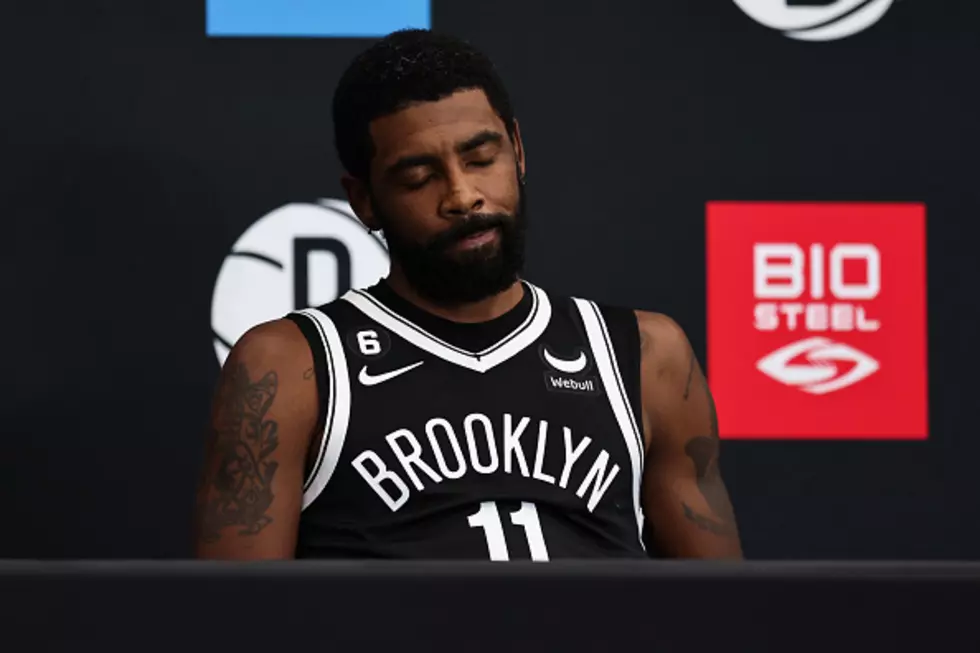 Hey Brooklyn Nets, Enough is Enough!! Get Kyrie OUT!!
Getty Images
At some point, people should have to be held responsible for their actions. Well, that is unless you play professional basketball for the Brooklyn Nets. For the past 2 seasons, Kyrie Irving has devalued the Brooklyn Nets franchise based on his personal stances. Now, the NBA star decided to spread some antisemitic propaganda to his 4.6 million twitter followers. Then when Irving was given the chance to apologize on Thursday, he and that $500,000 he was pledging danced around without denouncing antisemitism or just hatred in general. Just throw money at it. That's how it will go away? Nets fans, it is time for your ownership to say goodbye to the player trying to ruin your franchise.
I don't really care where your team is located or how talented you are, spreading hatred towards anyone is flat-out wrong. Yes, Republicans and Democrats fill our media airwaves with ads trying to scare people. Yes, there are militia groups out there that hate people of every walk of life but honestly, that is a very small portion of our society. However, unless we want that number to grow, professional sports leagues and owners have to be responsible for their athletes. People like Irving have widespread influence over young fans that don't know any better and are just starting to form their own opinions. Kyrie Irving has more social media influence than militia groups on the left or the right combined.
Until now, Kyrie Irving has been placated by the NBA and his fans for his entire career. After winning the NBA championship with LeBron James in Cleveland in 2016, Irving went to Boston. Kyrie's antics only lasted 2 seasons in Beantown before the Nets were suckered into thinking he would be anything but a self-absorbed narcissist. Sorry Kyrie fans, he is not a good person and the owner of the Brooklyn Nets, Joe Tsai, should say enough is enough. Billionaire Joe should write a check and say goodbye to a player that has been nothing but trouble and has reduced the value of his franchise. Do we really need fans wearing tee-shirts that have to force you into action?
On top of getting him out of town, NBA commissioner Adam Silver should conditionally suspend Irving indefinitely. The Nets have suspended him for at least 5 games without pay. Most likely, the suspension was forced down their throats by the NBA and Silver. It is time for the NBA, NFL, MLB and NHL owners to do the right thing. Get rid of hatred and racism in sports. Do the right thing, instead of pandering to money and the players union. Be part of the solution, instead of adding to the problem. Sportsmanship never included hatred, why start now?
See Artist Photos From GNA's Secret Star at Proctor's Fall 2022
Our 16th GNA Secret Star Acoustic Jam at Proctor's in Schenectady November 2, 2022 was another amazing night of songs and stories with Dylan Scott, Matt Stell, Tenille Arts, and Jackson Dean. Check out these amazing photos of the artists performing!
For Sale: The $18M Palace of a Saratoga Springs Socialite!
Famed Riggi Palace for Sale! See inside the exquisite estate of a Saratoga socialite and her late husband, for sale in Saratoga County! Right now, an offer is pending at a whopping $18M!