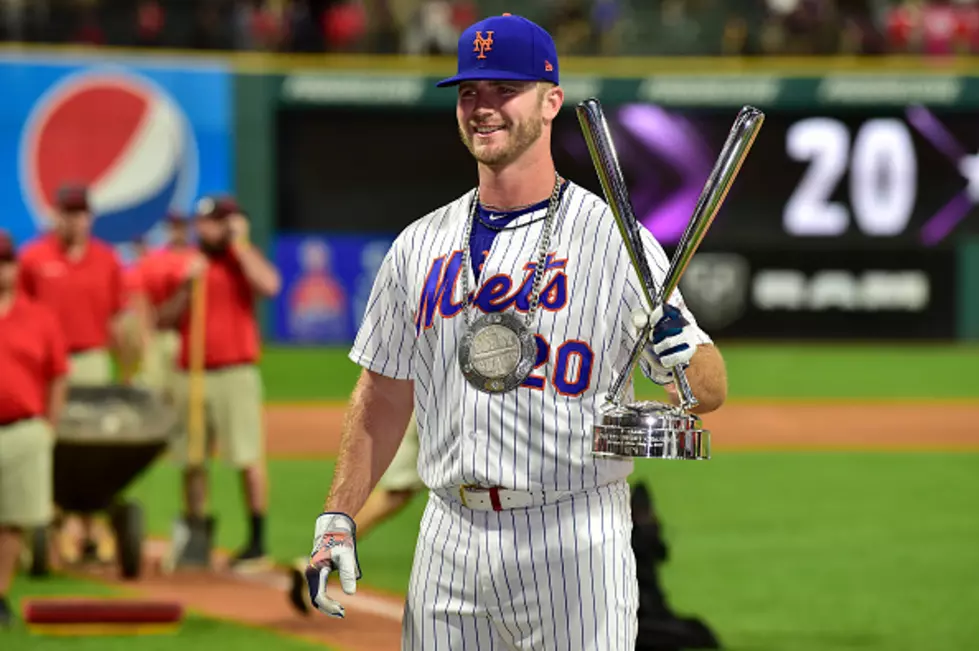 New York Mets' Polar Bear Looks For 3-PETE Record In HR Derby
Getty Images
He is certainly the most popular player on the New York Mets and for the last two All Star Home Run Derbies, he has been a fan favorite, as well. On Monday, the Amazin's first baseman slugger and two-time defending champion, Pete Alonso confirmed that he will indeed participate in the 2022 mid-summer classic Derby. It's not really a surprise since the man dubbed the "polar bear" seems to REALLY love this event.
No player has ever won the MLB All Star Home Run Derby 3-times in a row. This year, Alonso will look to change that and go for his own 3-PETE. According to mlb.com, Hall of Fame outfielder, Ken Griffey Jr. is the only player to win the Derby 3-times but Junior did not win the title consecutively.
"I don't think anyone has more fun than I do, especially when it comes to this event," Alonso told Anthony DiComo of mlb.com. "It's so fun. I'm really, really excited for it." The Mets All Star first baseman first won the event as a rookie in 2019, when he beat Vladimir Guerrero Jr. In 2021, Alonso defeated Baltimore Orioles slugger Trey Mancini in the finals and afterward declared he is "the best power hitter on the planet." The wasn't an All Star Game nor a Home Run Derby in 2020 due to the pandemic shortened season.
The Derby champion will call on his former bench coach Dave Jauss — or "Money-Man Jauss," as Alonso called him — who now is a senior adviser with the Nationals to pitch to him again. "He said he's loose and ready to go," Alonso told mlb.com. "Just need to give him two pots of coffee for before and a case of Bud Light for after, and he said he's good to go." The T-Mobile 2022 Home Run Derby is Monday, July 18th with coverage beginning at 8pm on ESPN and ESPN2.
Rare NY Garage Find! 1975 Pontiac Trans Am 455 HO
With only 857 made this Pontiac Trans Am 455 HO is considered a rare find. Especially after 20 years hidden in a garage.
Most Unique Home In New York!
One of the most unique homes in NY can be your for $1.2 million! Scroll through these pictures and see if you agree.