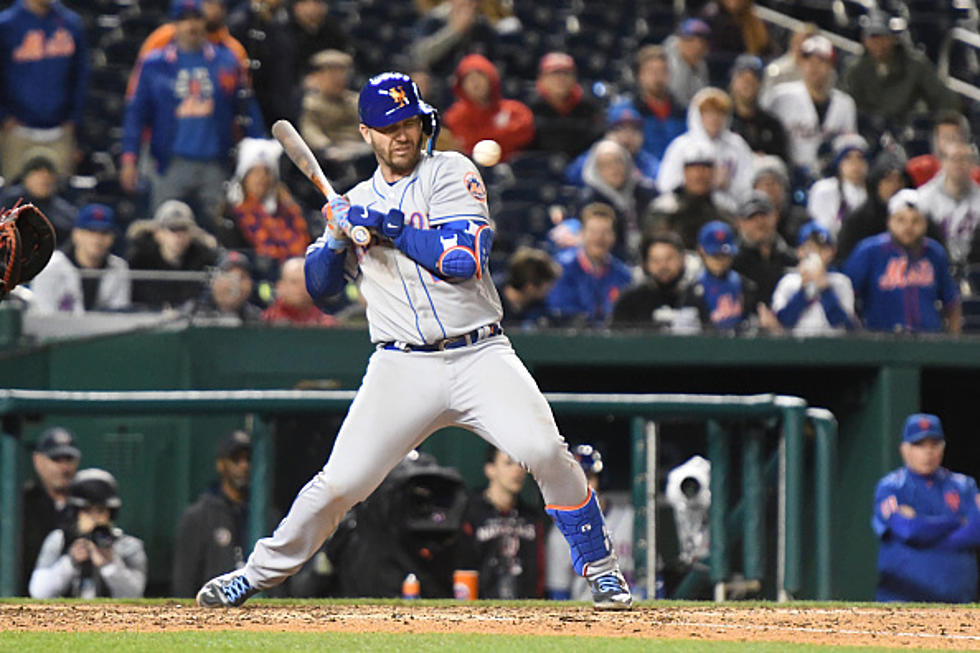 Scary Moment For New York Mets Fans, As Nats Take Down Polar Bear
Getty Images
New York Mets first-baseman Pete Alonso is never afraid to get his uniform dirty. In the fourth inning, the burly Home Run Derby champion tried to score from first on a double to the wall by new teammate Eduardo Escobar. Fleet of foot, Alonso is not. He was gunned down by Washington shortstop Alcides Escobar on a perfect relay-throw to the plate. But that wasn't the worst of it in Game 1 of 2022 for the Polar Bear, as he is nicknamed.
With the Mets leading 5-1 in the 9th inning, Alonso narrowly avoided a tragic injury when a 94-mph slider from Mason Thompson deflected off of his shoulder and hit Pete's helmet flap. The flap then hit him in the mouth knocking the 245-pounder to the ground. Blood could be seen running down Alonso's face in a very scary scene at Nationals Park.
After the game, Mark W. Sanchez of nypost.com heard from Alonso about getting hit. "Just a busted lip, that's it. Got all my teeth, no concussion, I'm all good." Alonso also added that he was checked for a concussion and cleared the protocols.
Alonso was the 3rd New York Mets hitter to get clunked on Thursday. James McCann got hit twice. New Amazin's outfielder Starling Marte yelled at the Nationals players on the field. "When I saw they hit my guy, I'm pissed off because I don't want anybody hit. I'm a guy protecting my players," Marte told nypost.com
What did new Mets manager Buck Showalter think about the whole ordeal? "It's an emotional game, played by people who care." the skipper told nypost.com. What about Alonso? "He's going to have some sexy lips for a couple days." After the 5-1 victory for the Mets in their first game of 20220, I imagine Pete's doing just fine.
10 Capital Region Golf Courses You Can Play For Under $40
Taking a look around the Capital Region at some of New York's finest public golf courses, I was able to find more than a few that won't break the bank. Check out these affordable options, so you can save and play the links more often!
New York Colleges That Made The Top 50 Most Expensive In America
CBSNEWS.com did a Top 50 Most Expensive Colleges and Universities in America. Let's see which New York colleges made the list.
See Bob Weir At New York's Radio City Music Hall For His "Ace" Album 50-Year Celebration
Bob Weir & The Wolf Brothers came to New York's Radio City Music Hall to celebrate 50 years since the release of his solo "Ace" album, which included such Grateful Dead staples as Playin' In The Band, Looks Like Rain and Mexicali Blues. The two night run April 2nd and 3rd featured special guests and sold out performances.