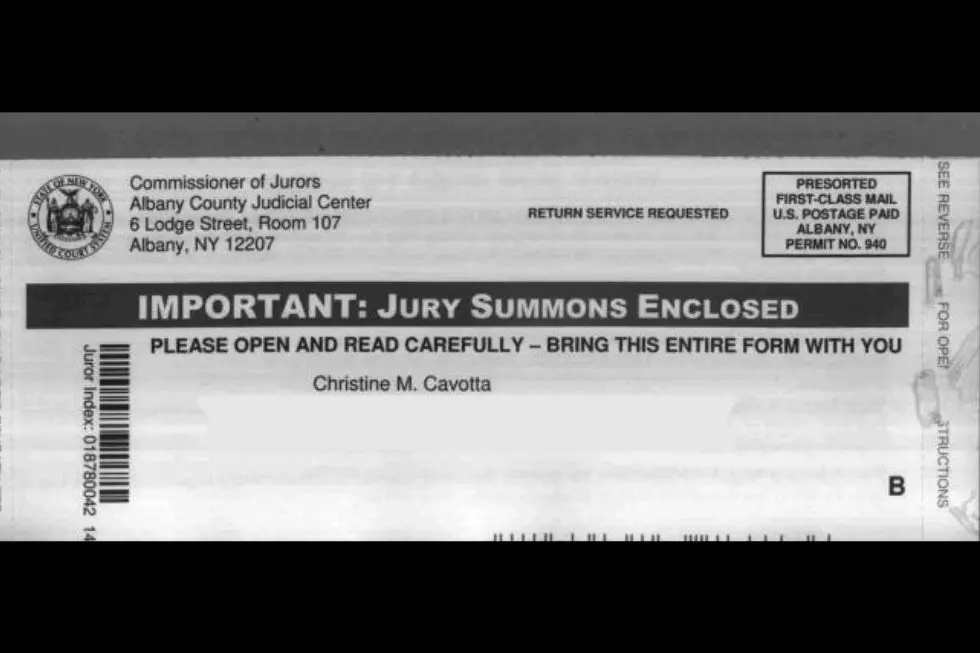 My Trick to Get Out of Jury Duty [PIC]
Chrissy Townsquare Media
About a month ago, I got a letter from the Commission of Jurors at the Albany County Judicial Center and I thought for sure I was being summoned for jury duty. It turned out to be a website I was instructed to go to and fill out a questionnaire about myself to serve on a future jury. I thought then that they were just gathering information and it would be a while until I had to serve. I was wrong.
Fast forward to last week when to my surprise I got this baby in my mailbox.
By the way, if you look at this piece of mail, there is NO doubt what it's for. They don't beat around the bush when you are asked to serve on a jury. On one hand, I was excited because I thought it would be cool to serve on a grand jury case but the flip side was I was stressing out about it because it's hard for us to take time off.
At the time this came to my mailbox, I was in the process of getting a closing date on my house. As I waited, I searched to see that if you move out of the county do you still need to report? I did some research and low and behold, this was one excuse that would potentially get me out of jury duty.
We happened to close last Friday and the jury summons was for April 28th. As I prepared to call the Commissioner of Jurors I wasn't sure how it would go. A pleasant man answered and I explained that I just closed on a house in Saratoga County but I got a jury duty notice. To my surprise, the Commissioner congratulated me on my new house and said he was sad to see me leave Albany County. He said, "I guess Saratoga County will have to get to you now".  We exchanged a few more pleasantries and that was that.
I guess my trick to getting out of jury duty is just to buy a new house in a different county. This way, you aren't able to serve. You're welcome.
50 Famous Brands That No Longer Exist