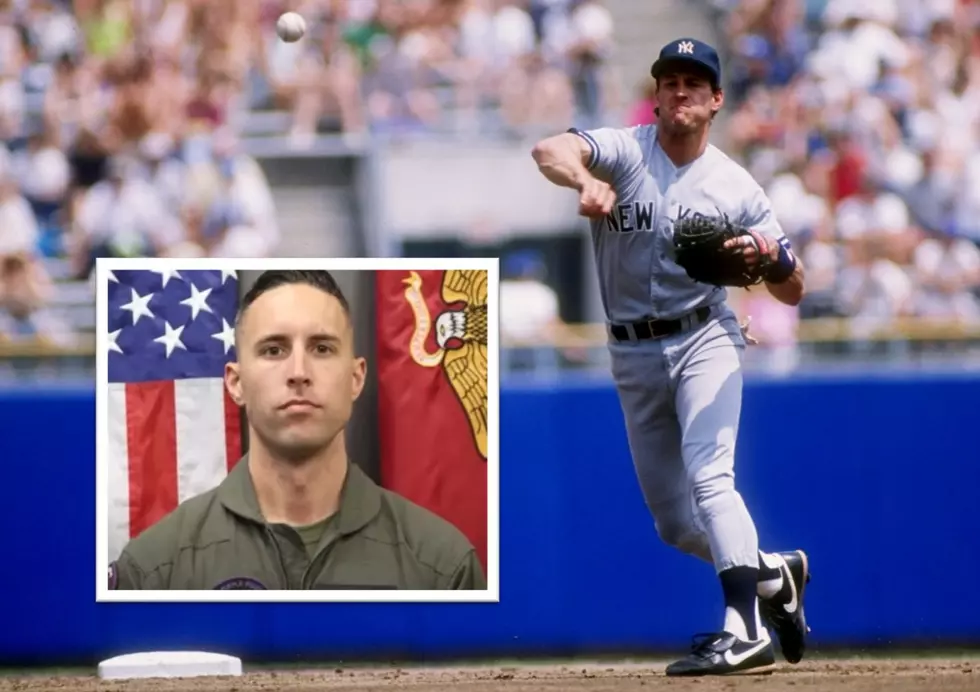 Marine Captain, Son of Former NY Yankee Involved in Tragic Crash
Getty Images / YouTube (ABC10)
Stories like these are nearly impossible to finish writing.
The story you're about to read, is about a 33-year-old Captain in the United States Marines, named John Sax, as well as four of his fellow Marine Corps members. Tragedy struck this group of service members, which we'll get into below.
As it turns out, Captain Sax was the son of a former Major League Baseball player, who is also a former member of the New York Yankees.
These stories are truly brutal to read, and even more brutal to write. That said, it's incredibly important that we honor the legacy of those who gave their lives to protect our country, and that's exactly what we intend to do.
---
U.S. Marine Captain, Son of Ex-NY Yankee Among Five Tragically Killed
According to a number of sources, including a story done by The Daily Voice, U.S. Marine Corps captain John Sax, son of former New York Yankee Steve Sax, was among five Marines killed in an aircraft crash on June 8th, 2022.
ABC10 in California did a news story on the tragedy:
The tragedy occurred during routine flight training, according to the U.S. Marines in a statement released about the incident. The five service members were in a MV-22B Osprey airplane, and it crashed into the California desert.
John Sax's father, Steve, put out the following post on his Instagram page following his son's passing:
"He is and always will be my hero," Sax wrote in his post on Instagram.
Along with Captain Sax, others that also died in the crash were Capt. Nicholas P. Losapio, and Crew chiefs, Cpl. Nathan E. Carlson, Cpl. Seth D. Rasmuson and Lance Cpl. Evan A. Strickland, according to The Daily Voice.
We all send our deepest condolences to the families and friends of all involved in this terrible incident.
---
More on the Major League Career of Steve Sax
While we have a moment, let's take a quick look back at the career of Steve Sax, who, for better or for worse, is the reason that this story reached the collective desk of 104.5 The Team.
Sax broke into the Major Leagues with the Los Angeles Dodgers as a 21-year old in 1981, and the next season, won the National League Rookie of the Year Award. The former ninth-round pick and long-time professional second baseman played in LA through the end of the 1988 season, when he signed as a free agent with the New York Yankees.
Sax played in 471 games over three seasons in The Bronx, hitting a collective .294 with an on-base percentage of .342. His average, OBP, slugging and OPS numbers in New York were the highest totals of his career with any individual team. He was also a two-time All-Star, and received MVP votes in the 1989 season.
He would be traded from New York in January of 1992, and would play three more MLB seasons for two teams, before ending his career after the 1994 campaign.
Sax also became famous for something called "Steve Sax Syndrome" during his career, which was a creative name given to an infielder with the yips. Sax went through a period in his career, with Los Angeles, in which he struggled to make routine throws to first base from his position at second. It's a bizarre thing to have associated with your name, but luckily, one he was able to grow out of.
Fifteen New York Pro Athletes Who Served Our Country in Their Lives
A number of the most famous athletes of the 20th century served our country for a period of time, including these New York stars, who we honor this Memorial Day.
Ten Moving Photos from New York's 9/11 Subway Series Game
It was a day of remembrance in New York on Saturday night, and two teams that gave the nation a reason to cheer in 2001 squared off at Citi Field two decades later.