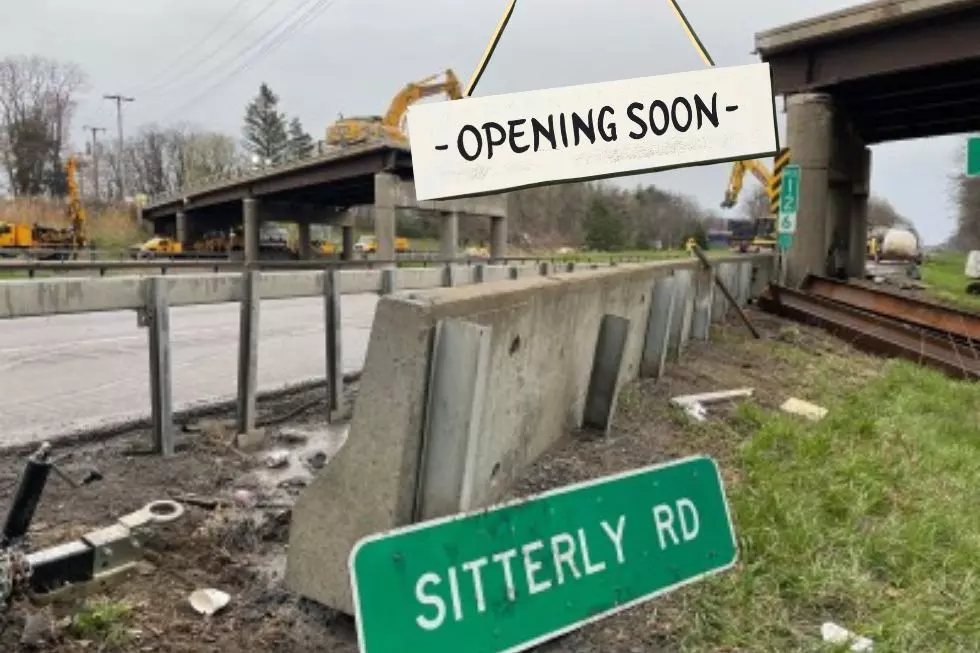 Major Clifton Park Overpass Project Almost Done! Look at the Progress
Dahn Bull-Canva
It was over a year ago, back in April of 2021, when a lift truck carrying heavy equipment hit the Sitterly Road overpass causing major damage and a traffic nightmare. For a time, The New York State Department of Transportation worked with the town and motorists to temporarily open it while they did their work. But the overpass has been closed since June creating major traffic in the area. There is good news. Check out the progress.
Here's The Update on the Sitterly Road Overpass
Construction crews and the New York State Department of Transportation have been working hard since the middle of June to repair the Sitterly Road overpass. Anyone who lives or travels in that area knows it has been a traffic headache. That area is already congested but with the closure, the roadways in and around it have been super busy. There is relief in sight and significant progress has been made.
Dahn Bull who is the Clifton Park Highway Superintendent posted pictures on the Town of Clifton Park's Facebook page showing the significant progress that has been made to the Sitterly Road overpass. The major roadway that goes over the Northway in Clifton Park will be finished soon.
The construction workers have finished the deck of the overpass and they are installing the pedestrian walkway. They say that paving on the roadways that meet the overpass should begin next week.
Because of the dry summer, construction crews have been able to keep the Sitterly Road overpass project on schedule. They still plan to open the roadway in mid-September according to News 10 ABC.
TLC show 'American Chopper' Orange County Choppers Headquarters in Newburgh Abandoned & For Sale
WARNING: Under no circumstances should you enter this property. By doing so you risk bodily harm and/or prosecution for trespassing on private property.
In 2003, a father-son business reality show hit the Discovery Channel. It was called American Chopper and it followed the custom motorcycle building business of the Teutul family out of Newburgh, NY. Paul Sr. owned the shop with sons Paul Jr and Mikey working in the business. There was a slew of cast and characters. The center of the show wasn't just the amazing custom motorcycles built for celebrities and others, it was the volatile relationship between Sr. and Jr. The show ran for 12 seasons before the two could no longer get along. It ended up in lawsuits and the two not talking for ten plus years. In the past few years, the business moved to Florida. This left the 61,000-square-foot headquarters for sale and abandoned. Take a look at what remains of Ocean County Choppers.