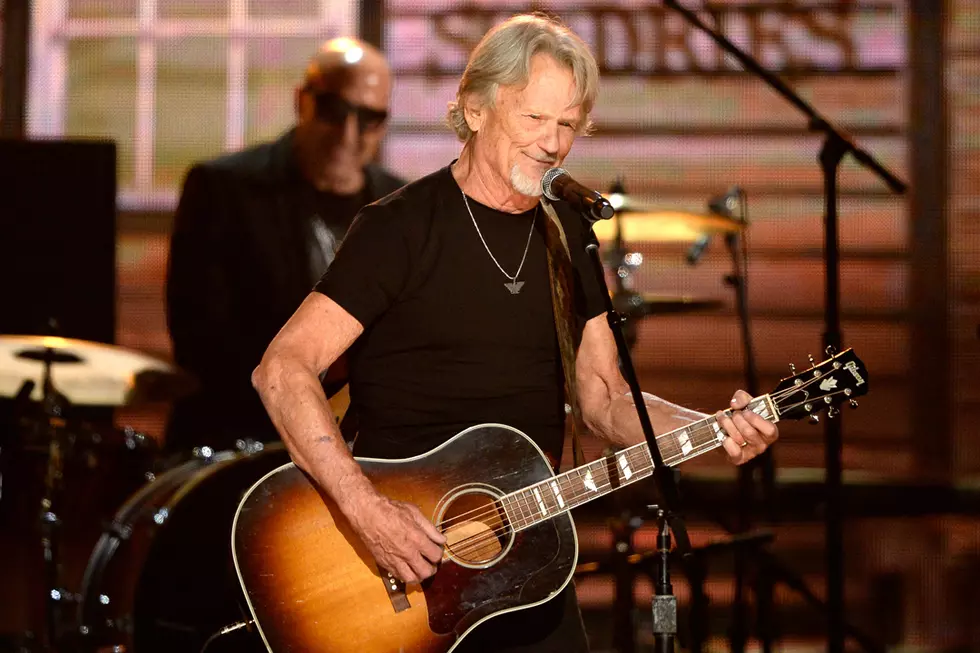 Kris Kristofferson's Songs and 'Gravitas' Honored During All-Star Concert in Nashville [Pictures]
Kevork Djansezian, Getty Images
There was a great moment during Wednesday night's Life & Songs of Kris Kristofferson show at the Bridgestone Arena in Nashville that found Hank Williams Jr. and Kristofferson enthusiastically hugging one another after the younger artist had just finished singing "If You Don't Like Hank Williams," a Kristofferson-penned song from his Habits Old and New album from 1980.
Williams Jr. was walking off stage when Kristofferson tapped him on the shoulder to remind him he was watching. All the other guest artists had made a beeline to the guest of honor and his wife Lisa immediately after singing, but Hank didn't get the memo. He seemed legitimately surprised to see the famed songwriter on stage, or in the venue at all, and they hugged with jubilant smiles and said hello for nearly a minute. One would write quite a handsome to check to be privy to what the two legends were saying, and it wouldn't be the first of the night.
How's this for an all-star lineup? Emmylou Harris, Rosanne Cash, Buddy Miller, Lee Ann Womack and Jennifer Nettles ... and that was just part of the first act! Reba McEntire, Willie Nelson, Eric Church, Dierks Bentley, Jamey Johnson, Alison Krauss and Lady Antebellum were amongst those who joined the second act parade. Nelson and Kristofferson helped close the show with "Sunday Morning Coming Down," before Shooter Jennings and Johnson joined them to create the "New Highwaymen." Finally, it was an all-call for "Why Me?," Kristofferson's biggest hit as a recording artist.
Prior to the show, "Sunday Morning Coming Down," a song popularized by Johnny Cash, was the song most artists named when asked which Kristofferson lyric made the biggest impact on their lives.
"You knew a whole new standard had been set for songwriting," Rosanne Cash told Taste of Country, while Harris nodded in agreement.
In a sentence, she summed up why this all-star cast and a few thousand fans filled the Bridgestone. Jessi Alexander ("I Drive Your Truck") and Jon Randall ("Whiskey Lullaby) talked about even after they'd finished writing their award-winning hits, they didn't feel they'd reached a bar set by Kristofferson. Together, the two songwriters opened the show with a song called "Kristofferson."
I just remember realizing there was a difference between those songs and other country music I was hearing on the radio at the time that just didn't have the same ... gravitas.
Darius Rucker had a different answer. Like many of the stars on hand, their first experience with a Kris Kristofferson song was through another artist's music. In fifth grade, he and his girlfriend broke up when she moved away, leaving him in a wretched crumble of tears and Al Green songs. Green's version of "For the Good Times" is still an all-time favorite.
"I remember getting into middle school and we started playing music and wanting to write songs, and looking at the back of the Al Green record and seeing that Kris Kristofferson had written that song," he said. "That was pretty crazy."
Krauss and Johnson performed this song — made famous to country fans by Ray Price — on Wednesday night (March 16). Rucker performed the anti-war rallying song "Under the Gun," found on Kristofferson's own A Moment Forever album from 1995. It was one of the night's many highlights.
Jennifer Nettles drew the first of many standing ovations, but another would follow just a few songs later when Harris and Kristofferson closed the first act with "The Pilgrim, Chapter 33." Bentley and the Travelin' McCourys opened the second act with a bluegrass version of "From the Bottle to the Bottom." Lady Antebellum were next with a chilling, beautiful version of "Help Me Make It Through the Night," made famous by Sammi Smith.
Perhaps the most personal of all of the night's performances was Church's version of "To Beat the Devil," a song Kristofferson recorded for his Kristofferson album (1970) and wrote about Johnny Cash. Cash, Kristofferson has said, was in a very dark place. Church was, too, when he heard the song at a pivotal moment in his life.
He recalled being told "No" for the very last time, and being prepared to move back home to North Carolina. However, he got in the car, and "To Beat the Devil" started playing through his stereo. It seemed to match word-for-word with his hard-luck story, so he took it as a sign and decided to stay one more day. Obviously, it worked out for Church and Kristofferson, and thankfully for Cash. The spoken-word song was another dark highlight that necessitated a standing ovation. By this point in the night those came easy.
McEntire's "Me & Bobby McGee" came late in the show. The redhead stayed true to the popular version fans know, and even brought Kristofferson on stage to sing the final chorus. Other highlights included Williams Jr., as well as Jack Ingram's early version of "Jesus Was a Capricorn." Ingram was able to perform that song after John Prine had to back out of the show. Before the show he talked about his favorite Kristofferson songs and how the Hall of Famer made an impact on his career.
"I just remember realizing there was a difference between those songs and other country music I was hearing on the radio at the time that just didn't have the same ... gravitas. The same oomph."
Maybe that's what everyone was celebrating, the return of gravitas, and oomph, to a Nashville stage. The show — taped for a documentary to be aired at a later date — comes at a time when the songwriter and storyteller is beginning to be recognized as king once again. Anyone who held the torch in the decades that have followed the peak of Kristofferson's career was invited to take part in this show.