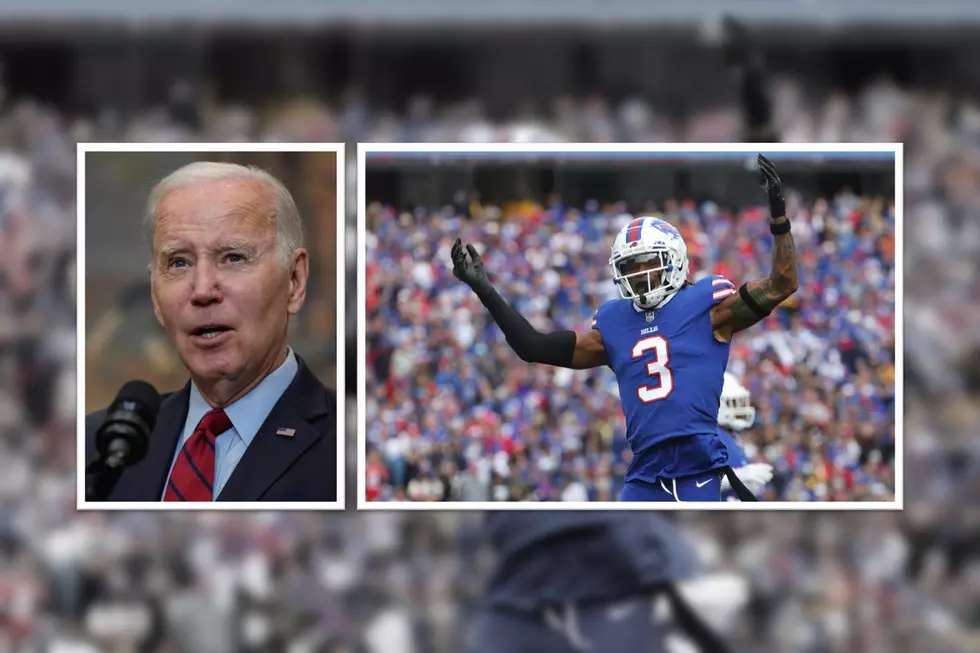 President Biden Calls Parents of Buffalo's Hamlin, and Has This to Say
Getty Images
Following the terrible incident involving Damar Hamlin last week in Cincinnati, in which the 24-year old went into cardiac arrest after completing a normal tackle, it seemed as though the entire world became invested in the recovery of the Buffalo Bills' safety.
People who hadn't watched a snap of football all season now waited with baited breath for news, positive or otherwise, about his condition. People took to the Internet, posting messages of support, and donating money by the millions to Hamlin's GoFundMe page.
One of the millions who were following along as Hamlin began his miraculous recovery, according to reports, was President Joe Biden, who reached out to the parents of Damar Hamlin to give his support.
---
President Calls Parents of Damar Hamlin; Speaks with Reporters About Football
A report from ET Online and other outlets detailed a story that got lost in the shuffle a bit last week, which saw United States President Joe Biden reach out to the parents of Buffalo Bills' safety, Damar Hamlin, following his hospitalization last week in Cincinnati.
While traveling between Kentucky and Ohio, Biden reached out to the Hamlin family, and spoke "at length" to them on Wednesday, January 4th, 2023.
Biden spoke to the media before boarding Air Force One on that same day, and gave a few quotes about Hamlin, football and player safety within the sport, thoughts that were very likely verbalized to the Hamlin family over the phone that day.
Here's what the President had to say to reporters:
"Look, you've got guys that are 6'8", 340 pounds, running a 4.8 40 [yard dash]. If you hit somebody with that kind of force -- now, that's not what happened here, but I just think it's, I don't know how you avoid it."

 

"I think working like hell on the helmets, the concussion protocols… that all makes a lot of sense. But it's, you know, it is dangerous. You gotta just acknowledge it."  - President Joe Biden via ET Online
Look, whichever side of the political aisle you fall on, everyone can acknowledge that contacting the family of Damar Hamlin in their time of great need was a classy and compassionate move by President Joe Biden.
Not to put words in the mouths of the Hamlin's, but I'm sure that every bit of support that's been offered by millions of Americans over the last week-plus has been welcomed and appreciated. Getting words of support from POTUS, however, is a truly special and powerful thing to have happen in their time of need.
Now, thankfully, Damar Hamlin has since travelled back to New York, and been discharged from a New York hospital to officially return home. He appears to be on-the-road to recovery, and words of support from millions of Americans, including the President, will aid him along the way.
NFL Players, Coaches Rally Around Buffalo's Damar Hamlin in Emotional Weekend
In the first NFL game action since Damar Hamlin went into cardiac arrest, players and coaches leaguewide donned t-shirts to show support for the Buffalo player.
Fans Gather at Cincinnati Medical Center to Pray for Buffalo's Damar Hamlin
Fans in Cincinnati have gathered outside Cincinnati Medical Center for a candlelight vigil to pray for the health and safety of Buffalo Bills' safety, Damar Hamlin.