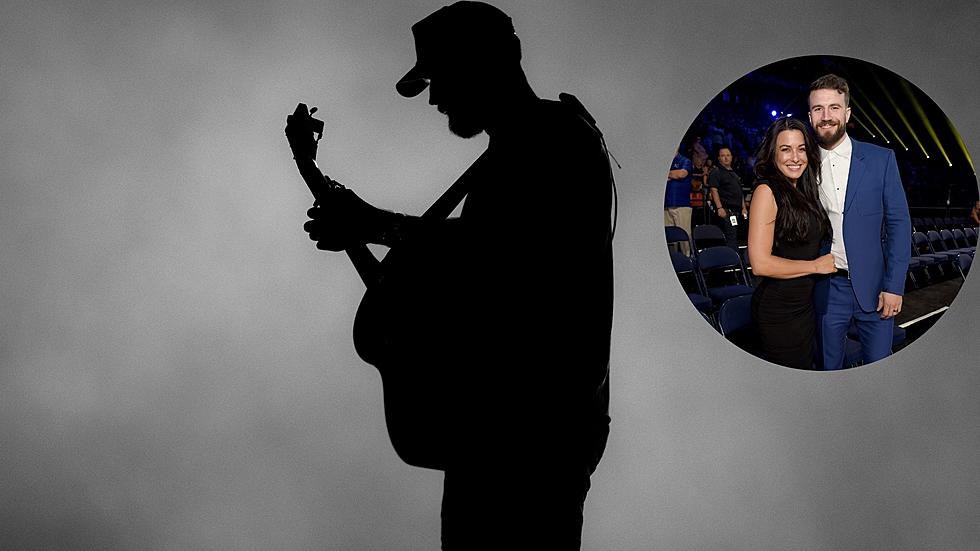 "I Hope I'm More Responsible" – Sam Hunt on Being a Dad in 2018 Upstate NY Interview
Photo: Getty Images
It's kind of hard to listen to the interview I did with Sam Hunt back in the summer of 2018 during the Taste of Country Music Festival.
It was a Sunday, and I remember it well.
I was nervous and excited to talk to Hunt who was set to perform in front of 20,000 plus at the country music festival previously held at Hunter Mountain.
Hunt was a big star, and I'm sure he was just as flawed as anyone back then, but you wouldn't know it.  TMZ wasn't breaking news about Sam Hunt in 2019 - that would come later.
When we talked, it was a year or so before his 2019 DUI, and well before the news of divorce papers and accusations of cheating on his pregnant wife, Hannah Lee Fowler.
Back in 2018, Hunt appeared to have his priorities straight, or at least he hoped.
"No matter where I go, no matter what I do
I'll never be 23, with anyone but you
You can marry who you want
Go back to Tennessee
But you'll never be 23 with anyone but me" 
Those are the lyrics to Sam Hunt's latest hit "23."   In the song, Hunt seems incapable of moving on after losing the love of his life.  Breakups are hard, the pain is real, and the song reflects that.
But so is the burial.
In the song, Hunt insists that she's going to feel the loss too, pointing out all the good times they shared throughout the years, basically telling her "you can move on, but you'll always remember ME."
Sam Hunt is 37-years-old now, a far cry and a lot of life years away from his early 20s,  but the narrative seems to fit him.  If "23" wasn't intended to be a song about his breakup with Hannah, it certainly feels like one now.
It's been widely reported that Hunt's wife, Hanna Lee Fowler filed for divorce last week in Tennessee, but the spiral may have started a few years ago when he was popped for a DUI in November of 2019 after he was seen traveling on the wrong side of a highway in East Nashville.  Open alcohol containers were found in the car.
According to
TMZ
, "Infidelity is the reason for their divorce, per legal paperwork obtained by the celebrity news website. Hunt is allegedly "guilty of inappropriate marital conduct" and "guilt of adultery," according to the report.
No man or woman is perfect, we're all flawed.  Heck, I've been divorced 2 times - every break-up song on the radio relates to my flawed relationship history in some shape or another.
But we move on.
Hopefully, Sam will too, and learn from his mistakes and indiscretions in the past.  My one ask of him is that no matter what, be there for the child.
I'm not here to judge Sam Hunt, I'm just telling a piece of my story about the time I met him.
Before during, and after the interview, Hunt was pleasant, polite, made eye contact,  and for the most part, was cool with just about any questions I asked him.
When we spoke, it was when Hunt had taken a bit of a break from making music, and clearly, he needed one.
His success was meteoric when he burst on the scene in 2015 and fans couldn't get enough of the handsome country star, but his time away from the road and recording studio had them worried - somewhat dramatically - that he'd never make music again.
In the interview, Hunt assured his fans he was 100% commitment to the craft, despite outside interests. But the reason the interview is a tough listen is that his "outside interests" involved getting married (which he did), being a dad (which he's about to come) and being more responsible in life, and making better decisions because of those things.
Here's the full interview from June 2018 - Taste of Country Music Festival- Sam Hunt and Brian Cody on 107.7 WGNA.
Every Country Artist Performing In Upstate NY In 2022
We are set for a big year of Country shows in 2022, and here is a complete list of artists set to perform in 2022 in the Capital Region and all over Upstate New York.