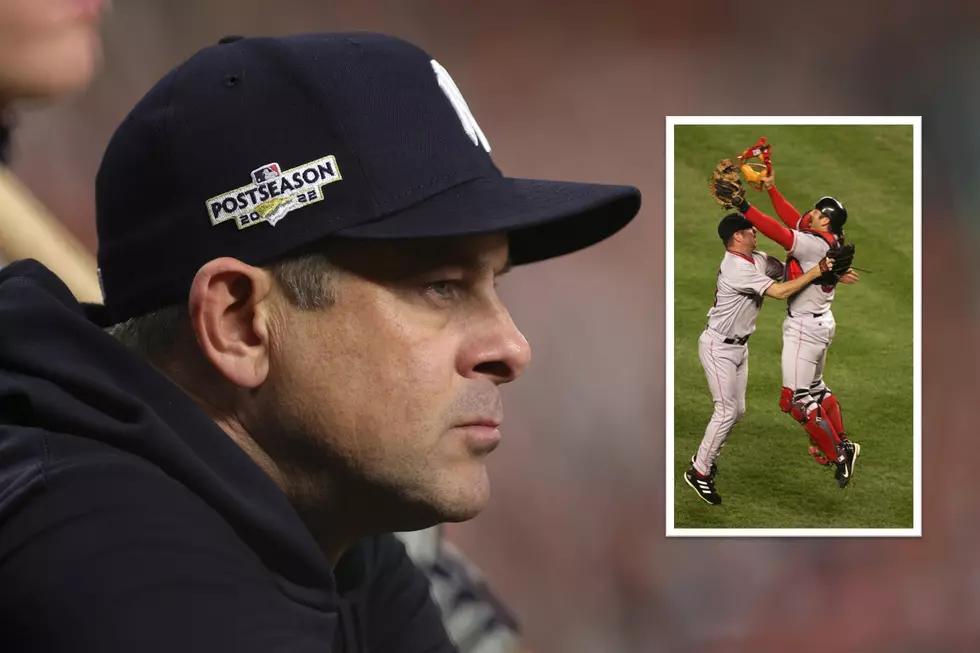 New York Yankees' Fans Rip Team for Disgraceful '2004 Highlights' Pregame Story
Getty Images
There's losing a baseball game on the field, and then, there's this.
The New York Yankees fell behind, 3-0, to the Houston Astros in the American League Championship Series. Long-time Yankees' fans might remember a similar situation playing out nearly two decades ago, with the only difference being that the Yankees were on the side with the crooked number, not the goose-egg.
That's a memory that anyone associated with the New York Yankees likely wants to forget, forever. And yet, ahead of Sunday night's elimination game, the ghosts of Ortiz, Ramirez, Schilling and Foulke were all summoned by a Yankees' staff member.
Fans were quick to respond to the disgrace online.
---
Fans Respond to Bizarre New York Yankees "2004 Highlights" Story
The firestorm around the New York Yankees began earlier on Sunday, courtesy of a tweet from MLB.com Yankees' reporter, Bryan Hoch. He's what Bryan said:
Yes, you read that correctly: the New York Yankees' mental skills coach purposely sent out highlights of the Yankees losing to the Boston Red Sox in 2004 as a form of motivation ahead of Game 4.
Translation: someone who gets a paycheck from the New York Yankees, sent players on the New York Yankees, videos of the most embarrassing moments in New York Yankees history since at least the turn of the century, if not before that.
What in the hell was Chad Bohling, and Aaron Boone, thinking?
As it turns out, my sentiments were shared by thousands of disgruntled New York fans online:
Look, we all know the saying desperate times call for desperate measures. When a team had their collective backs against the wall, its leaders and staff members will resort to crazy rituals and hijinks in order to reverse their team's fortunes.
But resorting to your franchise's lowest moments? That's a level of desperation that is truly unacceptable.
Not only that, but Hoch also mentioned that the team had a video call with David Ortiz before the game, too? Ortiz, a Boston Red Sox legend, was also known as quite the Yankee killer during his time in Major League Baseball. The Red Sox wouldn't have had a 3-0 series comeback, if it weren't for two walk-off hits from Ortiz.
So, just to recap:
The Yankees were losing to the Astros, 3-0
Their own coach sent the team clips of them losing to the Red Sox
They had a video call with one of their franchise's mortal enemy players
They proceeded to blow a lead in Game 4, and be eliminated
I don't know who Chad Bohling is, but Bryan Hoch said that he's been with the franchise since before 2009. While this may not be a career highlight of his, this story a) happening and b) getting leaked to the public is on one person, and one person only: Aaron Boone.
He's got a lot of explaining to do, and soon.
The Ultimate Rankings! Which Franchise Do Albany, NY Fans Love Most?
The results are in on one of the Capital Region's biggest sports debates: which sports franchise do Albany fans love the most? We finally have answers.
Ten Trades That Took the NY Yankees from 'Pretenders' to 'Contenders'
A steal, a fleecing, a robbery...whatever you call it, a one-sided trade can completely change the future of your team. These trades did that for the NY Yankees.