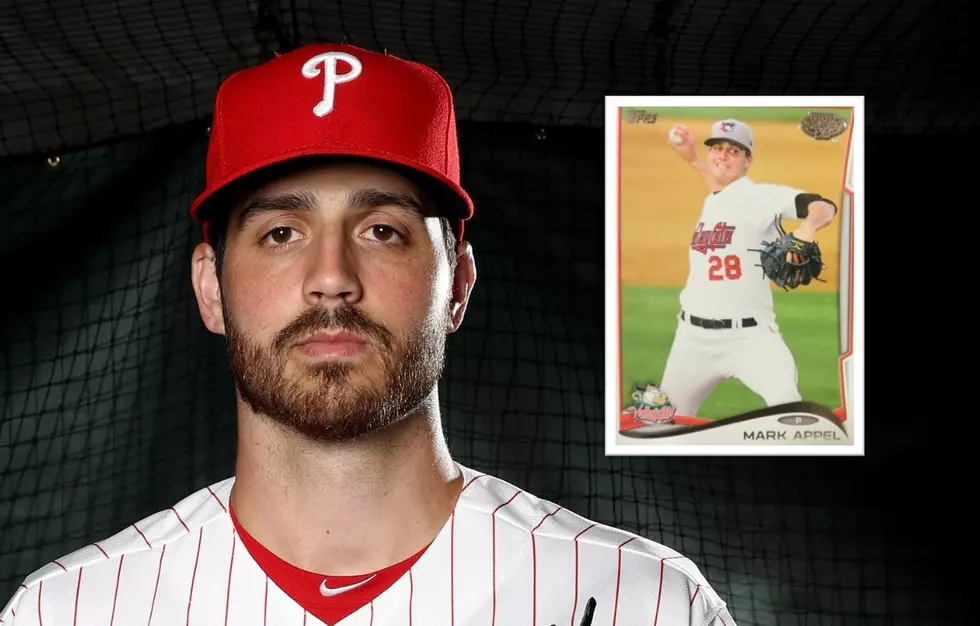 Finally! Former Tri-City ValleyCat Makes MLB Debut One Decade Later
Getty Images / eBay (frea1956)
Mark Appel has lived an entire lifetime over the past decade.
Once a highly-touted pitching prospect, Appel was at the top of the baseball world when he was chosen first overall by the Houston Astros in 2013. As every elite pitcher in baseball does, he came to the Capital Region to pitch for the Tri-City ValleyCats in 2013.
He was at the beginning of what was supposed to be a long and fruitful professional baseball career, when it all came crashing down. He stepped away from the game, then decided to give it another try, and on June 29, 2022, he finally reached the peak of his personal mountain.
---
Mark Appel Overcomes the Odds to Make MLB Debut
Born in Texas in 1991, Appel made the decision to attend college rather than sign with the team who originally drafted him in 2009, the Detroit Tigers. This proved to be the right decision, as Appel became a standout hurler with his college team at Stanford, and was chosen first overall three drafts later by the Houston Astros, in 2013.
He was also drafted by Pittsburgh in 2012, but chose not to sign for a second time.
At the time, the Astros were an awful baseball team. They were awarded the pick after finishing 56-106 in 2011, and needed every bit of help they could get. Appel was welcomed into the organization, but right away, had to carry the expectations of a franchise savior.
Things went according to plan for Appel in his first professional season, which included his brief stop in the Capital Region. He opened 2013 on the ValleyCats' roster, but pitched in only two games, where he went a combined five innings, giving up two runs and striking out six.
Following those two appearances, Appel was quickly rushed to Single-A Quad Cities, where he spent the rest of the 2013 season, and performed reasonably well.
It was the following year, in 2014, when everything began to fall apart. Appel began the season in High-A Lancaster, and recorded a troubling 9.74 ERA in 12 appearances at that level. Rather than demote their top pitching prospect, however, the Astros chose to promote him instead. He largely returned to form in Double A, which led him to another promotion ahead of the 2015 season.
It was that offseason when Appel was dealt from the Astros' organization, as he was traded to Philadelphia in a package that netted the Astros pitcher Ken Giles and infielder Jonathan Arauz. Appel struggled in 2016 and 2017 between Double A and Triple A, and following the '17 campaign, he announced that he was leaving baseball.
It wasn't until 2021 that Appel chose to toe the rubber once more, re-joining the Phillies' organization. He struggled once again in 2021 between their top two minor league teams, but in 2022, the Phillies game him another shot. In 19 games this season in Triple A, all as a reliever, Appel pitched to a 1.61 ERA, and a record of 5-0. His performance earned him his first trip to the Major Leagues, and on Wednesday, June 29th, he finally made his Major League debut.
Appel worked the ninth inning for the Phillies, surrendering a hit but no runs, while striking out a batter. He hit 97 miles per hour with relative ease, and looked like a seasoned veteran.
He referred to the moment as "surreal", and I would say that's probably the understatement of the year in Major League Baseball.
Former Tri-City ValleyCats Playing in the ALCS This Season
Between the Houston Astros and Boston Red Sox, there are TEN (!) former Tri-City ValleyCats who have the chance to play in the American League Championship series this season. Here's what you should know about them.
25 Years, 25 Pro Athletes Elected to the Hall of Fame with NY Ties
From members of New York sports teams, to residents of the Capital Region and beyond, to some of the best sports stories from the Empire State, here are 25 Hall of Fame nominees from the past 25 years, all with ties to New York state.