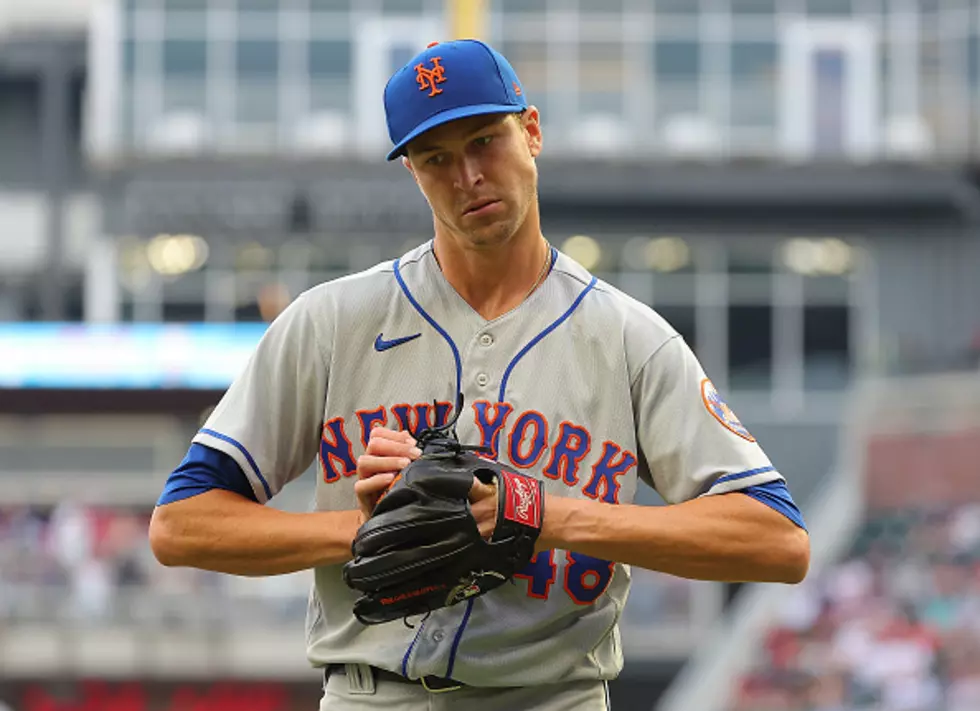 Crosstown Issue May Be An Alarm For New York Mets
Getty Images
Friday night may have been the most important game of the 2022 regular season for the New York Mets. Manager Buck Showalter re-arranged the pitching rotation to start Jacob deGrom in Game 1 in Atlanta, much like you will expect to see in the upcoming playoffs against whomever the Mets face, in whatever series they are in. However, there was much more on the line for deGrom and Mets owner Steve Cohen.
The 34-year-old right-hander has said he will opt-out of $30.5 million player-option for 2023 at the end of the season, making the 2-time Cy Young Award winner a free agent following the conclusion of this year's World Series. It is expected that deGrom is seeking Max Scherzer type of money, $130 million for 3-years or more. I think that will be a big mistake for #48. Unfortunately for deGrom, his comparisons are beginning to be made to cross-town ace Gerrit Cole instead of teammate Max Scherzer.
Over deGrom's last 3 outings, in the crucial pennant race month of September, he has pitched a total of 15 innings and given up a total of 11 earned runs. Being a dominant number one starter in Friday night's Game 1 vs. the Braves is one reason the Mets are paying deGrom $33.5 million dollars in 2022. He may not be happy enough about that but deGrom signed the contract. The Mets expectation was that the All-Star right-hander would pitch more than he has and in situations like Friday night in Atlanta, he is expected to dominate. These are the exact same expectations that the New York Yankees have with Gerrit Cole. There have been some eerie similarities lately. Both ace pitchers still strike out a ton of batters, however, both, especially recently for deGrom, have struggled keeping the ball in the park at times. Big games are why these pitchers are paid the big bucks.
Trust me, deGrom deserves a better offensive effort than he has received by his Mets teammates in his past but pitching is what he gets paid for. Is 11 starts with a 5-4 record and 3.08 ERA worth $33.5 million in 2022? No. Can deGrom be better? Definitely but for how long? What is that worth? The Mets have pending free agents Brandon Nimmo, Edwin Diaz and Chris Bassitt that will all be looking for raises or taking their skills elsewhere.
Jake deGrom is one of my favorite Mets to have ever put on the blue and orange. Unfortunately, Friday night was an example that signing him for huge money is not a good decision, if it prevents general manager Billy Eppler from signing other needed players. Do you think Yankees general manager Brian Cashman would rather invest the rest of the money that the Pinstripes have locked in in Gerrit Cole and put that cash into a certain #99's deal? You can't undo the past but you can learn from other's mistakes.
New York Fall Foliage Map 2022
Timing is everything if you want to do some leaf peeping. This is what you can expect in New York State and the entire Northeast for Fall 2022.
These Fall Capital Region Comedy Shows Are Sure To Make You Laugh
Here are the talented comedians who will be performing in and around Albany when the weather cools down.