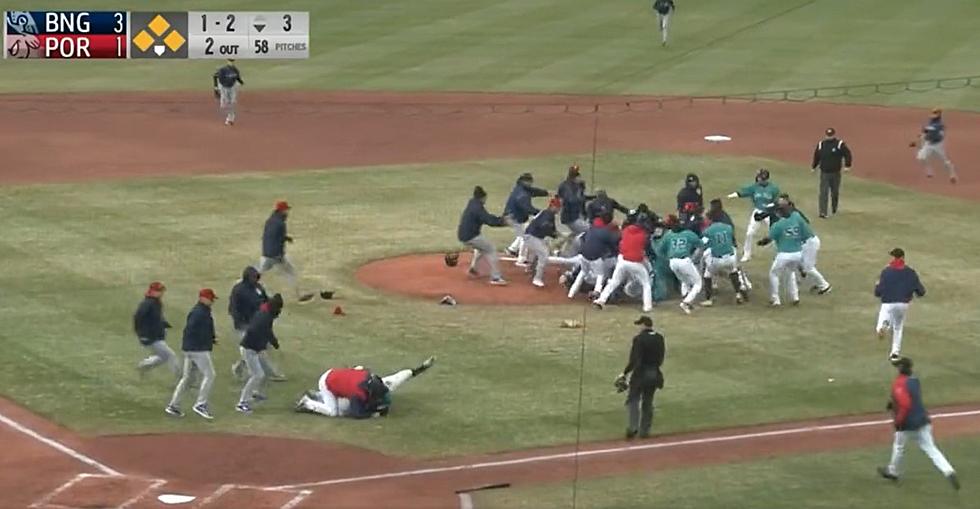 Watch the Punches Fly at this New York Minor League Baseball Game
Twitter (@Jacob_Resnick)
It wasn't Saturday night, but Thursday night's Binghamton Rumble Ponies' Minor League game was certainly alright for fighting.
The Rumble Ponies, a Double-A affiliate of the New York Mets, were playing the Portland Sea Dogs, affiliate of the Boston Red Sox, last night out in Portland, Maine. The game wasn't even three innings old, when chaos broke loose after a hit-by-pitch.
Then, the punches began to fly.
The Rumble Ponies were leading the SeaDogs by a score of 3-1 in the bottom of the third inning, with pitcher Marcel Renteria on the mound. With Tyreque Reed, and a count of 1-2, a pitch from Renteria ran in tight, and look to hit Reed in the hand.
As Renteria went to the home plate umpire to plead his case that the ball instead hit Reed's bat, Reed took exception and charge the mound. Then, this happened:
As reported on by SNY Mets' contributor Jacob Resnick, Reed went to the mound, and delivered a haymaker to the head of the pitcher Renteria. Renteria went to the ground, as both benches cleared and the shoves and pushes began around the infield grass. When the chaos was finally contained, Renteria remained on the ground, in obvious pain after the blow to the head from Reed.
After all of the dust had settled, Renteria was tended to by medical staff from the Rumble Ponies. Reed was ejected, as was Rumble Ponies' infielder, Brett Baty. We're still waiting on specifics on supplemental discipline, but one has to imagine that someone will be getting suspended at some point.
---
More on the New York Mets' Minor League System
The New York Mets' prospect pool is highlighted by catcher Francisco Alvarez, who is currently the 10th-best prospect in baseball, according to MLB.com Prospects. Aforementioned infielder Brett Baty is the next-highest rated prospect, coming in at No. 27 in baseball.
Shortstop Ronny Mauricio is the only other Mets player in the Top 100 in the league, as he's ranked No. 77 among prospects in Major League Baseball. All three prospects are currently at the Double-A level, which means it should be a very exciting season for the Rumble Ponies and their fans.
Hopefully, the excitement will come from wins, and not punches.
Ten New York Mets' Players Who Were Arrested, and Why
Professional athletes are just like us: sometimes, they get in trouble with the law. These ten New York Mets' players were arrested at some point, and here's why.
The Ten Most Underrated Heroes in New York Sports History
We all know Jeter, we know Manning, and we know Willis Reed. But, what about the other guys, the quieter heroes, that still made a major impact on New York sports?