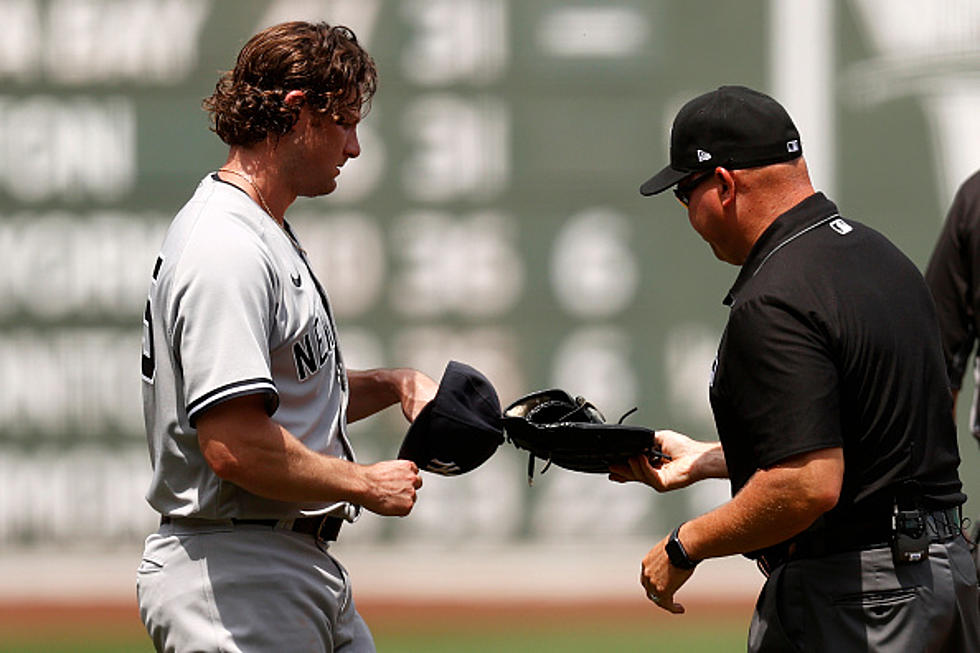 Umpires 'Stick'ing to New Checks On New York Yankees Pitchers
Getty Images
This past weekend, the New York Yankees pitchers were once again subject to Major League Baseball umpires checking for foreign grip-aiding substances. The practice had not been enforced so far in spring training games and there is a new procedure in practice. Ironically, Gerrit Cole was on the mound Sunday for the Pinstripes.
Who can forget early last June, when retired New York Post Major League Baseball beat reporter, Ken Davidoff, asked New York Yankee Gerrit Cole if he ever used the sticky substance some pitchers were using called, Spyder Tack. The substance, according to at the time and now, is illegal for MLB players to use.
The priceless zoom video recording on @YankeesVideos showed a very uncomfortable Cole, as he responded by saying, "I don't quite know how to answer that, to be honest...If MLB wants to legislate some more stuff, that's a conversation that we can have." Well baseball fans, that's where it all started.
What about the new procedure for 2022? According to friend of The Drive with Charlie and Dan, Pete Caldera of northjersey.com, Cole didn't seem to be bothered at all by the updated procedure. Last season, the inspection focused on the hat, belt and glove. Cole told reporters after Sunday's outing, "They're touching your hand. It doesn't change anything from what I do.'' It appears the change is an enhanced look at the pitcher's hand.
Yankees' lefty Jordan Montgomery followed Cole on the mound Sunday against Pittsburg in the Grapefruit League game, said the umpires "asked to see my hands'' after an inning. "Just briefly kind of rubbed over (my hands)'' to check for foreign substances, said Montgomery. "I'm not worried about it. It doesn't affect me really at all. They've got to do what they've got to do, I guess.''
According to Caldera, "following MLB's June 2021 enforcement of the ban on sticky stuff, Cole's spin rates decreased, which also coincided with a 4.12 ERA in the right-hander's last 16 regular season starts. Before the ban, he had a 2.31 ERA in his first 14 starts." That is a drastic contrast. Hopefully Cole has figured out a new way to get a grip.
New York Colleges That Made The Top 50 Most Expensive In America
CBSNEWS.com did a Top 50 Most Expensive Colleges and Universities in America. Let's see which New York colleges made the list.
10 Capital Region Golf Courses You Can Play For Under $40
Taking a look around the Capital Region at some of New York's finest public golf courses, I was able to find more than a few that won't break the bank. Check out these affordable options, so you can save and play the links more often!
Great Time For A Late Winter On The Albany Rail Trail
According to the Albany County website, the Albany County Helderberg-Hudson Rail Trail stretches nine miles along the old Delaware & Hudson (D&H) Railroad between the Port of Albany and Voorheesville.