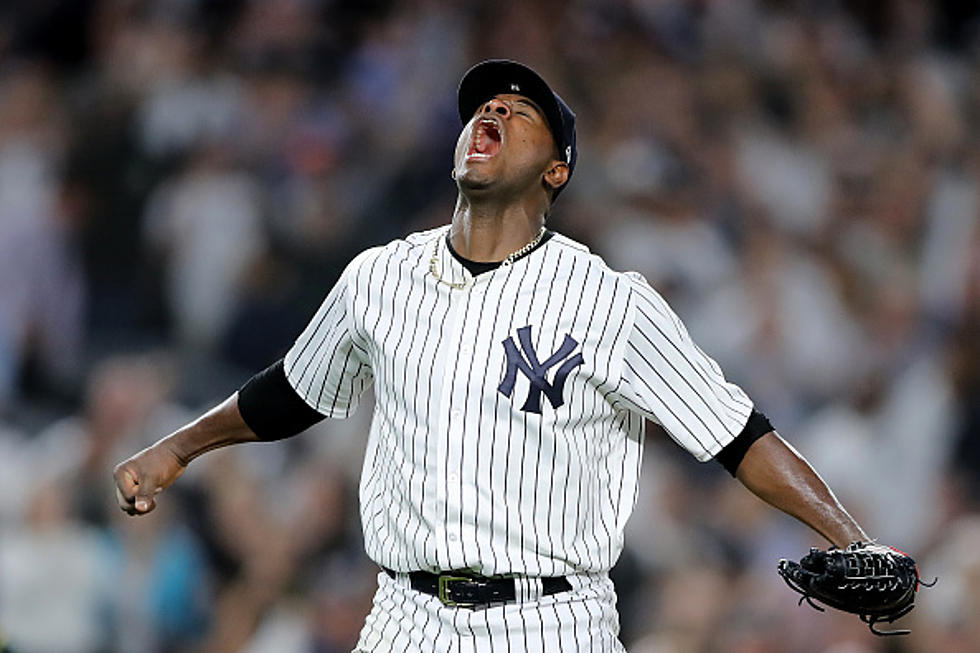 New York Yankees Pitching Rotation In Question
Getty Images
It's the time of year that Major League pitchers in Spring Training are amping up for their first start of the season, very much like Gerrit Cole is getting set to do on Friday. Cole will be the Yankees starting pitcher on April 7th at Yankee Stadium vs. Boston. The pitcher that Aaron Boone had slated to climb the hill for his team the next day, is now skipping Wednesday's Grapefruit League start vs Toronto.
According to Kristie Ackert of nydailynews.com, Luis Severino had some "general soreness" after his Spring Training start last Friday. The soreness stuck around, so the Yankees decided to have Severino throw a bullpen rather than face the Blue Jays in a spring training game.
Yankees manager Aaron Boone spoke to reporters, including Ackert, on Tuesday regarding Luis Severino. "He was a little sore coming out of his last one. So we just want to push it back a little bit. And then if we push it back and pitch him we get in a situation where we're pitching him on the ninth day (in the regular season) or pitching him short to get another outing in so we just decided to go bullpen and then he'll pitch Saturday. Because then he pitches here, game two. So he'll bullpen tomorrow, pitch Saturday, and now we'll line him up to go (April 8)."
As mentioned, Boone has ace Gerrit Cole going on Opening Day April 7th. Cole is having a bit of rough spring having been beaten up in his first outing. Severino, who has pitched 6 entire innings since 2019, is up next slated for April 8th against the Red Sox. He has pitched in 2 games and has been hit pretty hard. On the docket for April 9th in the series finale is lefty Jordan Montgomery. Jameson Taillon will start the series against the Blue Jays on April 11th and 'The Mustache' Nestor Cortes is slated to go when Boone needs a fifth starter later in April.
Early indications are that Yankee fans can be confident that Gerrit Cole, Jameson Taillon and Jordan Montgomery will be solid. Fans of Luis Severino are not overwhelmingly optimistic that he can be a full-time starting pitcher again. Pitching is hard on the body. Scar tissue builds up when you haven't competed in over 2 years. However, Severino showed at the end of last year in a small, 6 innings over 4 games, sample that he could compete. The Yankees may find that shorter stints are better for him at this time but we'll see.
Right now, general manager Brian Cashman and manager Aaron Boone are banking that their 28 year-old right-hander from the Dominican Republic can return to form. The number of Major League pitchers that are out for two years with an injury and return to dominance are few and far between. This may be a question that will continue to come up with each start for the New York Yankees and Luis Severino.
New York Colleges That Made The Top 50 Most Expensive In America
CBSNEWS.com did a Top 50 Most Expensive Colleges and Universities in America. Let's see which New York colleges made the list.
10 Capital Region Golf Courses You Can Play For Under $40
Taking a look around the Capital Region at some of New York's finest public golf courses, I was able to find more than a few that won't break the bank. Check out these affordable options, so you can save and play the links more often!
Great Time For A Late Winter On The Albany Rail Trail
According to the Albany County website, the Albany County Helderberg-Hudson Rail Trail stretches nine miles along the old Delaware & Hudson (D&H) Railroad between the Port of Albany and Voorheesville.