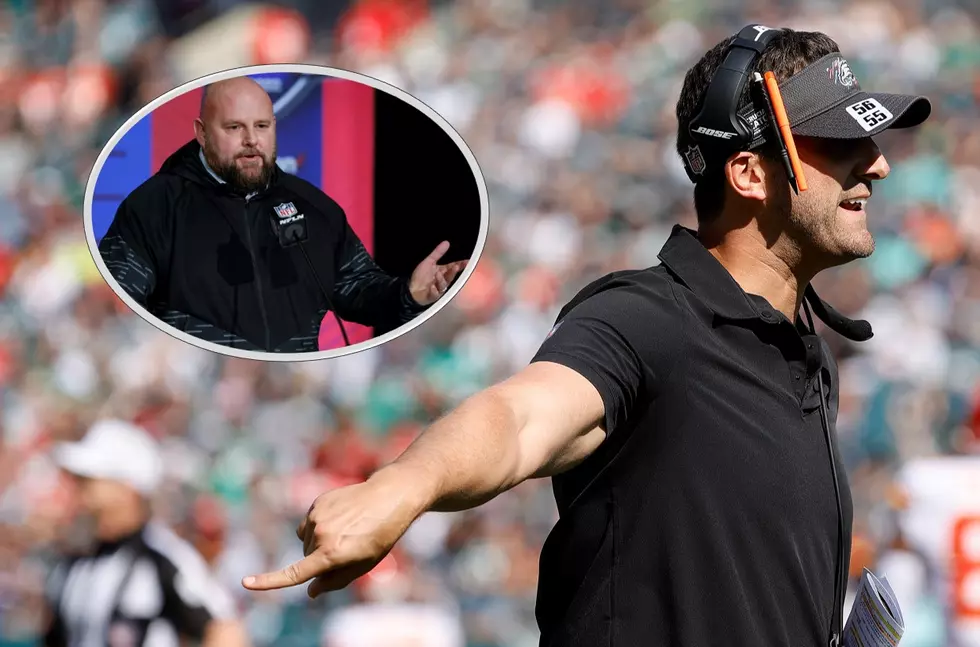 Truth or Lie? New York Giants' Fan Alleges Crazy Spat with Rival Coach
Getty Images
A New York radio station (not us) received a very bizarre call earlier this week.
While this isn't surprising in and of itself, the content of the call surprised a lot of people. The person, who identified themselves as "Peter from Maple Shade", told WFAN in New York City a story about a contentious encounter with an NFL head coach.
The story has gone viral, and has left football fans with one question: is it true, or completely made up?
---
The Story: NY Giants' Fan Alleges Near-Fight with Rival Team's Head Coach
As documented in a story by NJ.com, the Giants' fan claimed he was playing tennis at Haddonfield on Wednesday. Haddonfield, for those that do not know, is a borough in New Jersey, located in Camden County. It was then when this fan claims that he saw Nick Sirianni, head coach of the Philadelphia Eagles, playing tennis on a nearby court with his wife.
At some point during their respective tennis outings, Sirianni allegedly approached the Giants' fan after seeing what he was wearing. At the time, the fan claims he was wearing a Yankees' shirt, and a New York Giants' hat.
Sirianni took issue with the Giants' hat, saying that he had a problem with this person wearing that hat "on these courts." That was just the tip of the iceberg, apparently, as a heated Sirianni followed up his complaint with the statement that "your team sucks, and your head coach sucks."
If that wasn't crazy enough, the caller claims he told Sirianni to "do something about it" if he didn't like the hat he was wearing, which nearly led to a physical altercation.
The mind-blowing call ended with "Peter from Maple Shade" saying he did not know who Sirianni was at the time of the altercation. He claimed that he thought the person was the offensive line coach of the Eagles, and it wasn't until he searched through the coaching staff's profile pictures on the team website, that he realized who he was dealing with.
---
The Verdict: Was this Fan Telling a True Story?
Here's what I think after reading through this a few times: it's not true, but it's not completely false, either.
This is solely my opinion, and not based in any sort of fact, but I do believe this person did see Nick Sirianni at some point. My guess would be that this Giants' fan met Sirianni, and the coach made a comment about him wearing a hat supporting a team that rivals his Philadelphia Eagles.
Nick Sirianni is known as a very passionate and intense person, so, what he might've meant to be a good-natured joke, could've been misconstrued as a serious comment. Add in a few creative liberties about challenging an NFL head coach to a fight, and you've spun yourself a pretty impressive yarn.
Again, this is JUST speculation on my end. If I were to rank the possibilities of what actually happened, here's what I would say:
This fan met Sirianni, but they fabricated the part where the conversation got contentious.
This never happened at all, and it's completely made up.
Pigs will fly.
Unicorns will race at Saratoga Race Course this summer.
It happened exactly as described.
That all being said, it's a fun story to use as fuel for the Giants-Eagles rivalry, and who doesn't love that!
See Photos Of Eli Manning And Other NY Giants Stars Training In Albany
Head coach Jim Fassel and company used the facilities at the University at Albany each preseason for over a decade, as some of the best Big Blue beasts tore it up in the Capital Region before taking the field in the NFL.
One Famous Athlete Born in Each of the Capital Region's 11 Counties
From the "big four" professional sports leagues, to the Olympics and beyond, a number of famous athletes were born and raised right here in the Capital Region. Here is one famous athlete from each of the 11 counties in the Capital District.