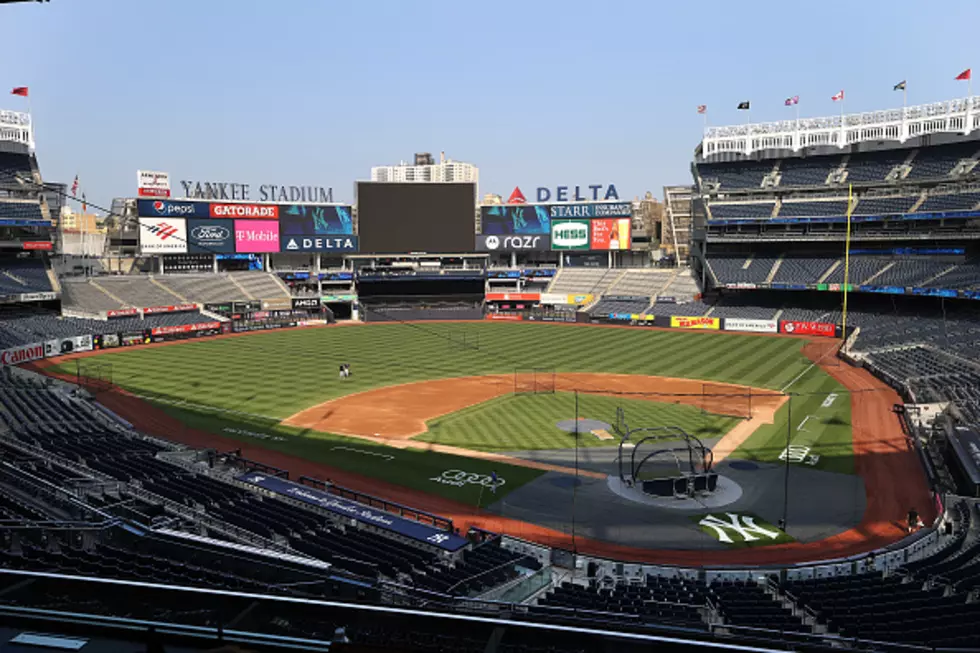 Texas Manager Mocks Iconic New York Yankee Stadium
Getty Images
One person's junk is another person's art. Some people like New York style thin crust pizza, while others enjoy Chicago style deep dish pie. To each their own. One thing you shouldn't do, is make condescending remarks about another person's or team's house, especially while you are there for a few days. Then it is personal and it may get uncomfortable.
Well, those prospects didn't seem to bother Texas Rangers manager Chris Woodward. After Game 1 of the Mother's Day doubleheader at the Stadium, where Gleyber Torres led off the ninth inning with a walk-off home run to rightfield for a 2-1 Yankees victory, Woodward made some comments that didn't sit right with the Yankees and certainly won't with their loyal fanbase.
According to Neil Best of newsday.com, Woodward said between games that Torres' home run would have been "an easy out in 99% of ballparks. He just happened to hit it in a Little League ballpark to rightfield." Uh, oh Chris. Do you know where the term "The Bronx Cheer," another term for booing came from? They did tell you when you took the job as Texas Rangers skipper that the Yankees are also called the "Bronx Bombers," right? In addition, the Rangers manager's comments were flat-out wrong. This isn't setting up too well for the Texas skipper.
According to Best in newsday.com Gleyber Torres' 369-foot game winner would have been a home run in 26 of 30 major league stadiums. In fact, Best pointed out that the homer went 14 feet farther than Texas Rangers Kole Calhoun's tying home run off Gerrit Cole in the seventh inning of the game. I didn't see or hear Chris Woodward complain about that.
Obviously, some Yankees, especially Gleyber Torres took offense to the Texas manager's comments. "I feel like both teams play in the same ballpark," Torres told newsday.com. "It's the same dimensions. I think I feel good to hit a walk-off homer in the 'Little League ballpark' and happy to win the first game." Ouch Chris, I think Torres just took a shot at your comments.
Which Capital Region Counties Are Ranked The Healthiest In NY?
Can you live longer depending on where you live? This research says you can and ranks the healthiest counties in New York State. So, we broke it down to the Capital Region.
New York Colleges That Made The Top 50 Most Expensive In America
CBSNEWS.com did a Top 50 Most Expensive Colleges and Universities in America. Let's see which New York colleges made the list.