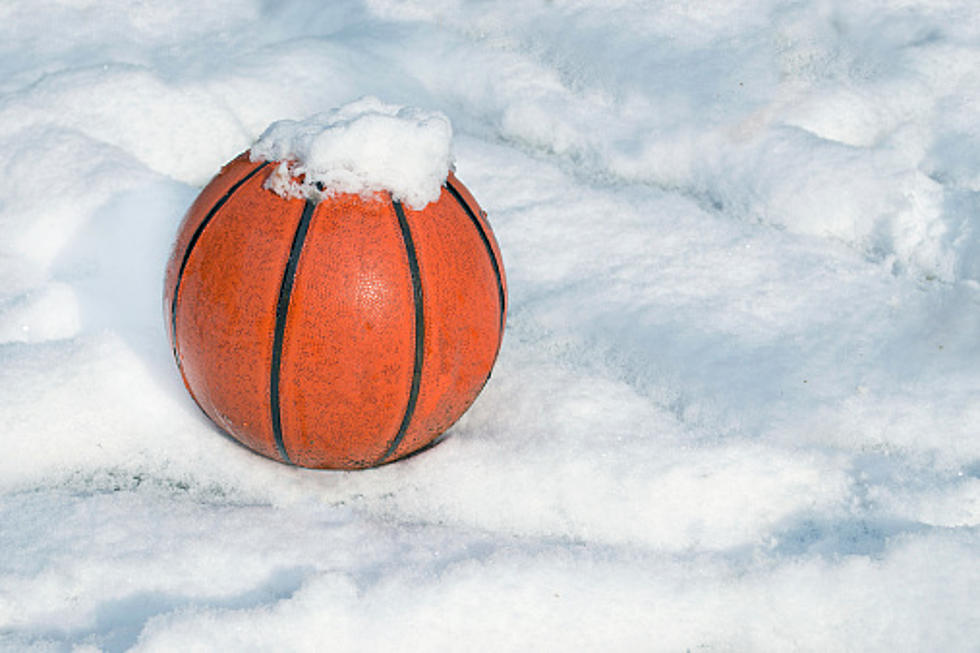 Snow Freezes Some Capital Region HS Hoops Sectional Games
Getty Images/iStockphoto
Thursday night there was a slate of 8 Section 2 girls basketball championship games, just prior to the impending storm. As snow dumped on the Capital Region on Friday, Section 2 wasted no time to quickly reschedule the day's slate of games. Let's start with the rescheduled games and then we'll recap Thursday night.
The three Class B boys basketball games scheduled for Friday at Hudson Valley Community College have been rescheduled. Please take note of each game location. #1 seed Tamarac will now play #8 seed Glens Falls on Saturday, February 26th at 8pm at Hudson Valley Community College. #2 Cohoes will face #7 Schuylerville on Saturday at Saratoga High School. That game is a 6:30pm tip-off. The final rescheduled game will be #6 Icabod Crane taking on #14 Greenville, following their upset of #3 Mechanicville. That game will be played at Shenendehowa High School at 6:30 on Saturday night. Now to Thursday night's girls basketball championship scores.
First in girls Class AA action. Top ranked powerhouse, #1 Shenendehowa easily took care of #8 Niskayuna 63-34, while #4 Colonie got by #5 Columbia 59-51. #1 Shenendehowa will face #4 Colonie in the semi-finals next Thursday, March 3rd at HVCC. #2 Shaker shut down #7 Saratoga 62-39, as #3 Albany knocked off #6 Bethlehem 46-34. #2 Shaker will take on #3 Albany at HVCC on Thursday at 6pm.
Now in Class A for girls basketball. Top ranked #1 Averill Park stomped #8 South Glens Falls 81-22, as #4 Catholic Central got by #5 Amsterdam 37-28. #1 Averill Park will face #4 Catholic Central in the semi-final round on Wednesday, March 2nd at Hudson Valley Community College. That game will be a 7:30pm tip. #2 Burnt Hills shut down #7 Troy 52-32, while #3 Queensbury defeated #6 Holy Names 63-47. #2 Burnt Hills will take on #3 Queensbury at HVCC on Wednesday at 6pm in their semi-final match-up. We will get you any additional changes, if there are any.
Explore the Old Catskill Game Farm
Let's see what the Catskill Game Farm looks like in 2022.