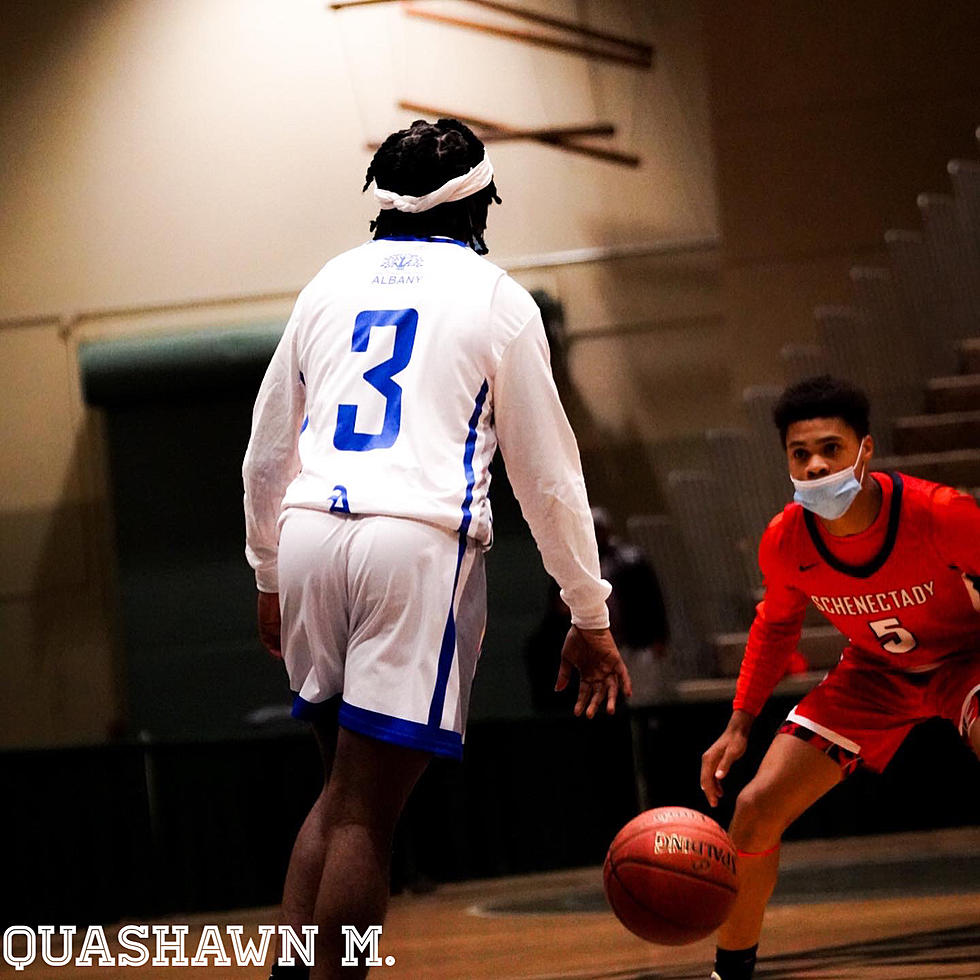 Scotia & Tamarac Advance on Sectional Wednesday in HS Hoops
Photo by Quashawn M
As the pending snowstorm targets the Capital Region on Friday, local high school basketball teams are trying to make their weekend mean something in the Section 2 championships. On Wednesday, there were 8 games on the schedule in boys basketball and another 8 for the girls.
Let's start with the Class A boys basketball games. #5 seed Scotia-Glenville got by #12 South Glens Falls 53-44. #5 Scotia-Glenville will advance to face #4 seed Amsterdam in the quarterfinals on Sunday at HVCC at 12 noon. #8 Gloversville knocked of #9 Burnt Hills 56-42. #8 Gloversville will take on top seeded #1 Troy on Sunday at 5pm at HVCC. #6 seed Lansingburg battled #11 seeded Queensbury for a 62-57 victory. #6 Lansingburg will face #3 seed Mekeel Christian on Sunday at HVCC. That game is scheduled for a 1:30 tip. #7 seed Averill Park put it to #10 Mohonasen 76-45. #7 Averill Park advances to take on #2 seed Hudson Falls in the quarterfinals on Sunday at 3:30pm. That game is at Hudson Valley Community College, as well.
There was only one game on the schedule in the boys Class B. It featured top ranked in Section 2 and in New York State, #1 Tamarac whacked #17 Schalmont 89-57. 5 Tamarac Bengals were in double-figures, led by Zach Rice's 21 points. #1 Tamarac will face #8 Glens Falls in the quarterfinals on Friday night at 8pm at Shenendehowa High School.
On to the Class D games in boys basketball. #9 Heatly picked up the upset of the night by knocking off #8 Germantown 60-58. #9 Heatly will advance to face top ranked #1 Argyle in the quarterfinals on Sunday at 5pm at Stillwater High School. #6 Hartford took care of business over #11 Fort Edward 72-57. #6 Hartford will take on #3 North Warren on Sunday at 1:30pm at Stillwater. #7 seed Fort Ann shut down #10 Salem 68-50. #7 Fort Ann advances to face #2 seed Northville on Sunday at Stillwater. That game is scheduled to tip at 3:30pm.
The Section 2 girls basketball championship on Wednesday featured quarterfinal action in Class B. #1 seed Schalmont beat #8 seeded Tamarac 66-35, while #4 Icabod Crane knocked off #5 Albany Academy 54-42. #1 Schalmont will take on #4 Icabod Crane in the sectional semi-finals on Tuesday at 7:30pm at Averill Park High School. #2 Mechanicville shut down #7 Broadalbin-Perth 46-29, while #6 Fonda-Fultonville pulled the upset by blowing out #3 Catskill 68-47. #2 Mechanicville will face #6 Fonda-Fultonville on Tuesday at 6pm in their semi-final game at Averill Park.
In girls basketball Class C sectional action, top ranked #1 Duanesburg whacked #8 Cambridge 62-29, as #4 Corinth got by #5 Maple Hill 46-37. #5 Maple Hill now has the daunting task of taking on #1 Duanesburg in the sectional semi-finals on Tuesday at 7:30pm at Columbia High School. #2 seed Greenwich has their eyes on a championship as they shut down Chatham 78-20, as #3 Berne-Knox-Westerlo took care of #11 Schoharie 55-42. #2 Greenwich will face #3 Berne-Knox-Westerlo on Tuesday at 5pm at Averill Park. This game promises to be an awesome battle.
The Capital Regions 10 Best Breakfast Restaurants [RANKED]
From an omelet with homefries to waffles to a stack of pancakes, these are the 10 best local restaurants to grab the most important meal of the day - breakfast!