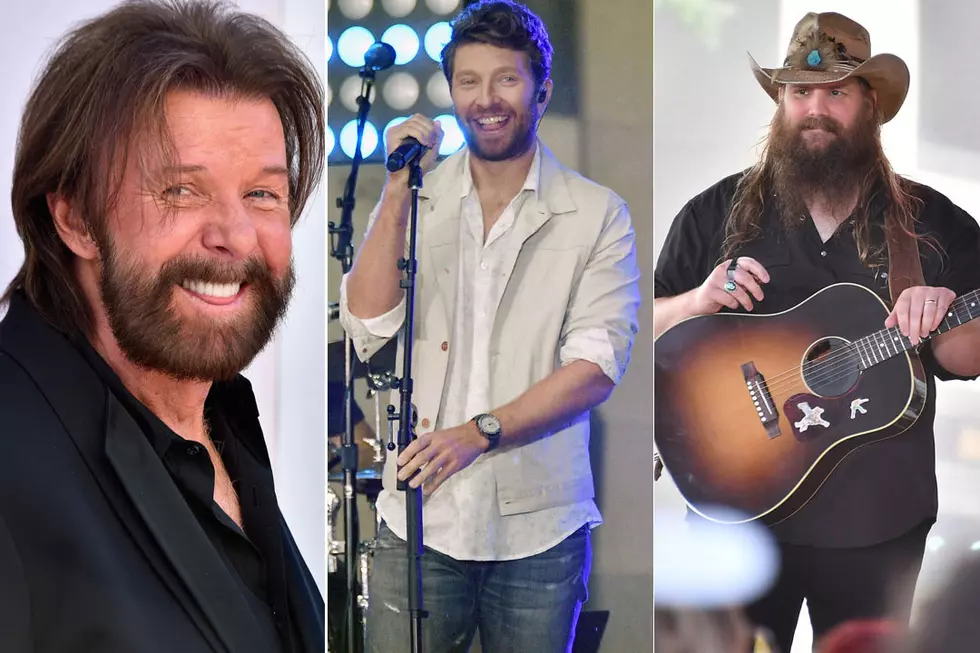 Ronnie Dunn Has High Praise for Modern Artists Chris Stapleton and Brett Eldredge
Frazer Harrison / Mike Coppola / Dia Dipasupil, Getty Images
Ronnie Dunn is a revered veteran of the country music industry, so he knows talent when he hears it. In an interview with his label, Big Machine Label Group, the legendary country star offers praise for two of the genre's most popular acts: Chris Stapleton and Brett Eldredge.
Dunn and Stapleton have actually been longtime writing partners! "I know Chris Stapleton and I'm glad to see him having success right now. We've written together a lot over the years and a great guy and very deserving," the Brooks & Dunn singer says.
He also enjoys Eldredge and his musical talent, even though it's far different from what Stapleton is putting out. "You know behind the scenes he's just a real good, sincere guy with a great voice, soulful voice," Dunn says of Eldredge.
Stapleton co-wrote one of the tracks that appears on Dunn's 2014 album, Peace, Love and Country Music, titled "Heart Letting Go," and Dunn and Eldredge have struck up a friendship over the past few years, sharing the stage together in 2015 during the CMA Songwriters Series in Nashville. The "Don't Ya" singer cites Brooks & Dunn's Greatest Hits album as having a major influence on his career.
"I got on stage the other day with Ronnie Dunn and to think back to that record that shaped me and I've got to sing with him a couple times now and become a friend of his," Eldredge says (quote via Sounds Like Nashville). "That's so weird but it's so strange and so unique and he's also been so great to me and Kix is the same. He's been such a good pal to me too, so I would say that's a huge record in my past and present."
How Well Do You Know '90s Country Music?
These Modern Acts Prove Traditional Country Music Is Alive and Well