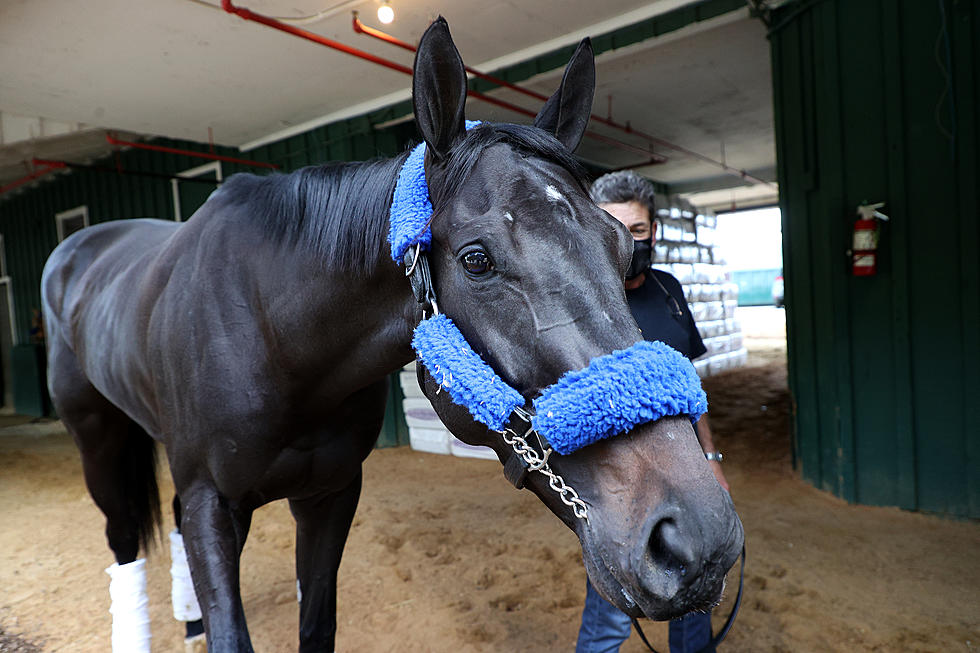 Remembering 'Medina Spirit', The Legend That Almost Was in Saratoga
Getty Images
The horse-racing community, which runs so deeply in Saratoga, lost one of its premiere thoroughbred racehorses earlier today. Medina Spirit, trainee of Bob Baffert, has passed away.
---
Medina Spirit Passes Away at Three Years Old
In a report filed by ESPN, Medina Spirit passed away earlier today after a workout earlier today. The colt has just finished a five furlong workout, according to the reports, and suffered a reported heart attack shortly after.
Medina Spirit was three years old at the time of his passing.
Trainer Bob Baffert commented on the passing of one of his prized trainees...
"My entire barn is devastated by this news," Baffert said. "Medina Spirit was a great champion, a member of our family who was loved by all, and we are deeply mourning his loss. I will always cherish the proud and personal memories of Medina Spirit and his tremendous spirit." - Associated Press through ESPN
Medina Spirit had last raced in the Breeder's Cup last month, but had come off of a year in which his name was permanently scarred by doping accusations levied against his trainer.
---
Medina Spirit, and Bob Baffert, Were Embroiled in Controversy in 2021
It's extremely unfortunate that Medina Spirit's biggest headline during his life, will likely be his most negative. Medina Spirit began its Triple Crown pursuit with a huge, 12-1 upset victory at the Kentucky Derby. Beating such strong competitors as Hot Rod Charlie, Medina Spirit seemed poised for a run at a crown.
It was after the race, however, when news began to circulate that Medina Spirit had failed a drug test. More specifically, 21pg/mL of the anti-inflammatory steroid betamethasone were found in the horse's system, according to CNN and other sources.
When all was said and done, trainer Bob Baffert was issued a suspension by entities including the New York Racing Association, and was not allowed to enter Medina Spirit in races at Belmont and, more importantly for us, the Saratoga Race Course.
---
Medina Spirit Passes with a Legacy of a Champion
No matter what, Medina Spirit leaves with a legacy of an incredible race horse, with a champion-level pedigree.
While marred in controversy, the Kentucky Derby victory is his forever. Medina Spirit also won the Robert B. Lewis Stakes, Shared Belief Stakes and Awesome Again Stakes in 2021, and finished 2nd in the Breeder's Cup on November 6th.
Rest in Peace, Medina Spirit.
Saratoga Race Track and Celebrities
Here are some celebrities that spent some time at Saratoga Race Track
Ticket Prices for Capital Region Teams' Games
From basketball to hockey to lacrosse, it's a busy time for sports in the Capital Region during the winter season. If you want to bring your family or friends to a game in the region, here is how much a ticket in the door will cost.
Babe Ruth Played in Albany Against the Senators
The Sultan of Swat. The Great Bambino. The Babe. George Herman "Babe" Ruth is one of the best baseball players of all-time, and he played a bit of baseball right here in Albany in the late 1920's.